Dave Owens, Taranaki, Editor of The Jobs Letter, Trustee of the Jobs Research Trust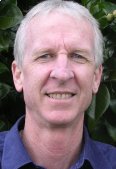 What have we achieved?
With unemployment at 3.6%, many of us are patting ourselves on the back, especially when we compare ourselves to other countries. But I wonder if we're just best of a bad bunch? When I started working in the community sector (like Rodger, in a Work Skills Development Programme) in 1983, unemployment was 2% —and that was considered crisis level. People were genuinely concerned that a group of New Zealanders were being left out and there was a sense of urgency because as a community we believed that all people deserved the means to earn a living and be included. People were also able to raise a family and buy a house on one income. Where has that New Zealand gone? Has it been our intention to let these things go?
One explanation is that the 1980s and 90s economic reforms have left us with a monetarist slewing of public policy. Modern 'Centre-Left' political arguments in New Zealand are far more market-oriented (rather than people-centred) than 'Centre-Right' arguments were in the 1980s. An expressive example of this is the way successive governments have opted to support the community sector through tender processes that pits community groups against each other and against the private sector and creates accountability requirements that distract community workers from their purpose. Over the years, many dedicated community workers have left the sector because they can longer find no room there to express their values.
What have we learned?
We've learned that more jobs is not the magic bullet we imagined it would be. Poverty is increasing at a time of high economic and job growth. Our policies aren't providing a pathway out of poverty. We've learned that we haven't got it right. The UK has reduced child poverty over the last decade. They have achieved this by including all children in poverty reduction policy. We can do that without cementing in benefit dependency.
We've also witnessed, over the years, the social welfare system creating its own industry that includes a workforce of thousands, if not tens of thousands of people in the public, community and private sectors. The sad fact is that the drive of this poverty industry is to manage people in poverty — not lift them out of it. This very costly management approach to welfare essentially farms clients rather than dealing to the systemic causes of poverty. Perhaps this poverty industry is where 'benefit dependency' is originating from …
The main issues for the future?
Children. It is inexcusable that one-third of New Zealand children are growing-up in poverty. The cost of this systemic negligence will haunt not only those individuals but also our communities through greater and greater welfare dependency, health problems and criminality. We need to focus on the well-being of every child and strive to see they all are fed and secure in their home. This means better supporting parents and families with resources that help them provide the best possible environment for their children to live, grow and thrive in. Children should be our No 1 priority.
Economic Sustainability — Not Endless Growth. Our governments have been chanting the mantra of 'high economic growth' for the last two decades. Let's get over it. Every organism finally has to stop growing and our economy will stop growing, as will the world economy. We need to plan and prepare for nil growth — even negative growth — because this will be an overwhelming feature as the world's resources fail to support demands of six billion people.
The Elephant in the Room. We are gradually exhausting the earth's resources — and the first up will be the loss of easily available and cheap petroleum. Endlessly rising oil prices will re-configure the world economy, including ours. We need to be prepared for this with useful policies so we aren't caught out by this inevitable eventuality.
We need to take into our hearts as citizens that the welfare of our neighbours — including all the people, animals, plants and natural systems with which we share the earth — are, in the end, as important and interlinked with us as are our own families and friends.
What would New Zealand look like if no one was unemployed?
What would New Zealand be like if there was no poverty?
What would the world look like if every person could depend on having adequate food, water, everyday?
What if every human being had basic housing, health services, education and work?
And finally ...
It's been a privilege to provide The Jobs Letter to you. We have often described our editorship as standing in a river of information and pulling out the pieces that we thought would help people do their work better.
We at the Jobs Research Trust haven't worked ourselves out of a job. We aren't closing The Jobs Letter because unemployment has been solved: it hasn't. We are stepping back and having another look at how we can best make our next contribution.
— Dave Owens
Rodger Smith, Auckland, Trustee of the Jobs Research Trust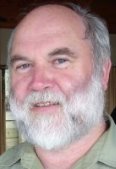 WSDP – Work Skills Development Programme. I'm wondering if the name rings a bell with any readers — and jog the memory about the numerous schemes that have come and gone over the years as a response to unemployment. I mention this one not only because it was the first scheme I was involved with, but what I remember it offering to the young people who attended.
The work 'skills' were initially the traditional community gardening, lawn mowing, home care type projects. But I'm pleased the one I was involved with became one of the first of such schemes, in conjunction with the unions and a local manufacturing company, to offer welding training as a prior entry into an apprenticeship.
Over the years this emphasis on skill development has rightly increased, but I wonder if it has been at the detriment to the other component we offered the young people at that time — good sensible social support. Whether it was with problems with drugs, sex education, or with parents, we tried to stand alongside them as they struggled through issues that often impacted heavily on their ability and attitude to find their place as young adults.
I've not worked in this area for many years but I wonder if in the current world of 'silo' government initiatives, young unemployed people are regarded now just as 'output' targets. It's great that our unemployment rate is lower. But has our 'inclusion rate' of young people in our society also lowered?
On a more positive note, as a 'non-working' trustee of the Jobs Research Trust, I have valued the opportunity for the past eight years to have supported vivian and Dave in their work as editors of The Jobs Letter. I admire their skill in regularly distilling from the huge quantity of information that poured past them, the key stories and news that has kept me abreast of the issues … and in turn allowed me to keep asking the questions in the circles of limited influence I have. I trust that this has also has been your experience and you join me in acknowledging their commitment to this task.
— Rodger Smith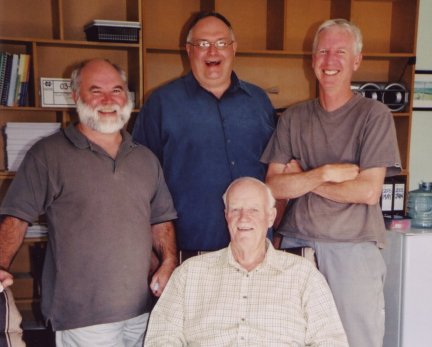 Trustees of the Jobs Research Trust in the New Plymouth "garage".
Rodger Smith, vivian Hutchinson, Dave Owens, and Jo Howard (seated).
vivian Hutchinson, Taranaki, Founding Editor of The Jobs Letter, Trustee of The Jobs Research Trust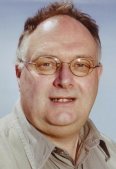 The Jobs Letter has been an ambitious community media project that has sought to become part of the regular media diet of people active on employment and poverty issues. In an Information Age when we are literally 'drowning" in data, our publication and website was the first to really explore the challenge of getting essential information out to a wide range of students, thinkers, activists, public servants and decision-makers who want to make a difference on livelihood issues in this country.

In setting up The Jobs Letter, we were inspired by the English social entrepreneur Florence Nightingale who spent the last 50 years of her life writing letters to people from across the political spectrum who could make a difference to public health. From Florence, we learned the philosophy that our job would be "… not to tell people what to think, but to give them the tools to think with."

As you can see from the contributions to this special issue, The Jobs Letter has indeed reached across New Zealand's political spectrum, and has helped inform a wider community debate on the future of work and welfare in this country.

As the contributions for this special final issue rolled into our office over the past couple of weeks, it has been humbling to read the comments and tributes from such a wide variety of fellow New Zealanders who have been regular readers of our work.

Thank you all so much for your thoughts and for your best wishes in our work ahead.

I suppose the most common question I have been asked in recent months is: What are you going to do next?

We haven't closed The Jobs Letter because New Zealand has solved unemployment and poverty. Just a brief look at this special report is enough to show that there is going to be just as much work ahead to address these issues in the next twelve years. So of course our work isn't remotely finished yet …

But we are stopping our particular small contribution so that we can create a space for ourselves for a different sort of inquiry.

The Jobs Research Trust is a fairly small community group, led by volunteers ... and we have limits on what we can contribute. But not only have we defined the mission of our Trust as one of "giving people the tools to think with" … we have also always seen one of our contributions as opening up the 'thinking space' to explore some fresh ideas.

Over the last couple of years, the conversations at our Trust Board have been focussing on some troubling issues. We have been concerned about the state of community groups and citizenship action in the social development field … and we have been concerned about wider issues of capacity in New Zealand's voluntary and community sector.

We have also been re-assessing our own place in this work … both as active citizens, and as a community group.

So for the last year, our trustees has been in dialogue about exploring a different future. This conversation has seen us dig beneath many strategic questions ... some of which have included:
What would it take to reinvent citizen engagement in an age of retail politics?
What would it take to reinvent community groups in an age of contracted social services?
What would it take to reinvent the welfare state in an age of the poverty industry?
What would it take to reinvent environmentalism in an age of global climate change?

This has been a juicy inquiry … we have been challenging ourselves to look anew at the very idea of community groups. And we have been asking ourselves what it would look like if community groups were ...
— self funding
— self organising
— focused on questions and inquiry
— focused on positively imagining the future
— focused on Big Pictures and on systemic and sustainable change
— fostering long-term thinking
— fostering social entrepreneurship and exploring innovations
— capacity-building at the level of each individual citizen
— taking advantage of the new networking technologies

We haven't come up with any big solutions yet ... our inquiry is still a work-in-progress.

We have however started to explore a new prototype of community group which we are calling ChangeMakers. These are envisaged as groups of 'active citizens' who are working on a variety of social, economic and environmental projects, and who are joining together around a simple organising strategy of '5-10-5-10'.
| | | |
| --- | --- | --- |
| 5 | - | spend 5% of your income directly supporting citizenship action that inspires you |
| 10 | - | do ten actions in the next year on your personal passion in citizenship action |
| 5 | - | spend 5% of your time on active citizenship tasks |
| 10 | - | join with ten other people to create a learning community to support each other's work for change |
Over the last 12 years, we have reviewed and recommended many new books and reports in the pages of The Jobs Letter.

I think one that stands out most for me during this time has been Natural Capitalism by the American environmental activist and social entrepreneur Paul Hawken (with Hunter and Amory Lovins). It is a book that elegantly brings together many of the threads of how we can work towards economic, social and environmental sustainability in our communities.

Paul Hawken has visited New Zealand several times, and his ideas have had a deep impact on thinkers in many areas of our corporate, government and community life. It was perhaps no coincidence that when we started the Mayors Taskforce for Jobs in 2000, the core group of Mayors met and discussed ideas and strategies with Hawken when he was speaking at the Redesigning Resources conference in Christchurch.

Next year Paul Hawken is due to release a film and publish a new book called Blessed Unrest. In the book, he argues that we are seeing the beginning of a new type of movement for civil society — a movement composed of hundreds of thousands of community and not-for-profit groups and social entrepreneurs. Hawken's Natural Capital Institute has done research which shows that millions of people with shared sets of values are involved in countless organisations that address social justice, ecological sustainability and indigenous rights in the broadest sense of those terms.

Hawken believes that these movements for change are morphing, unknowingly, into the world's largest social movement … something which he describes as "… humanity's immune response to political corruption, economic disease, and ecological degradation." None of us can yet say how big it is ... because it is a movement that doesn't yet fully know that it is a movement.

Perhaps our own 'call to dialogue' within The Jobs Research Trust has been our contribution to how the 'immune system' of New Zealand's voluntary and community sector is seeking to renew itself.

We certainly hope that our plans for ChangeMaker groups will enable us to grow the active citizenship that we know will be needed in so many social development and environmental areas in the years ahead.

It is all early days yet, and ... as they say, watch this space. Or better still ... come and join the conversation, and re-discover your own opportunities to act for change.

All the very best ahead …

— vivian Hutchinson


Jo Howard, Taupo, Trustee of The Jobs Research Trust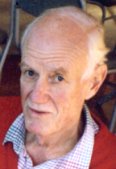 It seems an age ago that vivian, Ian Ritchie and I sat round the fire at the Tauhara Centre and decided that our contribution to getting employment issues back on the political agenda would be to start a news letter.
As improbable clones of Florence Nightingale we would not express our own opinions but provide relevant digestible information in the hope that people would make up their own minds how best to solve constructively the problems of unemployment.
While there is still much to do on employment issues particularly on research on the future of work which may have alleviated the current skill shortages, we feel The Jobs Letter has to an extent achieved what it set out to do. So what next?
The low percentage of votes cast in recent elections reflects the feeling of many citizens that their vote does not really count. Many feel there is a widening gap between those exercising political governance and themselves. Community groups in particular which not so long ago were self funding and independent are now contractors to the government. In return for funding they are required to be accountable. This is reasonable enough but how and for what they are accountable is the problem. Loaded with 'targets' and 'measurable out-comes' with the consultation process often reduced to a public relations exercise, community groups often feel they have lost their independence and sadly sometimes their energy and drive.
When asked "Why do you suppose it is so difficult to create a real citizens movement as a proper counter-weight to the US Administration's power?", Noam Chomsky replied: "The question is much too important for a brief answer. The level of action is high, probably higher than the 1960s — but it is diffuse and not well integrated. An ideal of social control is an atomised collection of individuals focused on their own concerns, lacking the kinds of organizations in which they can gain information and articulate their thoughts, and act constructively to achieve common ends. By many familiar mechanisms that ideal has been approached in dangerous but not reversible ways."
Can we do better? The Athenians based their first experiment in democracy on a Citizens Forum, an open space where citizens expressed their own views and, above all, listened to others. Our climate, not being quite as benign as in Greece, a physical open space may not often serve the purpose so well but we have one great advantage they did not have — modern communication systems and particularly the internet. Why not start our own version of a Citizens Forum? Could be exciting.
— Jo Howard