OUR DIARY
of key events over the last few weeks.


WORKING FOR FAMILIES BEGINS

HUGE PROMOTION FOR "FAMILIES" PACKAGE

NZ "LEAST GENEROUS" TO FAMILIES

TEENS URGED TO FILL TRADES GAP

OZ & NZ COMPETE FOR SKILLED WORKERS

NZ SKILLS SHORTAGE THE WORST

AUSTRALIA'S YOUTH TRANSITIONS COMMITMENT

WHAT YOUNG PEOPLE WANT?

JOB TRAINING LESSONS FROM DENMARK

NATS WOULD AXE ARTISTS' DOLE SCHEME

SCHOOL DENTAL SERVICES IN CRISIS

BILL WOULD ALLOW FLEXIBLE WORK ARRANGEMENTS

MINIMUM WAGE "TOO LOW"

DISABLED WORKERS TO GET MINIMUM WAGE

HOW TO END POVERTY

---


LAST Letter

NEXT Letter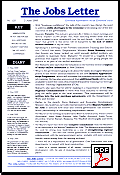 Download this issue
as a PDF file
Index to Back Issues
Index to Features

10 March 2005
The MSD-funded Youth Transition Service is launched in Waitakere. Youth Horizons will be the lead delivery agency.
Job-seeking Australians will soon be allowed to borrow a mobile phone from their Job Network provider until they find work. The government developed the "loan phone" scheme after a study found having a mobile phone increased a job seeker's chances of securing employment by 30%.
In Britain, 93% of employees over the age of 60 enjoy their work, compared with just 54% of workers in their 30s who enjoy their work.
15 March 2005
The number of NZ newspaper job ads in February was up 1.3% on February 2004.
Employers are urged to give disabled job seekers a go at an Employers Summit in at the Ministry of Social Development in Wellington.
In Australia, over one-in-five part-time workers want to work more hours than they do, according to Underemployed Workers, published by the Australian Bureau of Statistics.
17 March 2005
The number of people in industry training and apprenticeships increased by 12,000 last year to 139,597.
The National Party says it would not axe the Modern Apprenticeship scheme.
German chancellor Gerhard Schroeder hosts a cross-party unemployment summit to try to get broad support for tackling the country's 12.6% unemployment rate. German president Horst Koehler says job creation is at the top of the national agenda.
A German website is offering jobs to those willing to work for the least pay _ and has become a runaway success - according the to The Melbourne Age. After recent social welfare reforms threw thousands of Germans off the unemployment benefit, many are "scrambling" to undercut others and work for as little as $NZ5/hr. The German language website can be found here.
18 March 2005
22% of NZers say they have no money by the time payday comes around and 66% say they worry about spending or borrowing beyond their means, according to a Ministry of Consumer Affairs survey.
20 March 2005
Fewer new immigrants came to NZ in February compared to February last year. Migrant arrivals exceeded departures by only 580 people. The slowdown is expected to lessen demand for housing and lower consumer spending.
21 March 2005
The minimum wage increases by 5.6% to $9.50/hr for adults and to $7.60/hr for 16-17 year olds. About 35,000 adults and 6,500 young people are paid the minimum wage.
New Zealand needs more graduates with practical skills, according to former Montana Wines chief executive Peter Hubscher. He tells the Regional Development conference in Napier the number of students graduating in agriculture, horticulture, food technology and engineering is declining and it is time the government reversed the trend. Hubscher: "We have myriad business graduates, yet there are shortages in other areas. If we want more production or engineer graduates then we need to encourage them at the expense of others who are really just transaction people."
Minister of Regional Development Jim Anderton tells the Regional Development conference in Napier that a shortage of skilled workers is the biggest single constraint on growth in the regions.
The world's biggest retailer, Wal-Mart, is fined $US11 million because it used cleaning contractors who employed hundreds of illegal immigrants to clean its stores.
25 March 2005
Television production company Cloud 9, which left NZ for Queensland two years ago, is returning. Chief executive Raymond Thompson promises more than 100 new jobs will be created as the company begins shooting a new programme.
The pace of NZ's economic growth has slowed for the third consecutive quarter. The economy grew 0.4% in the December quarter.
26 March 2005
Nearly three-quarters of mid-level workers in the human resource, IT and finance industries expect to change workplaces within two years, according to a survey by Frog Recruitment.
27 March 2005
The government is funding a pilot that will link information technology and communications students with businesses and industry bodies to encourage students to develop technical skills and a more entrepreneurial outlook.
28 March 2005
Demand for workplace training is soaring, according to a survey by the Chandler Macleod Group. Rising demand for employee training and e-learning courses in both NZ and Australia indicate management is actively trying to attract and retain staff.
NZ's current account deficit was $9.4 billion in 2004, or $2,346 per every man, woman and child.
29 March 2005
Hundreds of children are waiting longer than the government benchmark of six months for non-urgent surgery due to a shortage of theatre nurses.
---

LAST Diary

NEXT Diary

---