OUR DIARY
of key events over the last few weeks.


THE TSUNAMI ECONOMIC CHALLENGE

NZ RESPONDS TO TSUNAMI APPEAL

TSUNAMI GENEROSITY

SOCIAL POLICY "BIG PICTURE"

SCHOOLS ACCUSED OF HOLDING ONTO STUDENTS

SCHOOL QUALIFICATION REPORTS BAFFLE EMPLOYERS

TEACHER SHORTAGE

NZ: A LOW MIDDLE INCOME COUNTRY

MINIMUM WAGE GOING UP

DELAY ON CHASING SHIP JUMPERS

STATE SECTOR COSTS GROWS

STUDENT ALLOWANCE ELIGIBILITY TIGHTENED

---


LAST Letter

NEXT Letter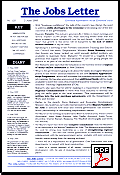 Download this issue
as a PDF file
Index to Back Issues
Index to Features

21 December 2004
The current account deficit — the gap between the amount NZ buys and sells internationally — climbs to $8.2 billion which is 5.8% of the gross domestic product. Brian Fallow in The New Zealand Herald predicts the deficit to worsen before it improves which should see the NZ$ lose value and slow the economy .
25 December 2004
Christmas Day.
26 December 2004
A tsunami, generated by a 9.0 Richter earthquake off the coast of Aceh province of the Indonesian island of Sumatra, devastates vast coastal and low lying areas of South Asia and eastern Africa. The death toll may eventually total 300,000 people and leaving at least one million without homes or livelihoods.
27 December 2004
NZ workers' perception of their own job security remains high. A Roy Morgan Research survey found 85% of workers believe their job is safe, a rate similar to last year. In contrast, in 1991 when the unemployment rate was at 10.6%, just 54% of workers felt sure they would have a job for another year.
29 December 2004
About 30 jobs are expected to be created in Lower Hutt as Dulux paints and Selleys building products open a high-tech call centre in Gracefield.
1 January 2005
New Year's Day
3 January 2005
The official population of China tops 1.3 billion.
6 January 2005
The US economy lost 1.04 million jobs in 2004.
8 January 2005
Unison, the UK public service union, blames the spread of the "MRSA superbug" in the UK on the 45% cut in cleaning staff since the National Health Service allowed the private sector to compete for work.
9 January 2005
Kaikoura District had the greatest employment growth last year, followed by Opotiki and then Queenstown-Lakes, according to a BERL ranking of 73 NZ territorial authorities. None of the main cities ranked in the top five in any of the seven economic categories surveyed. BERL says the results show it is not just the main urban centres that are the driving the growth of the NZ economy.
German industrial conglomerate Seimens will cut more than 1,000 jobs at its Munich plant.
10 January 2005
The size of the average NZ student loan debt has increased by $2,661 since the government came into office. In response to a written parliamentary question by ACT MP Deborah Coddington, the government says the average student loan debt — which was $11,885 at the end of 1999 — had increased to $14,547 at 30 November 2004.
Chinese officials estimate the country will have 25 million unemployed people in 2005. Fourteen million were unemployed at the end of 2004 and some 11 million people — for whom there are no jobs — are expected to enter the labour market this year. 3.4 million of the new entrants will be university graduates. The Chinese government only measures urban unemployment and, if rural workers were taken into account, the number of unemployed would be twice the official estimate.
11 January 2005
Ugg boot manufacturer Canterbury Leather International has been unable to fill 22 unskilled and skilled positions, despite newspaper advertising since mid-December.
12 January 2005
A team of Waikato tradesmen is to travel to Sri Lanka to build homes in the town of Matara.
13 January 2005
Beneficiaries may be eligible for millions more dollars of income support after a high court judge rules that a Christchurch invalid beneficiary was wrongly denied a special benefit to service a loan she took out to pay her everyday expenses and medical costs. Work and Income is appealing the decision.
Australian unemployment drops to 5.1%, the lowest rate since the mid-1970s.
14 January 2005
Hawkes Bay fruit growers launch a website in a drive to find staff to work this year's pipfruit, stonefruit, berry and grape harvests. Pick NZ, which will post all seasonal and permanent jobs in Hawkes Bay horticulture, can be found at: www.picknz.co.nz/
Police are failing to meet targets for attending emergency callouts because they don't have enough frontline staff to do the job, according to their union. The Police Association says NZ needs 1,300 more officers to meet the level of policing in Australia. The ratio of police to population in NZ is about half what it is in France.
17 January 2005
ACT MP Muriel Newman outlines welfare proposals that include the introduction of a single "emergency" entitlement — replacing the unemployment, sickness, invalids and domestic purposes benefits — that would have all beneficiaries reapply for a benefit annually, and have a "time-limited work-search period."
---

LAST Diary

NEXT Diary

---