OUR DIARY
of key events over the last few weeks.




EMPLOYMENT OPTIMISM HIGH


DATABASE TO BETTER UNDERSTAND WORKPLACE


MORE PUBLIC SERVANTS


AIM TO LIFT MAORI EMPLOYMENT


CEG STANDS BY RACE-BASED POLICY


WORKPLACE LEARNING


PRIVATE EARLY EDUCATION AT RISK


NET TO CATCH DROPOUTS


OUTSOURCING COSTS OZ JOBS
---


LAST Letter

NEXT Letter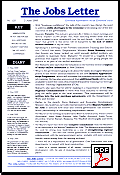 Download this issue
as a PDF file
Index to Back Issues
Index to Features

27 May 2004
In Malta, PM Helen Clark suggests NZ and Malta negotiate a Working Holiday Scheme, so that 50 young people could live and work for periods of up to a year in each other's countries.
28 May 2004
The government is to spend $21m over three-and-a-half years to inform people about the "Working for Families" Budget package. Minister of Social Development Steve Maharey says that many families are unaware of, and don't apply for, their current entitlements and the new campaign will encourage those who are eligible for assistance apply for it.
National MP Murray McCully says that the Budget promotional package costing is "way out of proportion with anything we've seen before". McCully suggests there is a political motive for the ad campaign that goes well beyond the need to communicate with potential recipients.
The Dominion Post is unable to find any government policy change promotion campaign that cost even close to the planned costs to promote "Working for Families".
31 May 2004
NZIER predicts economic growth will slow from the 3.3% it was to March 2004 to 2.8% in March 2005, chiefly due to the downturn in the number of immigrants to NZ. Immigrant numbers are expected to be about one-third what they were last year.
2 June 2004
Seventy jobs will be created in Rotorua as the Cryovac packaging plant nearly doubles its workforce after securing a 5-year contract with dairy company Fonterra. Five years ago the plant lost about the same number of jobs as Cyrovac's predecessor Holmes Packaging lost a contract with NZ Milk Products, the predecessor of Fonterra.
Air NZ will cut 15% of its 10,000-strong workforce over the next four years.
World prices for NZ export commodities rose sharply last month. Prices for NZ commodities are now 15.3% higher than they were at this time last year.
An ILO report says that joblessness is gripping the Israeli occupied Palestinian territories, with Palestinian unemployment reaching an average of 35%.
4 June 2004
The new Sky City Auckland Convention Centre is employing an additional 130 permanent staff, and expects to increase that number as the facility begins hosting day time events in August. Human resources manager Paul Walsh says it was a significant recruitment drive for the hospitality industry.
Sky City workers go on strike for four hours saying the company is offering an unfair wage package as well as unfair rostering that impacts on workers' health and family lives.
The government is running a $7.2 billion surplus, nearly a quarter of a billion dollars more than Minister of Finance Michael Cullen said it would be just one week ago when he tabled the Budget. The surplus reflects a larger tax take - personal and company income taxes, as well as GST - and increased export earnings due to the lowering the value of the NZ$.
6 June 2004
One-fifth of large US companies use some off-shore IT workers, according to Meta Group researchers. However, the companies only outsource 5% of their IT workforce. Meta found that 55% of outsourced US IT labour goes to India, 7% goes to NZ, 7% to Australia and 6% to China.
8 June 2004
Thousands of low-cost IT workers are entering Australia and undermining the job prospects of new computer science graduates, according to the Australian Computer Society. The society calls for tighter immigration rules.
9 June 2004
The Audit Office is looking into the government-funded campaign to "explain" the Working for Families Budget. The Audit Office wants to establish if the spending of $21 million to inform people is appropriate in the context of the Budget.
The government says the Budget promotion campaign is necessary to inform people of their entitlements because they are being phased-in over four years and people have to apply in order to receive them. But the ads that have run so far have enraged the National Party because they have included the party-political phrase "you are better off with Labour".
10 June 2004
The number of NZ job vacancy ads rose slightly over last month.
About 80 jobs will be lost as Wellington manufacturer Interlock is to shift part of its production to a low-cost manufacturing country, probably China. Chief executive D'Arcy Quinn says the looming arrival of a competitor selling much cheaper versions of its window stays has forced the decision.
Australia's unemployment rate drops to 5.5%, a 23 year low. However, the economy lost a seasonally adjusted 42,600 jobs and the labour force participation rate fell from 63.9% to 63.5.
11 June 2004
The home support industry is in crisis, according to care providers and academics who say the government wants to keep elderly people at home as long as possible, but does not pay enough to retain workers to do the job. Home support workers earn, on average $10.80/hr, and are not generally paid for the time or expense of travelling between jobs, both of which is often significant.
Goods donated to February flood victims in Manawatu are sold at a three-day garage sale, and the proceeds contributed to the flood relief funds. Horizon group recovery manager Mark Harrison says that people don't need the clothes and lounge suites that were donated, they now need to purchase wall cladding and paint.
World Day Against Child Labour.
16 June 2004
Feilding's Flood Relief Welfare Centre closes. The centre - set up after the February floods - dealt with about 300 families over four months.
---

LAST Diary

NEXT Diary

---