OUR DIARY
of key events over the last few weeks.


THOUSANDS OF WORKERS NEEDED IN TOURISM

CHANGES AIM TO BOOST SKILLED IMMIGRATION

SOCIAL ENTREPRENEUR SCHEME REPLACED

MAORI PATHWAYS

OECD CALLS FOR CUTS TO DPB

COSTS STOP DOCTORS' VISITS

MORE NZ'ERS WORK LONG HOURS

---


LAST Letter

NEXT Letter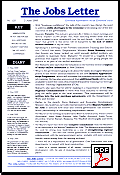 Download this issue
as a PDF file
Index to Back Issues
Index to Features

23 October 2004
More than 100 people interested in moving to NZ leave their names and addresses with the NZ Immigration Service at the Opportunities New Zealand worker recruitment expo in London.
27 October 2004
Most of Skellmax's Flomax factory in Auckland will be relocated in China. The move could affect 18 staff.
Some parents at Fraser High School in Hamilton are working off their children's school fee "donations" by doing work around the school rather than paying cash. At Otumoetai College in Tauranga, some students are doing odd jobs at the school to pay their fees.
US Airways temporarily cuts the pay of its union members by 21% in a bid to keep the airline solvent.
The British opposition Conservative Party says it has plans to cut 19,000 Treasury jobs.
28 October 2004
The University of Auckland is seeking an exemption that would allow it to raise tuition fees for medical students more than the government's 5% fee maxima.
The NZ Medical Students Association says the University of Auckland is attempting to raise their fees by 10%, forcing more graduates to head overseas.
725 NZ scientists have signed a petition urging the government to make science funding more long-term. Many of them say they would not recommend a career in science to their children. Some say they are leaving science due to massive funding and employment uncertainty, or are leaving NZ because they see the best place for their skills is overseas.
30 October 2004
The Managing and Retaining an Ageing Workforce conference will be held in Sydney on November 18. It will examine the key issues employers, governments and unions need to consider regarding the ageing workforce. Register here
31 October 2004
One in 10 doctors surveyed at Auckland public hospitals has severe psychological disturbance and 29% say they are psychologically distressed. The study finds that health workers have a two to three times higher rate of psychological distress than the general population.
1 November 2004
The NZ workforce will grow to 2.34 million by the early 2020's from a base of just over 2 million today, according to Statistics NZ. Half of the increase is expected to have occurred by 2006. After 2021, the workforce will stabilise as number of new workforce entrants is expected to match those retiring.
2 November 2004
The income gap between NZ and Australian wage earners is widening, according to figures released by the National Party. Australian wages have grown three times faster than those of NZ'ers over the past four years. After-tax wages in New Zealand in the latest year were only 3.1% higher than in 1999-2000 while in Australia they rose 9.8%.
Workers who care for disabled people in their own homes are facing two years of what will essentially be a wage freeze as the government plans to roll over existing contracts with care giving contractors. The average hourly rate for care workers is $10.50/hr. HealthCareNZ caregiver coordinator Sue Smith: "If it's the philosophy of this government to promote community care, then they need to put their money where their mouth is. It's slave labour and I think it's disgusting. If the shortage of suitable care workers in the community continues then one day one of us will end up in the coroner's court with a `please explain why this tragedy happened'".
Minister of Disability Issues Ruth Dyson says she is concerned about the problems facing the home support sector, but the Minister of Health "simply didn't have enough money to boost funding for care of disabled people".
A large number of people in Marlborough are leaving rest home work and heading to work in vineyards because the resthome work is so poorly paid. Spokesperson for the region's rest home operators Chris Stokes says that at current funding levels operators just can't retain staff. Stokes: "We can't pay them what they are worth because we are not paid enough."
There appears to be a glut of primary school teacher graduates in NZ. In 2003, just 35.7% of primary teacher graduates got jobs in the profession. There are 2,700 primary teacher graduates each year coming out of 21 training providers. NZ Principals Federation says this is too many training providers.
3 November 2004
Government minister John Tamihere resigns his ministerial portfolios. Tamihere concedes he took a golden handshake from Waipareira Trust after saying he wouldn't and that he didn't inform the Prime Minister of his action. He says he has done nothing illegal but made an error of judgment for which "I will do my time".
Niue begins plans to develop itself as an "eco-nation" growing organic products and catering for eco-tourists. It hopes to develop a nonu plant (health juice tonic) and vanilla industries with Biogrow NZ certification. Businessman Kim Gordon says if the country builds up its industries Niueans living in NZ will return home. About 20,000 Niueans live in NZ leaving less than 2,000 living on the island.
4 November 2004
The government blacklists 12 community groups in Christchurch because they cannot account for Community Organisations Grants Scheme funding they received. All up, at least $40,000 is unaccounted for.
---

LAST Diary

NEXT Diary

---