OUR DIARY
of key events over the last few weeks.


THE RIGHT TO WORK -
THE HUMAN RIGHTS REPORT


CEG SCRAPPED

OZ SKILLS SHORTAGE

HOW ABOUT TAKING SUNDAYS OFF?

---


LAST Letter

NEXT Letter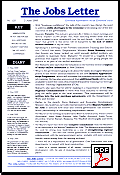 Download this issue
as a PDF file
Index to Back Issues
Index to Features

7 September 2004
The number of first-year university computer science enrolments has dropped to the levels they were in the early 1990s, according to Computerworld magazine. ICT enrolments plummeted after the dotcom crash in 2000 and the magazine says that the lack of skilled graduates coming through now may hold back the industry's recovery.
Finding volunteer workers is becoming very tough, according to the NZ Federation of Family Budgeting Services. Executive officer Raewyn Neilsen: "We are losing volunteers and really struggling to replace them on a national basis. People just seem to be working longer hours, more than one job, and don't have the time to volunteer."
Qantas Airlines' 4,000 flight attendants threaten to strike in mid-December, when the company plans to move 400 flight attendant jobs to London.
8 September 2004
A boat-building company that was part of Minister of Economic Development Jim Anderton's "jobs machine" has not created the number of jobs it forecast. Sovereign Yachts predicted it would have 350 staff by the end of 2003, but currently employs 75 staff and about 20-25 people employed by subcontractors.
There is a distinct correlation between employment status and suicide, according to the Australian Medical Association. President Bill Glasson says that in periods of high unemployment suicide rates have soared. Glasson: "In our society, men still typically see themselves as breadwinners and providers. When they cannot fulfill this role due to unemployment or underemployment, their self-esteem suffers."
9 September 2004
The Australian economy lost 6,600 jobs last month. It was the third drop in four months over which Australia lost a total of 39,800 jobs. The unemployment rate was unchanged at 5.7% because fewer people were looking for work.
The Reserve Bank of NZ raises interest rates to 6.25%, the fifth rate increase this year.
The Alcan aluminium refinery expansion will create 1,700 construction and then 120 permanent jobs in Gove in the Northern Territory of Australia.
Delta Airlines in the US will cut as many as 7,000 jobs in an attempt to avoid having to file for bankruptcy protection.
Westpac Bank's own social impact report - How We Measure Up - finds that its executive males earn over $55,000 on average more than its executive females. Westpac's male managers earn on average $14,673 more than women managers.
Volkswagen says as many as 30,000 jobs - about 17% of its Germany workforce - will be cut if it cannot reach agreements with unions to freeze wages and gain other concessions from workers.
14 September 2004
The Crown Solicitor has been asked to prosecute 32 groups that allegedly invented fake projects to gain grants of $150,000 through the Community Organisation Grants Scheme (COGS). A spokesperson for the Department of Internal Affairs, which administers COGS, says they believe they followed correct procedures in giving out the money but "there have been unlawful acts taking place" and the department is the victim. COGS distributes $12 million per year.
The Department of Labour is setting up a Pay and Employment and Equity Unit that is "committed to improving pay and employment equity in the state sector".
15 September 2004
Figures obtained under the Official Information Act show 560 people have been on unemployment-related benefits for more than 10 years. Five of those have been on the dole for 19 to 20 years. National MP Katherine Rich believes there would be many more people who have been on welfare for a total greater amount of time but are not in the statistics because they have had small stints in training or work.
Winz says that less than 1% of the people on an unemployment benefit have been collecting it for more than 10 years. Deputy director Ray Smith says it is harder to find work for some people because some have health, drug or alcohol problems, poor social or literacy skills, little work experience or cannot speak English well.
Most employers in the US say that about one-third of their workers don't meet the writing requirements of their positions, according to a survey by the College Board. Companies say solid writing skills are among the most sought-after skills, particularly when hiring and promoting salaried staff.
18 September 2004
Eastman Kodak, the world's biggest maker of photographic film, says it will close a plant in Victoria, Australia, cutting 600 jobs. The closure is part of the company's plan to slash its worldwide workforce by at least 12,000 over three years.
Italy's beleaguered state-owned airline Alitalia will cut 2,500 ground crew and freeze pay rates in an effort to keep the company operating. It is also shedding 289 pilots and cutting pilot pay by one-third.
20 September 2004
The Community Employment Group is officially dis-established.
---

LAST Diary

NEXT Diary

---