OUR DIARY
of key events over the last few weeks.


WHEN THE INVISIBLE HAND ROCKS THE CRADLE

ONE IN FIVE NZ'ERS LIVE IN HARDSHIP

DUNEDIN STUDY ON THE LIFELONG EFFECTS OF POVERTY

STATISTICS THAT MATTER — UNEMPLOYMENT IS RISING

GOVT WORKSITE PORTAL LAUNCHED BY MAHAREY

FUTURE OF WORK WEBSITE ALSO LAUNCHED

ACC — THE FINANCIAL REWARDS TO CASE MANAGERS

TARIFF PROPOSAL RAISES FEARS OF JOB LOSSES

TE ARAROA BOOK LAUNCH

COMMUNITY EMPLOYMENT ORGANISATIONS — WHAT ARE THEY UP TO?

---


LAST Letter

NEXT Letter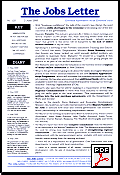 Download this issue
as a PDF file
Index to Back Issues
Index to Features

20 October 2002
Italian automaker Fiat lays off 7,600 workers.
21 October 2002
US-based telecommunications conmpany Lucent Industries announces 10,000 new job cuts. 22 October 2002
Milk industry sources say that 250 jobs will be cut and 150 jobs shifted from Wellington to Hamilton and Auckland as diary co-operative Fonterra absorbs its Wellington-based subsidiary NZMP.
United Airlines, the number two US air carrier, announces 1,250 job cuts.
International finance managers Cap Gemini Ernst & Young announce that although the company had a significant drop in revenue in the last half year, it will maintain its profit margin by cutting 5,500 staff. CGE&Y New Zealand vice-president Alan Sinclair says there are no plans to reduce staff in NZ.
23 October 2002
NZ First leader Winston Peters accuses the government of "ethnic engineering" by allowing a net inflow of 37,100 permanent and long-term residents this year. Three-quarters of the new immigrants are from Asia.
24 October 2002
70 British doctors have been recruited to work temporarily in NZ as rural GP locums during the next 18 months.
Statistics NZ says that by 2051, the population of NZ will have increased to 4.81 million people, the average age will have risen from 35 to 45 years and life expectancy will have increased by six years.
The NZ Sustainable Development Business conference convenes in Auckland.
27 October 2002
The amalgamation of six Maori fishing companies into Aotearoa Ltd will result in some redundancies. Broker of the deal, Treaty of Waitangi Fisheries Commission chairperson Shane Jones, expects the effects of any lay-offs to be softened by the expanding employment opportunities in the company's aquaculture businesses.
NZ'ers going to Korea to teach English should be cautious about scams in which Korean recruiters make placements they know will not last. NZ agent Marilyn Innes says that people are commonly recruited to fill a job in Korea and then presented with a position at a different school for less pay. There are now over 1,000 NZ'ers teaching in Korea and Innes says that 95% of these supplement their income by teaching in kindergartens, work which she says they are ill prepared for.
28 October 2002
Almost half of NZ secondary schools had staff vacancies at the beginning of last term according to the PPTA. 22% of those vacancies received no applications and 60% never got a suitable applicant.
At the Apec summit in Mexico, PM Helen Clark signs a three-way free-trade plan with Singapore and Chile which she says provides a strategic foothold for NZ into Latin America. Also at Apec, Minister of Trade Jim Sutton says that he and his Mexican counterpart have agreed to study the potential benefits of a closer economic partnership.
Auckland University professor Jane Kelsey criticizes the government's "reckless determination to continue down the free-trade path" at Apec. Kelsey says that other countries are promoting a more pragmatic approach that defends their domestic interests and limits their international exposure. 29 October 2002
The Ministry of Health is to make more of an effort to retain Maori staff. Maori make up 8.3% of the 900 Ministry staff. The fortnightly Family Assistance payment is now available through Eftpos and telebanking.
French telecommunications equipment maker Alcatel SA announces 1,000 new job cuts in the United States. 30 October 2002
Insurance Australia Group (IAG), which owns State Insurance and New Zealand Insurance, is to cut 900 jobs. IAG New Zealand chief executive David Smith says the majority of the job cuts will be in Australia.
R Griggs, the UK company that makes Doc Martin shoes says it intends to close its three British factories and set up manufacturing in the Far East.
1 November 2002
Unemployment in Singapore has jumped from 4.1% last quarter to 4.8%. This is the highest level since 1986. There are 84,000 unemployed Singaporeans in a total population of about 4 million.
US-based Electronic Data Systems announces plans to cut 5,500 staff, further to 11,000 recent job cuts.
2 November 2002
More than 7,300 people have claimed paid-parental leave since it was passed into law in July 2002.
Police are hoping that a UK recruitment drive will fill some of the 140 police frontline and investigative vacancies in Auckland and Manukau. A report by the Police Commissioner says there is a 'worrying spiral' in Auckland policing: "The job is getting tougher, more police are transferring out, so the job is even tougher and more police leave". Many Auckland police are either leaving the force altogether or transferring to other areas.
3 November 2002
Church leaders meet with the government to discuss child poverty issues. Their primary goal is to have Family Support payments inflation adjusted to the same value as when they were set in 1998.
Unemployment in the US is now 5.7%. Overall, the number of people working in the US has declined for the last two months.
In Turkey, the gap between the rich and the poor is accelerating. 60% of Turks are living below the poverty line and massive income gaps has seen a rise in drive-by muggings, car-jackings and bank robberies. Turkish security firms are experiencing record growth.
4 November 2002
The number of job ads in NZ rose again last month and were 7.7% higher than at this time last year.
Eleven people enrolled extramurally with the New Plymouth-based Practical Education Centre have been charged with fraud and 800 students have had $9.3m in loans and subsidies rejected in what The Dominion Post called NZ's biggest student loan scam. Those charged allegedly obtained student loans to buy computers but resold them with no intention of completing their course. Associate Minister of Education Steve Maharey says more people would probably have been charged if investigations had been thought to be cost-effective. Last year The Dominion revealed that nearly 2,000 extramural students, mainly beneficiaries, had obtained millions of dollars in student loans to buy computers through the training centre, which had ballooned to become NZ's biggest private training establishment.
Average NZ hourly wages rates rose by 1.8% in the July to September quarter.
7 November 2002
2,340 people have applied to have their cases reviewed after it was acknowledged that Winz used incorrect criteria for determining eligibility for the Domestic Purposes Benefit between 1996 and 2000.
The government says it will provide funding for unions to play a greater role in policy development. Helen Clark says that unions are part of the broader social dialogue the government wants to integrate into policy formulation and that the lack of money has been stifling union involvement.
The Australian unemployment rate has come down to 6.0% from 6.2%. The drop has been attributed to people leaving the workforce rather than from any extraordinary job growth.
The US Federal Reserve Board drops it interest rate to 1.25%, a new 40-year low.
8 November 2002
Homeless people generally do not live "rough" and community workers say and that those who do, do so by choice. Kevin Hackwell of the Downtown Community Ministry says that most homeless people live in shelters, hostels, boarding houses or stay with relatives or friends. He believes there are about 100 homeless people in Wellington.
11 November 2002
Nearly two-thirds of government departments have difficulties attracting job applicants and a similar number are experiencing skills shortage problems. Departments say they are commonly told by people that they do not apply for jobs because public service pay levels are too low.
170 meatworker jobs are expected to be created as the South Island-based Alliance Group purchases and begins to upgrade the former Dannevirke abattoir. United Airlines announces 2,700 additional job cuts including more than 10% of its cabin crews.
12 November 2002
Many older Australians are using their superannuation payments to retire personal debt rather than to fund their retirement. A report by the National Centre of Social and Economic Modeling has found that Australians between 45 and 64 years old were not saving, but rather accumulating debt.
13 November 2002
Christchurch will lose 136 jobs and Palmerston North will gain 100 jobs as Telecom service provider Sitel shifts its operator services center to the North Island.
Minister of Housing Mark Gosche will ask for at least part of the 43 hectares of land at the former Hobsonville airforce base to be made available for housing, including state houses for people on low incomes.
The average Australian wage rose 1.3% last quarter, the largest increase in the five years since the Australian wage cost index was first recorded.
British telecommunications company Cable and Wireless is cutting 3,500 jobs as it withdraws one of its divisions from the US and Europe.
14 November 2002
Unemployment in NZ increases to 5.4% of the working age population. See feature in this issue of The Jobs Letter.
NZ Camping gear manufacturer Arthur Ellis Ltd is cutting 53 jobs in Christchurch and 42 jobs in Mosgiel. Managing director Hugo Venter says manufacturing will be moved to Indonesia where the company could save about 25 to 30% on labour costs.
A mini-World Trade Organisation meeting is held in Sydney with 25 international ministers and trade representatives attending. US Trade Representative Bob Zoellick says that a free-trade agreement with NZ would compliment any deal the US is discussing with Australia. Helen Clark admits that the inclusion of NZ in US-Australia trade-deal discussions was probably influenced by her recent announcement that NZ would be sending weapons inspectors to Iraq and a naval vessel and support aircraft to the Persian Gulf to play an active role in the "war against terrorism".
15 November 2002
US farm lobbyists say that if they can not get a trade deal in which American farmers are the winners, they will use their power to stop it getting through Congress.
18 November 2002
Significant lay-offs are expected in the pipfruit industry after a hailstorm ruins about 20% of the Nelson area apple crop. United Airlines cuts 9,000 jobs in an attempt to obtain loans that would keep it from having to file for bankruptcy.
About 60% of the chief executives of major US companies say they expect to reduce staffing levels next year, according to the Wall Street Journal. In the UK, Royal & Sun Alliance insurers cuts 12,000 jobs and engineering group ABB plans to cut 10,000 jobs.
19 November 2002
The price of a loaf of bread is expected to rise by about 30 cents as the price of wheat rises due to a drought in Australia reducing the wheat crop. Foodbanks say the increase will affect poor people the most, for whom food forms a greater percentage of their weekly spending.
NZ has already achieved its aim to be in the top half of the 28 OECD nations in terms of family wealth, according to Arthur Grimes, a director of the Reserve Bank of NZ. Grimes says the "purchasing power parity", which NZ ranks 21st in the OECD, does not accurately portray living standards. He says that another gauge, which measures access to things like dishwashers, cellular phones, tv sets, computers, cars and the number of bathrooms in the home for high school student is is a better assessment of wealth. By these criteria, NZ ranks 11th in the OECD.
20 November 2002
The Post Primary Teachers Association recommends that foreign student numbers should not exceed 5% of the total school role. The NZ Reserve Bank predicts economic growth will have been 4.25% to the year March 2003.
21 November 2002
East Coast timber company Juken Nissho advertises for 6th and 7th formers as well as polytech and university graduates to apply for 30 trainee positions in Gisborne.
Saudi Arabia attempts to create employment opportunities for its citizens by limiting the types of jobs that foreigners are allowed to do. Foreign workers make up over 20% of the Saudi population, doing work that Saudis regard as menial. In an attempt to get Saudis into some of these jobs, the government brings in new regulations that include banning foreigners from driving the country's fleet of 45,000 taxis. US-based aircraft maker Boeing says it will lay-off 5,000 more workers, after cutting 30,000 jobs last year.
22 November 2002
Fonterra's restructuring of subsidiary NZMP may extend to shutting its Hamilton offices as well. A decision is to be made next week on the fate of the 320 NZMP staff in Hamilton.
23 November 2002
Minister of Education Trevor Mallard says that limiting foreign student numbers in schools is a possibility. Mallard also says the government will review whether it will continue to allow foreign fee-paying school children into the country if they are not accompanied by their family.
---

LAST Diary

NEXT Diary

---


WHEN THE INVISIBLE HAND ROCKS THE CRADLE

A report from UNICEF says that New Zealand's young people are still bearing the brunt of the market-driven reforms of the 1980s and 1990s.

UNICEF commissioned a group of Massey University researchers to look at the impact of the social and economic reforms on income, health and access to education. The report's lead author, Dr Alison Blaiklock, says that, at the time, the government assumed that policy changes would benefit children and young people. But she says the research shows that while the reforms transformed the government and the economy, they also caused a growing inequality in family income, housing, health and educational achievement.
The UNICEF report shows that households with children are more likely to be in the bottom two-fifths of income distribution. Other findings include that in 1960, New Zealand's infant mortality rate was the fifth lowest in the world. In 2000, the rate was 19th equal in the world.

When it comes to suffering injuries and poisoning, New Zealand is the fifth worst in the OECD. Youth suicide among males aged 15-24 years doubled between 1985-1989 and continues at a high level.

The report also notes the increase in unemployment has disproportionately affected young people. The rate of unemployment among 15-24 years olds has been approximately double that of older age groups since 1986, rising to greater proportions during peaks of unemployment.
The report, entitled "When the Invisible Hand Rocks the Cradle", was commissioned by the Innocenti Research Centre in Florence, Italy, because of the international interest in the economic reforms that New Zealand started in the 1980s under the Labour Government and continued under National.

UNICEF says the reforms were among the most sweeping in scope and scale in any industrialised democracy, but they were never monitored for their effect on children. Blaiklock: "What actually happened to the children of New Zealand is of international interest..." In 1997 the United Nations Committee on the Rights of the Child, to which New Zealand is a signatory, asked the Government to write a study on the impact of the reforms, but that never happened.
The UNICEF report concludes that the government needs to develop a broad and comprehensive policy framework for children which goes beyond those children most at risk. Dr Blaiklock argues that that society has a responsibility to try to put right the harm that has been done to so many children and young people. Blaiklock: "It's been 18 years, so for every child in New Zealand, every young person under 18, this is the world they have grown up in..."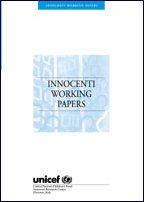 — When the Invisible Hand Rocks the Cradle: New Zealand Children in a Time of Change,
by Michael Belgrave, Alison J. Blaiklock, Eileen Davenport, Ian B. Hassall, Cynthia A. Kiro, and Will Low (UNICEF Innocenti Working Paper No.93, 2000)
download full document
(70pg, 195kb)
Sources — Press Release from UNICEF 19 November 2002 "Launch of Invisible Hand rocks the Cradle publication"; NZ City News 19 November 2002 "Children bear brunt of market-driven reforms"; New Zealand Herald 19 November 2002 "UN report says NZ's reforms hurt children" by Catherine Masters
MSD — ONE IN FIVE NZ'ERS LIVE IN HARDSHIP
The UNICEF report echoes much of the government's own research. The New Zealand Living Standards 2000 report, published last month by the Ministry of Social Development, shows that close to one-third of New Zealand children live in hardship. For those children in families with low living standards, the report reveals many parents are unable to meet their children's basic needs, and their children are likely to lack warm clothing, miss out on visits to the doctor and dentist, school trips and supplies. As many as one in five have to share a bed because of costs.

Overall, the report says that one in five New Zealanders are facing hardship and one in three Pacific Islanders face severe hardship, with many unable to afford basics such as fresh fruit and vegetables, heating and proper bedding.
The Living Standards report has been put together by the Ministry's Centre for Social Research and Evaluation (CSRE). General Manager Nicholas Poole says that in many ways the report's findings are in line with conventional wisdom. Poole: "It tells us that while the majority of New Zealanders enjoy a comfortable living standard, a significant minority have low living standards. The most important finding is that people in work have better living standards than those on benefits, even when their incomes are about the same. This shows us that employment makes a big difference to people's living standards and income levels only partly explain variations in living standards ... "
Source — www.stuff.co.nz 15 November 2002 "One in five facing hardship — report" by Chloe Groser; New Zealand Herald 14 November 2002 "One in five New Zealanders have low living standard" by NZPA; Mureil Newman column 22 November 2002 "Unicef report rewrites history"
VOICES:ON THE RECENT POVERTY REPORTS
" The Living Standards report clearly shows the dangers of not addressing income disparities and hardship, especially when they impact on so many children and therefore are likely to have longer-term effects on education, health and employment outcomes...."
— Ross Wilson, Council of Trade Unions president
" The Living Standards research is not simply an academic exercise. It is essential for a government strongly committed to investing in New Zealanders because it will give the government detailed information about the best ways to combat poverty in our society. Boosting living standards is not just about ensuring lower income New Zealanders have more to spend. For example, the report shows that further investments to make work pay is a more effective way to close the poverty gap than some other options. The research is now being used to refine the government's reform of the benefit system and the implementation of the Agenda for Children..."
— Steve Maharey, Minister of Social Services and Employment
" The so-called UNICEF report is a seriously unbalanced and politically correct attempt to re-write history. The authors essentially argue the reforms of the Eighties and Nineties were a failure, and that the Labour-led recent changes have been an outstanding success. Furthermore, through the sin of omission, this report fails to even identify family breakdown and long-term welfare dependency as major contributors to poor outcomes for children..."
— Dr Muriel Newman, ACT spokesperson on social welfare
" Everybody knows that poverty is a critical issue facing many New Zealanders, especially families with children ... We are sick of all the talk while nothing changes."
— Sue Bradford, Green Party spokesperson on social services
LIFELONG EFFECTS OF POVERTY
Still more poverty research: A new study, based in Dunedin and published in the medical journal The Lancet, has found that children who grow up in poor families have greater health problems over their life-spans, when compared with children from richer families.

A study of a thousand people born in Dunedin 30 years ago, who had been monitored throughout their first 26 years, has found that those children from poor families suffered poorer dental and cardiovascular health and they also had twice the risk of developing alcohol and tobacco addictions. The report also finds that these negative impacts were generally not reversed if the children became more affluent as adults.

The study, entitled "Association Between Children's Experience of Socio-Economic Disadvantage and Adult Health", has prompted its authors to put out a call to decision-makers to start addressing the effects of child poverty. They believe that previous research into the effects of child poverty may have under-estimated the effects of childhood experiences.

Dr Richie Poulton, from the University of Otago: "We have know for a long time that socio-economic status plays a part in the nation's health. What we didn't know was that if a family becomes wealthier, children still suffer from the effects of the initial adversity in adulthood."
ACT social welfare spokesperson Dr Muriel Newman says this report should "set government alarm bells ringing". Newman: "In light of the fact that benefit numbers have increased ten-fold since 1972-73, from 40,000 to around 400,000 today, and that few of the study's children were in families dependent on welfare, with some 300,000 children now living in benefit-led households, the future pressure on our health system looks set to skyrocket. Not only that, but the present government's expansion of the welfare system will condemn generations of children to a lifetime of even poorer health outcomes than the research study found..."
Source — Radio NZ Morning Report interview with Dr Richie Poulton 25 November 2002; www.stuff.co.nz 25 November 2002 "Poverty in youth affects health in adulthood — researchers"; www.stuff.co.nz 26 November 2002 "Effects of poverty lifelong" by Chloe Groser; Press Release 25 November 2002 Muriel Newman "Poor Families, Poor Health"
UNEMPLOYMENT RISING
Unemployment in New Zealand has risen from 5.1% to 5.4%, or by about 6,000 people, during the September quarter. Analysts had been predicting the NZ unemployment rate would drop below 5% by the end of the year, but this is looking unlikely.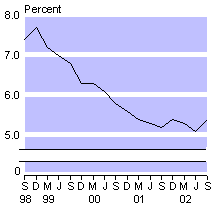 We include our regular Statistics That Matter summary in this issue of The Jobs Letter. Some highlights:
— Those aged 20 to 29 years old are bearing the brunt of this rise in unemployment. Almost all the rise in unemployment over the quarter is recorded in this age group, with the unemployment rate for 20-24 year olds rising from 8% to 10.3%.
— Over the last year, there was an increase of 50,000 people being employed in the economy; however, people joining the labour market out-paced the number of new jobs. Statistics NZ attributes part of the gain in the working age population to a net gain of nearly 30,000 permanent and long-term immigrants.
— There were significant increases in the number of older people employed over the last year. 22,400 people (close to half of all those joining the workforce) were between the ages of 55 and 64 years. The unemployment rate for those over 50 years old is now 3%.
— At 2.3%, the Nelson-Marlborough-Tasman-West Coast region is now recording the lowest unemployment rate in the country. Northland and Otago have the highest rate of 12.3%.
— Immigration has been a big factor in stimulating NZ's strong economic growth of 3.5% in the year to June 2002, resulting in a boost to construction and house prices, and stimulating retail sales. Demand for construction workers has been a big factor in the 3,000 new jobs created in the September quarter.
Source — Statistic New Zealand Household Labour Force Survey September 2002 quarter; National Business Review 15 November 2002 "Tracking the Economy" compiled by Joanna Smith; New Zealand Herald 8 November 2002 "Unemployment rise signals economic headwind" by Jim Eagles; The Daily News 8 November 2002 "Immigration a factor in unemployment rise" by Simon Louisson; The Dominion Post 8 November 2002 "Immigration behind surge in jobless rate" NZPA

NEW WORKSITE PORTAL LAUNCHED BY MAHAREY
The government has launched its new internet "portal" for government resources to do with work and employment in this country (www.worksite.govt.nz). The website combines the resources of several government agencies and provides information about education and training, career planning, finding work, finding employees and establishing and operating a business in New Zealand.

Worksite is essentially a mega-links page which takes you to all the different information resources from government departments (including the Department of Labour, the Ministry of Social Development, the Ministry of Education, Skill New Zealand/Transition Tertiary Education Commission, the New Zealand Qualifications Authority, the State Services Commission, Career Services and Industry New Zealand). There are plans to extend the coverage by linking to private sector organisations next year, as well as other government information, including volunteering, community businesses, ACC, childcare, taxation, income support and the transition to retirement.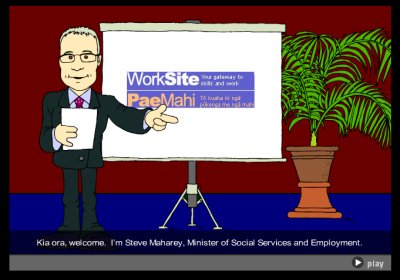 WorkSite is one of the initiatives under the "skills information action plan "announced by Steve Maharey in this year's Budget. Last week he launched the new initiative from a computer at the Wellington Public Library ... appearing as an animated cartoon giving his ministerial speech to online e-guests from around the country (see www.dol.govt.nz/worksitelaunch.html).
Source — www.worksite.govt.nz

FUTURE OF WORK WEBSITE
As part of the government's new emphasis on internet resources, the Department of Labour has also unveiled its new website on "the future of work" (www.futureofwork.govt.nz).

The website presents research and information from the department's Future of Work programme which examines what working life might be like in the future and how job opportunities are changing in New Zealand. It looks at trends such as the impact of technology, increasing ethnic diversity, ageing and globalisation.

The purpose of the website is to stimulate debate about the future of work, and provide information to help participants in the world of work plan better for the future. It provides accessible summaries of research findings and papers generated by the future of work programme, and links to further research and information. There are also articles about trends in working hours in New Zealand, the implications of population ageing for the size and composition of the workforce, growing ethnic diversity and the international migration of workers.
Source — www.futureofwork.govt.nz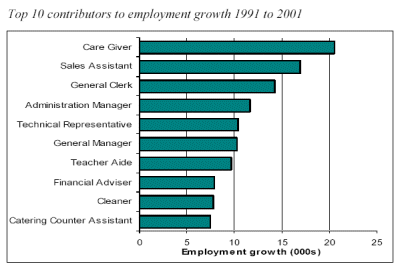 ACC — THE FINANCIAL REWARDS TO CASE MANAGERS

A special investigation into the Accident Compensation Corporation by the Sunday Star-Times has found that during the 1990s, ACC case managers received financial rewards for "exiting" patients from the accident compensation scheme.

A paper entitled Tail Management, prepared by the corporation in November 1998 for then National Party Minister of ACC Murray McCully, says that claimant exit rate is a key performance indicator for staff. For teams managing the "tail" — claims more than a year old — it says "performance is measured on exit rate". And the team structure "allows for clear objectives and measurements to be in place for staff which impacts on their remuneration".

The ACC initially denied responsibility for the document, but changed its mind when the Star-Times presented it with a letter signed by McCully confirming the corporation had produced the paper. The Star-Times was told that the key performance indicators for ACC branches are "heavily weighted towards exit rate against target, the exit:entry ratio and duration on the scheme" and that these objectives are "constantly being reinforced at all levels in the organisation by senior management".

A case manager performance assessment form from the same period, which was used to calculate salary increases, reveals more. Achieving performance targets carry more weighting in the staff assessment criteria than anything else, making up 40% of the total assessment points. For case managers dealing with intensive management (the "tail"), the two performance criteria are exit rate and "tail" exits. Exit rate performance is measured in the percentage of claims exited over entry. Exit rates of greater than 120% is "exceptional" and gives maximum points, 100-119% "exceeds requirements", lowering gradually to less than 90%, which "requires significant improvement".
Palmerston North advocate Alan Rowlett, formerly an ACC assistant branch manager who now represents ACC patients, told the Star-Times that the revelations came as no surprise. Rowlett: "I've known it for years but the denial from ACC has always been on the fact that staff didn't get direct bonuses, when in fact it is indirectly the most significant part of the criteria for their remuneration package."

The Tail Management report was cited by Judge Arthur Middleton in May 2000 in his judgement on Carterton tyre worker Sonny Albert's case against ACC. Referring to the passage on remuneration, he stated: "Does that mean that by creating a certain number of `exits' staff will receive a bonus? That would appear to be the implication."
ACC Minister Ruth Dyson, writing in the Star-Times, points out that recent reforms to the ACC have removed private providers from the equation, and "taken the profit motive out of the social contract". She says that she has been assured by ACC that staff are not receiving bonus payments for successfully removing claimants from the scheme.

Current National Party ACC spokesman Paul Hutchison says the Tail Management report has "very serious implications". Hutchison: "Patients should be assessed on as objective and best practice guidelines as possible and there should be no financial incentives associated with cases. If it is established that there have been financial incentives there must be an inquiry..."
Source — Sunday Star-Times 10 November 2002 "ACC staff paid bonuses for high `exit' rate" by Pravin Char
TARIFF PROPOSAL RAISES FEARS OF JOB LOSSES
Thousands of jobs could be lost in our manufacturing industries if the government presses ahead with its radical proposal to the World Trade Organisation (WTO) that all non-agricultural tariffs in the world should be slashed to zero. Union leaders are reported as saying that the proposal comes as an alarming surprise, and out of "right field" ... just as NZ industries were trying to make a shift to higher value products which will be less likely to be hit by tariff cuts.

The textile, clothing, footwear and carpet industries employ about 20,000 people. More than 5,000 jobs in these industries vanished in the late 1990s. Today, the industries produce exports worth more than $500 million a year — and the Dominion Post quotes a recent government report suggesting they could reach $1 billion in exports within five years.
CTU secretary Paul Goulter says the government risks the loss of popular support for its trade policy by pushing the zero tariff proposals. His concern is that there has been no cost-benefit analysis done to estimate the impact on jobs in this country. Goulter: "What will the impact be? We just can't say, other than thousands of jobs will go ... depending on the timing of the tariff cuts. We are most alarmed about it."

The CTU says that the WTO proposal throws considerable doubt on the integrity of the government's review of local tariffs, which are frozen until a review is completed by 2005. Goulter: "The CTU position in the post-2005 tariff review is that the tariff freeze needs to be extended until 2008 with a review commencing in 2005 to look at what, if anything, should happen post-2008".
Trade Negotiations Minister Jim Sutton says that his "bold proposal" is a negotiating bid amongst the 144 members of the WTO. It was a cabinet-approved attempt that hopes to "effectively lift the stakes for an ambitious outcome across the board". Sutton: "NZ is not going to do this on its own. It has to be reciprocal. Either all join in, or none..." Sutton calculates that if his proposal succeeds, then local exporters of forestry, fish and manufactured products would save around $185 million a year in tariffs.

Sutton: "NZ is well-known as a proponent of international agricultural trade reform. While more than 50% of our exports are agricultural, its worth highlighting that almost 50% of our exports are non-agricultural. We have a significant stake in how WTO negotiations in sectors other than agriculture go. Tariff barriers reduce the incomes of NZ exporters and make it harder to employ more people here..."
The forestry sector strongly supports the government's zero-tariff proposal to the WTO. Stephen Jacobi, CEO of the Forestry Industries Council, says that without lower tariffs internationally the NZ industry " ... will be condemned to remain a grower of trees and exporter of logs." He says tariffs on NZ's $3.7 billion of forestry exports cost the country around $40 million a year.

Jacobi: "The forestry industry already provides jobs for 23,000 NZ'ers directly and a further 100,000 indirectly. If we want more jobs in regions like East Coast or Northland, then we must capture more of the value of forest products in New Zealand. This means processing more wood locally — close to the forests... and this will only happen with better access to international markets, which is the aim of the Government's tariff initiative."
Source — Www.stuff.co.nz 5 November 2002 "NZ proposing zero tariffs on non-agricultural goods"; Press Release Jim Sutton 4 November 2002 "NZ proposes complete tariff elimination on non agricultural goods"; Www.stuff.co.nz 5 November 2002 "Zero tariffs proposal places NZ at cutting edge of globalisation"; The Dominion Post 5 November 2002 "Labour irks trade unions with tariff plan for WTO talks"; Www.stuff.co.nz 8 November 2002 "NZ foresters keen on govt's idea of zero tariffs"; The Dominion Post 8 November 2002 "Tariff proposal raises fears of job losses" by James Wier;
TE ARAROA BOOK LAUNCH
Te Araroa, the vision of a great New Zealand walking trail stretching from Cape Reinga to the Bluff, is one of the projects being supported by the Mayors Taskforce for Jobs and the Employment Catalyst Fund (see last issue of The Jobs Letter). This project has been given a boost this month with the publication of Geoff Chapple's book describing his own walk along the proposed route and the stories of people and landscapes he encountered along the way.

Reviewer Michael King: "Te Araroa is a fine far-sighted quest. And one that is of enormous benefit to all New Zealanders who care about their country's historical and natural heritage. I commend this book wholeheartedly..."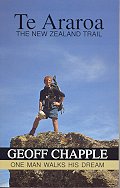 — Te Araroa: The New Zealand Trail — One Man Walks his Dream,
by Geoff Chapple
(pub 2002 by Random House)
COMMUNITY EMPLOYMENT ORGANISATIONS — WHAT ARE THEY UP TO ?
There are now fifty-six community based enterprises throughout New Zealand receiving assistance from the Community Employment Organisations (CEOs) scheme run by the Labour Department's Community Employment Group (CEG).

The CEO scheme supports the creation of community enterprises, which are not in competition with other operators, to provide services for community development. CEG provides a mix of advisory support and financial assistance, including establishment grants for the community enterprises and wage subsidies for formerly unemployed people taken on by the enterprises.

Employment Minister Steve Maharey reports that just over $2.5m in grant funding has been paid to the various initiatives so far, and $1m has be spent on job subsidies for 212 former beneficiaries now employed with them. A further 528 unsubsidised jobs have also been created by the community enterprises. Maharey: "I am pleased with the way the CEO initiative is developing. Community development has been considerably boosted and employment with a CEO is also providing a concrete stepping stone for former unemployed New Zealanders to return to the wider labour market and to a real paying job."
Examples of the CEO-funded initiatives include: Vanished World, operating out of Oamaru, which provides guided tours of fossil sites for local and overseas visitors (3 jobs created); Te Whanau Paneke, operating out of Lower Hutt, which runs a tourist-oriented retail outlet called Maori Treasures and provides support for local Maori artists (10 jobs, including 7 subsidised positions); and Whaingaroa Harbour Care, operating out of Raglan, which runs a service to improve water quality and marine life through harbour fringe plantings (4 jobs, including 3 subsidised positions).

— click for a full regional list of the groups being funded through the Community Employment Organisations scheme.
Source — Press Release Steve Maharey / Community Employment Group 12 November 2002 "Community enterprises strengthening local communities and creating employment"
---
The Jobs Research Trust — a not-for-profit charitable trust constituted in 1994.
We are funded by sustaining grants and donations. Yes, you can help.