DAVE OWENS in EAST TIMOR
Jobs Research Trust trustee DAVE OWENS sketches the view from Dili on the state of the employment and job creation challenges facing the East Timorese.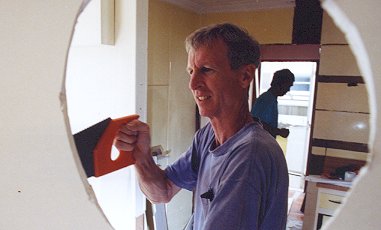 Letters From Timor Our special website supporting Dave Owen's volunteer initiatives in East Timor.
---
THE MOVING UNEMPLOYMENT NUMBERS
An economist at the Employers and Manufacturers Association is cautious about celebrating our lowest unemployment rate in 12 years. Linda Wannan-Edgar warns that the unemployment figures are too easily upset by people moving in and out of the official "workforce".

In an article in New Zealand Herald, Wannan-Edgar points out that the latest official tally of employment figures (see The Jobs Letter No.139) shows some apparent contradictions. Her examples: Wellington has more jobs, but its unemployment is up. Northland's working-age population declined but its unemployment rate is static and high. Auckland attracted more than 19,000 potential extra workers, but only 5000 new jobs. The total area north of Taupo experienced no job growth, and national unemployment went down by only 11,000.

So what's happening? Official unemployment rates are based on a percentage of the workforce (which is 1.9 million people), and not the working-age population (which is 2.9 million). The official "jobless" (discouraged, or available for work but not actually seeking it) total only about 100,000 people. This leaves another 900,000 people "not in the labour force". They are not all in early retirement, sick, on ACC or caring for others ... and when they move in and out of the workforce, they have a significant impact on the jobs figures.

Wannan-Edgar describes a "Dick Whittington phenomenon" where people move out of regions like Northland and the Bay of Plenty and into Auckland, Waikato, Wellington and Canterbury, where the work is. She writes: "In Wellington at least, people re-entered the workforce maybe expecting the new Government to create jobs. It did not oblige. So Wellington's "not in the labour force" numbers fell while its "labour force" increased by more than the new jobs. The result? Unemployment worsened."

Wannan-Edgar compares this situation to what happened when Waihi Gold reopened its mine 20 years ago, but unemployment in Waihi increased, because the inflow of hopeful workers exceeded the number of new jobs. She believes that much of last year's change in regional unemployment can be explained by such workforce changes, and not by job creation or loss.
MAKE INDIVIDUAL TRAINING EXPENSES TAX-DEDUCTIBLE
Wannan-Edgar argues that the lack of skills amongst jobless people is the key factor in addressing unemployment, and we must correct disincentives to work and train. Her view is that a tertiary student should be able to capitalise on their student fees, creating an asset which can be written off against future income.

Wannan-Edgar: "If skills are seen as nationally important, then we should make individual training expenses tax-deductible. Businesses can and do capitalise development salaries and other expenses and, just like a truck or a building, depreciate the asset over its life. Why cannot individuals? Politicians rankle with talk of "human capital' without the same financial incentives as other investments..."
Source — New Zealand Herald 20 February 2001 "Dialogue: Time to make training pay" by Linda Wannan-Edgar.
MAYORS SIGN AGREEMENT WITH CEG
The Mayors Taskforce for Jobs has signed a formal agreement with the Community Employment Group (of the Department of Labour) to work together on common objectives. The "Principles of Partnership" will see local CEG field officers working more directly with Mayors participating in the Taskforce.

The agreement follows on from the "Memorandum of Understanding" signed between the government and the Mayors Taskforce in September last year. Under the latest agreement, the CEG support to the Mayors Taskforce will be become one of its "national strategies".

The participating Mayors will "champion" local projects and activities which strengthen local employment and community economic development opportunities. The CEG field officers will be providing advisory, planning and liaison support directly to the Mayors and their local project teams.
TASKFORCE TO MEET IN AUCKLAND
The Mayors Taskforce will hold its first Auckland meeting later this month. A core group of the Mayors will be meeting in Manukau City to finalise their strategic direction, and to share plans on how the Taskforce goals will "hit the ground" at a local level. They will also take time to meet with Auckland Mayors — at this stage, only Waitakere Mayor Bob Harvey is a formal member of the Taskforce.

The meeting will conclude with a "best practice" and networking day amongst Mayors and their invited colleagues. Speakers on this day will include Professor Ian Shirley (Institute of Public Policy AUT), Sandi Morrison (Local Employment Co-ordination), Ngapo Wehi (Pounamu Training), Warren Snow (Zero Waste Trust) and Geoff Chapple (Te Araroa Trust). Ministers Steve Maharey and Jim Anderton will also be attending the meeting.

— For ongoing news on the Mayors Taskforce for Jobs, visit the website at www.jobsletter.org.nz/mtjobs.htm
CHRISTCHURCH TARGET 2001
Christchurch leaders have launched an employment initiative aiming to create more than 2001 jobs in the coming year. Christchurch Mayor Garry Moore, the Christchurch City Council, the Canterbury Development Corporation, community organisations and employers are pledging to work together on the "Target 2001" initiative which aims to create jobs through business networking and on-the-job training.

• Canterbury is looking buoyant at the moment with a quarter of local employers expecting to take on more staff in the next six months, according to the latest confidence survey from the Employer's Chamber of Commerce. The region also expects a boost from the recent decision by Environment Canterbury to go ahead with a massive irrigation project that farmers say will create up to a thousand jobs and add more than $100 million a year to the region's economy.
Source — Christchurch Press 26 February 2001 "Groups launch combined approach for jobs in Canterbury" by Andrew Moffat
PORIRUA ONE MORE WORKER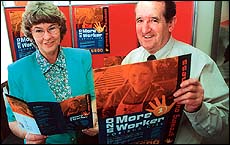 Porirua Mayor Jenny Brash has launched the "One More Worker" campaign to encourage and assist local businesses to employ extra staff. Brash first heard of the campaign at a Mayors Taskforce for Jobs meeting, and took the concept to the Porirua Business Development Society (PBDS) and Winz. The campaign has been running successfully in Horowhenua and Taranaki.

The average Porirua business currently employs six people, and the campaign organisers recognise that taking on one further employee is a "big ask". Winz advisor Denis de Reus says the campaign offers no new services, but brings a range of existing assistance (from Winz and PBDS) together under one umbrella. This help includes wage subsidies, help with business planning, marketing, training and help with preparation of tenders.
Source — mytown.co.nz 1 March 2001 "Campaign launched to assist businesses to employ extra staff" by Jim Chipp
BRADFORD GAINS BANKING PLEDGE
The Green Party support for Jim Anderton's "People's Bank" has seen the proposal gain enough parliamentary support to ensure a go-ahead from Cabinet. Green MP Sue Bradford says that an important component in the negotiations was an agreement to explore setting up community-owned local banks on a "Bendigo" model (see The Jobs Letter No.139).

Bradford: " In our discussions with NZ Post and the government, it has become clear that NZ Post is open to going into partnership with communities to set up genuine community owned local banks, and are in fact willing to meet immediately with sector representatives to make sure this goal is built into their plans. After years of unsuccessfully trying to find an appropriate "hub" bank to provide the infrastructure for community banking in this country, this is good news indeed, and for this reason I do genuinely welcome and support the NZ Post initiative..."
Source — Sue Bradford speech to Parliament Thursday 15 February 2001
MAHAREY KEEN TO BACK `SOCIAL ENTREPRENEURS"
Social Services Minister Steve Maharey is keen to introduce funding for "social entrepreneurs" into the next government Budget. If his Budget bid is successful, Maharey predicts we will hear much more of the term "social entrepreneurs", and we will "... see people popping up all over the country who will be identified as the real shakers and movers in the social area ... given the financial backing."

Maharey: "It's not an idea we haven't seen in this country at all, but it's not been a conscious policy. You literally go to communities, find out who the people are making a difference and say: Now, what would you like to do? What barriers could we remove by giving you extra money?"

Maharey described the Supergrans group, which works largely with young mothers in Christchurch, as a good example of social entrepreneurs: "They're constantly cash-strapped but the results are huge. Everybody they touch seems to have a magical transformation in their lives. With more financial backing they could be doing more good."
Source — The Dominion 8 March 2001 "Minister keen to back `social entrepreneurs"
WILL RANKIN BE RE-APPOINTED ?
Media Watch. There has been intense speculation in the media over the last month as to whether Winz chief executive Christine Rankin will be re-appointed when her three-year term expires in July. Vernon Small of New Zealand Herald quotes "sources close to the department" as saying that Cabinet was determined not to reappoint her, and that State services Commissioner Michael Wintringham has told Rankin that she would not get a second term in the $250,000-a-year job. Small also reports that Rankin has sought legal advice to challenge the decision.

Small: "The government has lowered a cone of silence over her future, refusing even to comment on what stage the process is at. It is likely they are putting as much distance as possible between themselves and a decision on her future to avoid allegations of improper political interference or to give her ammunition for a court case."
Earlier last month, Christine Rankin told the Sunday Star-Times: "I love this job. Yes, I very much want to continue." She also told Guyon Espiner that she had toned down her flamboyant style and introduced a more austere regime at Winz to suit the Labour-Alliance coalition, which had campaigned on frugality in the public sector.

Rankin: "I think I'm a lot more conservative now. My personal presentation is more conservative and . . . I'm cautious about everything I do in the organisation. I don't do some of the things I did before, not because I necessarily think it was wrong, but if that's the expectation — that I have a quieter way of going about my job — then that's exactly what I'll do."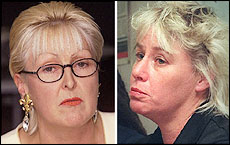 The Sunday Star-Times article is the source of a more recent controversy between Christine Rankin and Green MP Sue Bradford (see Voices, this issue). Bradford criticised Rankin for putting "style above substance" in her management, and for representing the idea that "... if beneficiaries would only dress nicely and get their act together then their problems would dissipate into the freshly perfumed air."

The full Sunday Star-Times article, "The Rankin File", is available on the internet at http://www.stuff.co.nz/inl/index/0,1008,642405a1861,FF.html
Sources —Sunday Star-Times 11 February 2001 "Rankin to fight for Winz job" and "The Rankin File" by Guyon Espiner; The Dominion 12 February 2001 "Rankin keen to continue as head of Winz"; New Zealand Herald 10 March 2001 "Rankin to fight for Winz job" by Vernon Small; New Zealand Herald 15 March 2001 "Service head apologises over Rankin legal threat" by Vernon Small
VOICES : ON CHRISTINE RANKIN AND SUE BRADFORD
" [Ms Rankin] typifies that psychology that it's all in the appearance, it's all in the look. I just hate the psychology in Welfare and Labour departments that if you present well ... if you've got the high heels and earrings or the suit and tie or the makeup and everything looks nice that you'll be fit for the job.
"That whole [airline charter] incident really epitomised what had happened to Winz under the previous Government and under Rankin's leadership. I think she was someone promoted far beyond her capacity to lead a department of that size and complexity."
— Sue Bradford, veteran employment activist and Green MP, commenting on Winz Boss Christine Rankin in the Sunday Star-Times, 11 February 2001
" She considers that in making these statements, you have caused harm to her reputation. As to whether or not our client takes any further steps will depend very much upon the response given to this letter. In that regard our client reserves all her rights, including the taking of further steps should she perceive that to be necessary."
— Christine Rankin's lawyer Michael Quigg, in a letter to Sue Bradford MP, later tabled by Bradford in Parliament
" I don't believe that senior public servants in a very political position like hers should really have the ability or the right to silence or bully MPs into submission through the threat of legal action.
" I'm not making any retraction or apology at this time ... I actually believe that many more detailed criticisms have been made of Mrs Rankin over the last few years and I find it odd that she should target me of all people."
— Sue Bradford, responding to the legal threat
"Generally, public servants have the same rights of access to their political representatives as other members of the public. However given the requirement for public servants to remain politically neutral in their work, such communications should be approached with special sensitivity … employees occupying senior positions or working closely with Ministers should exercise particular care with such communications."
— Public Service Code of Conduct, published by the State Services Commission
" I am disappointed I was not briefed by Work and Income Chief Executive Christine Rankin in relation to potential defamation proceedings in her personal and private capacity against Green Social Services spokesperson Sue Bradford. It is an accepted convention that senior public servants would normally inform their Ministers if such an action was being contemplated."
— Steve Maharey, Minister of Social Services and Employment
" What I would have done was to say [to Ms Rankin] `look, think very carefully about this, my strong advice is don't do it'.
" I have had this discussion from time to time with one or two other chief executives who have been subject to a level of public vituperation that I personally find unacceptable in our system of government."
— Michael Wintringham, State Services Commissioner, speaking on National Radio.
" I do not want an atmosphere where Members of Parliament feel inhibited from scrutinising the public service."
— Helen Clark, Prime Minister
" It is quite unbelievable that a high ranking civil servant can threaten legal action against an MP and not inform the Minister responsible. Where is the accountability?"
— Dr Muriel Newman, ACT Social Welfare Spokesman
"It's changed dramatically in terms of the way people respond to me in the streets now. They're very nice now. By and large they're lovely. Lots of people come and talk to me still. They're really pleased I've kept on going ... I have to cope with lots of things. I have to cope with being touched and patted."
— Christine Rankin, speaking to Guyon Espiner of Sunday Star Times (11 February 2001) on how the public was warming to her.
" I was a very senior manager at the department of Social Welfare when Christine Rankin was first employed there [...] While my politics could best be described as being to the right of Atilla the Hun, I find myself on this one and only occasion in total agreement with Sue Bradford, MP, when she says Rankin was promoted beyond her capabilities and has more style than substance.
" I question whether it is real style or just downright tackiness. Her comments that she has to cope with being touched and patted, I find bizarre. Perhaps she does see herself as Mother Teresa or Princess Diana.
" Hopefully this rings alarm bells for her employers and this ridiculous blight on the civil service will be exorcised for good."
— Leslie Hornsby, Kerikeri, Letter to the Editor, Sunday Star-Times 18 February 2001
---


Top of Page
This Letter's Main Page
<! ---> Stats | Subscribe | Index | <! ---> <! --->
The Jobs Letter Home Page | The Website Home Page
---
jrt@jobsletter.org.nz
The Jobs Research Trust -- a not-for-profit Charitable Trust
constituted in 1994
We publish The Jobs Letter