OUR DIARY
of key events over the last few weeks.


UNEMPLOYMENT CREEPS UP

PART-TIME WORKING HIGH SCHOOL STUDENTS

STUDENT ALLOWANCE NUMBERS FALL

MSD JOBS PARTNERSHIP WITH AUCKLAND BUSINESS

THE AUSTRALIAN BUDGET

CULLEN BUDGET TO BE MORE CONSERVATIVE

DEFENCE FORCE SHORTSTAFFED

CAREGIVERS LEAVING THE SECTOR

CANíT BUY IT

---


LAST Letter

NEXT Letter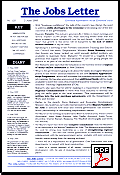 Download this issue
as a PDF file
Index to Back Issues
Index to Features

2 May 2005
An ambitious $1 million private effort is under way to tackle skill shortages in the information and communications technology industry (ICT). It hopes to result in a technology curriculum for years 11-13 schoolchildren, and in the creation of a new national ICT training organisation. The initiative is the brainchild of E-Regions, a non-profit trust founded by influential industry activists.
Permanent long-term migration to NZ increased the population by 1,400 people in March and by 10,000 for the year to March. This was down by 28,000 on the previous year.
Migration outflow of NZers to Australia was 17,200 for the year. This was slightly higher than the annual average of 14,000 NZers who have gone to live in Australia since 1993.
3 May 2005
South Canterbury school principals report that a concerning number of secondary students are struggling at school because they have paid jobs which are distracting them.
Treasury officials have questioned PM Helen Clark's plans to get mothers back into paid work, saying NZ households are already among the hardest working in the world. Treasury says getting more mothers into work would result in less time for child rearing, housework, and leisure or unpaid activities that are "... nonetheless valuable and contribute to the overall welfare of the country."
The Treasury comments have been welcomed by women's groups, child welfare organisations and home-based mothers angered by Clark's comments earlier this year.
5 May 2005
Statistics NZ reports that the cost of labour increased 0.5% in the March quarter and by 2.5% for the year to March. 59% of workers received an increase. The average increase was 4.4%.
The World Economic Forum will launch a study later this month that attempts to measure and rank the "gender gap" between 58 national economies. The intention is to gauge the benefits countries receive or penalties they endure due to involvement or lack of involvement of women in their economies.
6 May 2005
The International Monetary Fund is forecasting the NZ economy to grow by 2.8% in the coming year, a slowdown from last year, but still faster than the OECD average.
7 May 2005
The increase in the number of mothers returning to work — especially those of under one-year-olds — is contributing to a widespread shortage of nannies. NZ Nanny Support Service says there is a big demand for care for babies. Manager Stacey Dunne says there is a whole culture change occurring. Nannies have traditionally been employed by the wealthy but with government subsidies, demand has taken a huge leap. Dunne says she has only been able to fill a third of her enquiries for nannies this year. Nannies earn $15 - $18/hr and experienced, qualified nannies can command as much as $25/hr.
8 May 2005
Te Wananga O Aotearoa is on the brink of insolvency. Cabinet approves a $20 million loan to the institution so it can meet its financial commitments over the next fortnight, including wages to staff and payments to creditors.
Hewlett-Packard has beaten EDS and IBM to get the job of trialing client management software Curam for Work and Income. The software trial itself runs to seven figures but, if successful, would cost the government "at the low end of $80-180 million" to install and support, according to a Hewlett Package spokesperson. Curam is expected to take on many of the functions done by Swiftt and Trace, the custom-built case management applications used by Work and Income. The trial will run from July to November.
10 May 2005
About one-in-four NZ homes are not insulated and one-in-three have inadequate or no heating. The Health Research Council has found that people in insulated homes suffer less from respiratory problems and have fewer sick days off work.
11 May 2005
A report from the investigation of employment conditions of foreign fishing crews working on NZ boats in NZ waters is still unreleased by Minister of Labour Paul Swain. The Nelson Mail says Swain received the "potentially damaging" report in December. The investigation was initiated last year when NZ fishing companies, who said they could not find NZers to crew factory trawlers, gained approval to employ foreign workers.
The National Australia Bank will cut 10% of its workforce or 4,200 jobs, worldwide. 2,500 Australian jobs will be part of the cuts.
12 May 2005
The NZ unemployment rate rises to 3.9%.
The Australian economy defied economists' predictions and added jobs in April. The Australian unemployment rate remains at 5.1%.
13 May 2005
NZ newspaper job ads increased 3.9% in April after being down almost than much the month before. Jobs ads are 1.3% lower now than they were at this time last year.
---

LAST Diary

---