OUR DIARY
of key events over the last few weeks.


NEW LABOUR MARKET ANALYSIS

SKILLS SHORTAGES

WHO GOT THE JOBS?

PRE-BUDGET JOBS BRIEFING

FAMILY ASSISTANCE PACKAGE

BERL BULLISH ON JOBS

REFUGEES STRUGGLE FOR JOBS

SKILLED WORKERS NEEDED IN MANUKAU

US-OZ FREE TRADE DEBATE

PACIFIC PEOPLE MAY FILL ROADING WORKFORCE

---


LAST Letter

NEXT Letter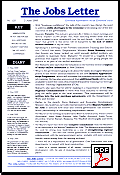 Download this issue
as a PDF file
Index to Back Issues
Index to Features

14 June 2004
Nelson employers will have to pay more or they are going to struggle to attract the skilled workers they need, according to Minister of Economic Development Jim Anderton. Nelson and Tasman workers are "are particularly bad off" in pay rates and Anderton says if employers want people to come to the area, they have to pay at least average rates, if not more, to compete. Anderton: "The attitude that people should be prepared to earn less in Nelson because it is such a lovely area is outdated."
15 June 2004
There will probably be fewer than 100 jobs lost as Norse Skog, the owner of the Tasman paper mill in Kawerau, plans to close one of its three paper machines. The wind-down will occur over the next two years. The company is spending $33 million upgrading the remaining two machines.
NZ women are still far behind men in terms of labour force equality. Framework for the Future, Equal Employment Opportunities in New Zealand reports that although women had achieved the most progress when compared with other target groups (Maori, Pacific Islands people and people with disabilities), progress had been limited and equality with men across all occupational classes remains a "far-off goal". The report can be downloaded (145 pg, 5.7mb) from here
The Future of Work Contestable Fund calls for expressions of interest for this year's research grants. The fund, overseen by the Labour Market Policy Group of the Department of Labour, is making available $150,000 to support research into the future of work in NZ.
16 June 2004
More than 1,400 Auckland District Health Board management and administration jobs come under review. The board, which spends a higher percentage on management and administration than the national average, says it is first looking at cutting costs not related directly to patient care. The number of job cuts will be announced next month.
17 June 2004
A new intake of young unemployed people is being inducted into the Manukau Youth Employment Cadet Scheme. The council trialled the scheme last year and city manager Colin Dale says most of those cadets performed beyond expectations and many went on to find full-time permanent jobs with the council. Dale: "I see this project as another form of community-building which the council has been involved in for many years. I welcome the chance to help these young people get a break into the job market and I was delighted at the quality of the cadets we took on last year. They continue to be excellent employees."
18 June 2004
During the four-and-a-half years to December 2003, Winz paid for tattoo removals for at least 124 jobseekers, and about half of whom have got jobs. Winz pays for private treatments for some jobseekers who have facial or hand tattoos that make their appearance unacceptable to many employers.
Wellington City Mission spokesperson James Austin says the Winz tattoo removal scheme is a useful way of getting some beneficiaries back into work. Austin: "There appears to be quite a tattoo culture in prison — these things you may get caught up in voluntarily and you want removed when you come to your senses and start looking for a job."
The world's second biggest bank, the UK-based HSBC, will cut or re-deploy 3,500 jobs as it restructures its UK operations.
21 June 2004
Long-term migration to NZ has slowed from a peak net of 42,000 people last year to 24,000 in the year to May. Deutsche Bank economist Darren Gibbs expects net inward migration to drop to about 1,000 people per month by December. Gibbs expects this to slow the housing market and the construction industry.
The number of Asian tourists arriving in NZ has nearly rebounded to the level it was at before SARS drastically reduced the number of Asians travelling.
22 June 2004
Consumer confidence remains strong, although it has dropped since the last quarter, according to the Westpac McDermott Miller index. A net 39% of consumers think it is a good time to purchase a major household item. This is a drop from 49% over the two previous quarters. In the past, a drop like this has generally preceded a slowdown of the domestic economy.
23 June 2004
Qantas airlines would like to move one in four of its flight attendants overseas in a bid to cut costs. Chief executive Geoff Dixon says the move could save the company $20 million a year by shifting an extra 400 long-haul flight attendants overseas, primarily to London. The state-owned enterprise is currently allowed to base 370 long-haul staff outside Australia.
24 June 2004
Youth unemployment has been reduced by 61% since the government was elected in 1999. Associate Minister of Employment Rick Barker credits programmes like Modern Apprenticeships and Gateway, the increasing number of young people going to polytechs and university, and Winz lifting its game. Barker: "The government has put a real emphasis on ensuring young people get a good start to their working lives. The challenge now is to drive youth unemployment even lower"
United Future MP Judy Turner says the government needs to stop patting itself on the back about falling youth unemployment and face the fact that there has been a huge movement to invalid and sickness benefits for youth. Turner says the good news is "hugely tempered" by the real concern that more young people than ever are not in work due to some ailment or disorder. Turner: "Young people, who should be at the height of fitness and health, are being consigned to the benefit before they have even really begun their working lives."
The NZ economy grew by 2.3% last quarter, boosting the gross domestic product to 3.6% for the year.
28 June 2004
The NZ economy enjoyed a $656 trade surplus in May
---

LAST Diary

NEXT Diary

---