OUR DIARY
of key events over the last few weeks.


A SINGLE BENEFIT

WIDOWS BENEFIT LIKELY TO GO

ELECTRICAL APPRENTICESHIP FUNDING RUN OUT

MAYOR TASKFORCE MEETS

WAGE RISE FLAT

STRIKES THREATENED OVER 5% WAGE PUSH

PRISONERS MAY FILL LABOUR SHORTAGES

LAW REPEAL THREATENS JOBS FOR DISABLED

COMMUNITY LABOUR MARKET DEVELOPMENT

AUSTRALIA FACING PERMANENT LABOUR SHORTAGES

---


LAST Letter

NEXT Letter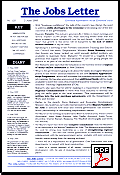 Download this issue
as a PDF file
Index to Back Issues
Index to Features

14 February 2005
Just days after announcing it would lay off 100 process workers, Nelson-based Sealord Group seafood company reports a 475% rise in its annual profit.
Competition for doctors jobs in Britain is fierce, with an average of 210 applicants for each "house officer" and "senior house officer" position. Over one-third of overseas graduates who passed Britain's pre-registration exam in June 2003 were still unemployed six months later.
Australian wages rose 4.7% on average last year.
15 February 2005
More than 560 foreign workers have been employed by Queenstown and Central Otago businesses under a 24-hour fast track work permit system launched in December. Queenstown Chamber of Commerce chief Nick Lambert says the response from employers and foreign workers has been huge and initiative has resulted in there being no shortage of workers in Queenstown this summer.
Thousands of working class Mexicans are now qualifying for home loans for the first time as a result of their government increasing its offer of loans and loan guarantees over the past four years.
16 February 2005
State-owned coal mining company Solid Energy has gone to Britain to fill mining job vacancies saying it doesn't have time to train New Zealanders. The company has sent recruiters to Northumberland — apparently to take advantage of the recent decision by UK Coal to close its Ellington Colliery. Solid Energy chief operating officer Barry Bragg told the BBC: "We are looking for experienced miners. We can't afford to wait 18 months to two years to train people. So we are better off coming to the UK and making some jobs offers."
The Kyoto protocol international treaty to address climate change comes into effect.
18 February 2005
The Ohura minimum security prison will be closed with inmates and are shifting to Tongariro Prison. Minister of Corrections Paul Swain says the isolation of the Ohura prison made it difficult to attract staff and that the high cost of upgrading the ex coal-mining camp contributed to the decision to relocate.
Kiwibank has made about 750 low- or no-deposit house mortgage loans since the scheme began in September 2003.
19 February 2005
Student Job Search is opening a second Palmerston North office, this one on the Massey University campus. Massey had been the only NZ university without a campus-based Student Job Search facility.
21 February 2005
Computing company EDS NZ plans to hire 40 NZ graduates within the next 12 months.
22 February 2005
A pilot project finding jobs for people with mental illness in Waikato is so successful it is being extended to include people on sickness benefits. Associate Minister of Social Development Rick Barker says he would like the Work Wise programme extended to the rest of the country.
NZ academics earn up to 40% less than their Australian counterparts, according to the NZ Association of University Staff.
The NZ government is to fund 20 tradespeople to go to the Cook Islands for 10 days to help with the clean-up and rebuilding in the aftermath of Cyclone Olaf.
At least 180 of the 7,000 jobs Qantas airlines intends to base overseas will be in New Zealand.
23 February 2005
The Like Minds, Like Mine Employment Advocacy Project launches Taking the First Step, a guidebook for jobseekers with mental health problems. The booklet will be available through Work and Income, Citizens Advice Bureaus and other health and welfare agencies.
Newspaper job vacancy ads dropped in January to 10% lower than they were a year before, according to the ANZ Job Ads series. ANZ economist John McDermott says the demand for workers remains high and the main reason for the fall was that New Year's Day fell on a Saturday, a big job-advertising day, and most newspapers didn't publish.
Job opportunities in the private sector are attracting more soldiers to leave the army. The army is losing about 18% of its personnel each year.
"Jobs Machine" grants made by NZ Trade and Enterprise should be better scrutinised, according to a parliamentary committee. The agency has come under examination after it became public it had made nearly $300,000 in grants to cereal maker Hubbards Foods. The committee report: "While the benefits of this programme appear positive, Trade and Enterprise acknowledged that it is difficult to measure outcomes in this area and is working towards better qualitative assessments. We would like to see improvements in this area when we conduct our next financial review."
24 February 2005
NZ businesses are expecting the economy to continue growing, according to the National Bank's Business Outlook survey. 31% of businesses surveyed expect their own activity to expand this year. The NZ economy has been growing for seven straight years.
25 February 2005
The Ministry of Social Development will hold an "Employers' Summit: Expanding the Labour Force" on March 15. The meeting will focus on what businesses or sectors need to make it easier for them to employ people with disability or ill health. Email contact: Vanessa.Panther001@msd.government.nz
27 February 2005
Russian students studying agriculture may be recruited to work in the Bay of Plenty kiwifruit harvest. Regional promotional agency Priority One says the idea is for a work experience scheme for Russian students but could be extended to permanent work placements. Chief executive Ross Stanway says students from the Kursk Agricultural Academy would be selected on the basis of their language skills, the nature of their studies and their ability to get to NZ. Stanway: "It appears there might be a good fit between some of these students and the gap in the NZ horticultural industry."
The Information Technology industry base pay rates have risen 3.8% this last year.
28 February 2005
In Malaysia, 300,000 government officials and volunteers are deployed to ferret out illegal migrant workers, mostly Indonesian, who remain in the country after being given an October deadline to leave. The government has extended its amnesty for illegal workers three times and since the October deadline during which 400,000 illegal workers left. Malaysian officials estimate there are still half a million illegal workers in the country.
1 March 2005
A three-day Hui Taumata on Maori economic development begins in Wellington.
2 March 2005
The government appoints a crown manager to take over financial controls of Te Wananga o Aotearoa until the Auditor General completes its inquiry into the tertiary education institution.
---

LAST Diary

NEXT Diary

---