OUR DIARY
of key events over the last few weeks.


TRADES ONLY FILLING FOUR OF TEN VACANCIES

NATS WOULD CUT STATE JOBS

PROPOSED NATIONWIDE SAVINGS SCHEME

'HOBBY' COURSES TO BE CUT

STUDENT DEBT RE-DIRECTING YOUNG DOCTORS

HOME CARE REPLACING RESTHOMES

ETHNIC CHINESE AND INDIAN JOB SEEKERS FACE DISCRIMINATION

NZ ACTION PLAN FOR HUMAN RIGHTS

---


LAST Letter

NEXT Letter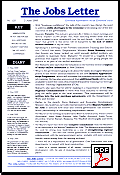 Download this issue
as a PDF file
Index to Back Issues
Index to Features

29 March 2005
The Japanese unemployment rates rises from 4.5% in January to 4.7% in February, surprising economists.
30 March 2005
EEO Trust research indicates that offering part-time work may enable employers to take better advantage of NZers' changing work patterns. The latest EEO Trust Work & Life Bulletin can be downloaded (10pg, 1.8M) from www.eeotrust.org.nz
31 March 2005
Disabled person's advocates present a petition to parliament with over 7,000 signatures against the repeal of the Disabled Persons Employment Promotion Act. Advocates maintain such a law change will cost disabled people their jobs.
A review recommends that more than 30 Bay of Plenty school dental clinics be closed and replaced with eight mobile dental clinics.
Seven times as many Australian employers intend to increase staff levels than expect to drop staff, according to the Hudson report. Hudson Australasia: "The question of sustainability comes into play when we keep seeing results that suggest increasing demand for people who simply aren't available in the domestic market."
3 April 2005
Job losses are on the cards at NZ Post as it considers technology upgrades that will affect how the company's 2,500 mail-processing staff do their jobs. The Engineers Union expects "quite a significant effect on staff".
4 April 2005
A Ministry of Social Development reports shows welfare expenditure rose from $7.9 billion in June 2000 to $8.5 billion in June 2004. ACT Party deputy leader Muriel Newman says social welfare benefits are increasing and welfare dependence has grown under the Labour government.
Minister of Social Development and Employment Steve Maharey says Newman's claim is simply wrong. Maharey: "The figures she's touting include superannuation and the veteran's pension. When only benefits are included, expenditure has actually fallen slightly from $3.65 billion to $3.59 billion despite annual inflation adjustments. I'm sure most New Zealanders would not classify super and veteran's pension as benefits.
5 April 2005
Bank workers are "extremely upbeat" about their current job opportunities, according to Westpac Bank chief economist Brendan O'Donovan. A survey of 1,500 bank staff found that optimists significantly out number pessimists in terms of worker confidence. However, O'Donovan says the optimism had dropped slightly from the previous quarter indicating employees feel that the economic boom times have peaked and that this may be "as good as it gets" in the job market for workers. Looking ahead a year in terms of expected job availability, there were roughly equal numbers of optimists and pessimists.
As many as 50 more jobs go at Masterton Hospital on top of the 12 heads of departments that have already gone, as the Wairarapa District Health Board restructures its workforce in expectation of its new hospital that will open next year. The announcement does not include several departments for whom job cuts are also likely later this year.
The Police Association says Wellington City is short 90 police officers.
6 April 2005
Early childhood teachers are now on the Immigration Service "long-term skill shortage list". This year all private childcare centres will have to have a qualified, registered teacher with a three-year early childhood teaching diploma on duty at all times. The government is hoping to attract foreign staff to make up the shortfall in qualified NZ childcare staff.
The Manukau City Council says its police district should have 160 more officers than it does.
Unmotivated staff cost the NZ economy $3.67 billion to according research by Gallup which says 15% of the workforce is "actively disengaged" from their work. Gallup says managers need to address employees' needs and "create active engagement at work".
National Australia bank is cutting 550 Australian jobs
7 April 2005
Recruitment agency Kelly Services NZ says the job market is "incredibly tight across all sectors and getting worse." Kelly has increased its advertising budget last year and it is now costing twice as much attract and retain its own workforce and to attract the candidates they refer to customers.
Green Party MP Sue Kedgley's private members flexible working hour bill has been drawn out of the ballot and is supported by the government to go to select committee.
In March, the Australian economy added nearly six times the number of jobs than economists had forecast. The unemployment rate stayed steady at 5.1% as a rise in the number of people looking for work kept pace with the number of added jobs.
8 April 2005
Nearly 1,000 more Special Needs food grants are issued each week by Work and Income compared with five years ago. Food grants, usually worth $93, can be used for most things in a supermarket other than tobacco or alcohol. Child Poverty Action Group spokesperson Susan St John says the growing number indicates increasing poverty. Work and Income says it is doing better at providing people with their correct entitlements.
10 April 2005
A shortage of neurosurgeons has been pushing out patient waiting lists for brain surgery. Health authorities are hoping to fill the vacancies with immigrant doctors.
12 April 2005
March job ads were up 6.6% on this time last year, according to the ANZ survey. Ad numbers were lower in March than in February, a fact the survey attributes to Easter falling in March rather than April.
---

LAST Diary

NEXT Diary

---