OUR DIARY
of key events over the last few weeks.


UNEMPLOYMENT AT 4%

… AND MORE JOBS

LABOUR SHORTAGE THREATENS GROWTH

SKILLS SHORTAGE SOLUTIONS

HIGHER WAGES NEEDED

EMPLOY NZ'ERS FIRST

YOUTH TRANSITIONS SERVICE

OZ MODEL FOR YOUTH TRANSITIONS

---


LAST Letter

NEXT Letter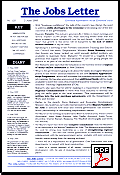 Download this issue
as a PDF file
Index to Back Issues
Index to Features

9 August 2004
Wages rose 0.6% this last quarter and 2.3% over the last year. The rises were lower than inflation, which rose 0.8% in the quarter and 2.4% for the year.
Twenty overseas trained doctors, who have been granted NZ residency or citizenship, are either on the dole or working odd-jobs, having been refused entry to a bridging programme that could allow them to practice in NZ. The Ministry of Health says the doctors are not eligible for the programme because they either missed the October 2001 deadline to apply or didn't meet English language standards.
An Auckland bakery owner is fined $2,000 for employing an illegal alien. Chikhoun Liuu is the first employer to be fined under immigration rules that allows fines of up to $50,000 for knowingly employing a person not permitted to work. The worker was deported.
The US economy added just 32,000 jobs in July, a fraction of the 228,000 jobs that economists had predicted. US unemployment drops from 5.6% to 5.5% as more people withdraw from the workforce.
Germany's unions lose a battle to protect the country's 35 hr wk when automaker Daimler-Chrysler signs a deal that makes its employees work 40hr/wk for no increase in pay.
10 August 2004
The NZ unemployment rate drops to 4%. The number of people employed passes the 2 million mark.
A US study finds that people who stay in jobs with low mental demands for a large portion of their lives are more likely to develop Alzheimer's Disease. Researcher Kathleen Smyth says that people who have jobs that aren't stimulating should find healthy ways to keep their minds active outside of work.
11 August 2004
A young Chinese with a tourism diploma has been looking for a job since March and says she cannot get a job because NZ firms aren't prepared to give Chinese people a go. Crystal Xu says she has been offered work in the NZ Chinese community but employers there offer no employment contract, pay less than minimum wages with no penal or holiday pay or they prefer to pay under the table.
Germany's jobless rate rises to 10.5%.
12 August 2004
Eighty-six contract forestry workers lose their jobs after Kaingaroa Timberland decides to reduce its harvest. Whakatane District councillor Jacob Te Kurapa: "We don't need this. The communities of Murupara, Te Whaiti and Minginui are already stuck in the grip of a downturn and this is the worst thing that could have happened."
Labour and skills shortages in the fishing industry are a reflection of industry pay rates and training, and should not be addressed by bringing in foreign workers, according to the NZ Maritime Union. National president Phil Adams: "If the companies bringing in overseas workers genuinely cannot find local workers, they should come clean and open the books to show the wages and conditions they are offering overseas workers. Unless NZ rejects using workers as pawns, a second-level employment market will be created where casualised and underemployed NZ'ers are played off against imported short-term contract workers."
Skills shortages could be largely remedied by better use of over 45-year-olds, according to recruitment company Executive Taskforce Group. Director Kevin Chappell says over 45's are a hugely under-utilised resource.
Some public servants may be nervous as 23 programmes run by the Department of Labour, the Education Review Office and the Ministries of Health, Culture & Heritage and Education go under review. Minister of Race Relations Trevor Mallard says the aim of the review is to assure the public and ministers that policies were based on need, not race. It will be conducted by departments with the assistance of Treasury analysts and a special review team set up within the State Services Commission.
The Community Employment Group, the agency that sparked the review, will not be included in it as it is already undergoing an internal review, and many schemes have already been scrapped.
13 August 2004
The aviation industry is headed towards a crisis because of a shortage of pilots and engineers, according to the Aviation Industry Association. President John Funnell says an aging workforce, growth in airlines and competition from other industries are creating skills shortages. The association is meeting to find ways of averting a crisis that could hamper industry growth.
Sixty jobs are lost as Wanganui hide-processing plant Hollander Waitotara closes down.
NZ manufacturing continues to expand last month, but at a slower rate than it did in June.
14 August 2004
ACT Party MP Muriel Newman hosts a Welfare Symposium which featured a number of local and international guest speakers, including a video link with US Secretary of Human Services Tommy Thompson who drove the Wisconsin welfare reforms. Newman's summary of the key points made by the guest speakers can be found here.
The Australian Senate approves the "free-trade" deal with the US.
16 August 2004
The NZ government promises to crack down on the black market (under the table) economy that evades taxations. It promises an initial amnesty that includes discounts and time to pay, but says that the Inland Revenue Department will bring closer scrutiny on target industries and audits to pick up tax dodgers.
19 August 2004
The Charities Bill is likely to be significantly rewritten after several days of select committee hearings indicated little if any support for the bill.
20 August 2004
300 jobs will be lost over the next three years as Wellington area manufacturer Interlock closes its Miramar site. In June, the company said it planned to cut 80 jobs, but it now plans to shift not only its entire manufacturing operation but administration as well.
---

LAST Diary

NEXT Diary

---