OUR DIARY
of key events over the last few weeks.


STATISTICS THAT MATTER

ARTISTS ON THE DOLE

SKILLS SHORTAGE IN SOUTHLAND

DPB CHANGES

PAID PARENTAL LEAVE

STUDENT DEBT REVIEW

---


LAST Letter

NEXT Letter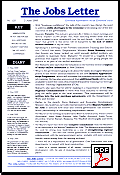 Download this issue
as a PDF file
Index to Back Issues
Index to Features

30 October 2001
Business confidence drops according to the National Bank Business Outlook survey. In October, there was an increase in the number of business people expecting business conditions to deteriorate over the next 12 months.
Canterbury University will cut at least 60 and possibly more than 90 academic and administration staff by the end of the year.
A survey of Australian community welfare organisations found that in the first half of this year there was a 7% increase in the number of people they assisted, and over 250,000 people sought assistance but did not receive it. ACOSS says the majority of community services are under increasing pressure due to expanding numbers of clients, the severity and complexity of people's needs and higher operating costs.
Unemployment in Japan has been rising for six months and is now at 5.3%.
31 October 2001
A West Auckland strawberry grower hires a bus to bring workers from Manukau City, Otara, Papatoetoe and Otahuhu to his farm to pick fruit. Farmer John Garelja says that he has not been able to interest enough local residents in the work. Winz West Auckland office has 3,852 registered jobseekers.
1 November 2001
55 jobs will be lost when Unilever Australasia closes its toothpaste and soap-making production lines in Petone. Director Murray Papps says the Unilever plant will continue to employ 280 staff manufacturing washing powder.
Minister of Finance Michael Cullen now says the government will not follow the American example of increasing spending and cutting taxes to curtail an economic downturn. After the September 11 attacks, Cullen said the government might bring forward some capital spending but has since gone off the idea. Cullen: "This is a structural economic adjustment, and a structural response from the government is not appropriate."
2 November 2001
Argentina may soon default on its $US132 billion foreign debt.
4 November 2001
Prime Minister Helen Clark says the government will not be widening the Holidays Act to include a minimum entitlement of four weeks annual leave. The extra week of paid leave was part of the Alliance Party policy agenda for this term.
In Australia, 450 Ansett Airline managers will be made redundant. Ansett administrators say the airline plans to continue to operate but with about half its former services.
The US economy lost 415,000 jobs in October, the largest fall in job numbers since 1980. Unemployment rose from 4.9% to 5.4% in October.
Indonesia's foreign debt of $US144 billion is reaching dangerous levels according to Economics Minister Dorodjatun Kunijtoro-Jakti.
5 November 2001
Private sector wage rates are up 3.4% on last year according to Statistics NZ.
"KiwiBank" is unveiled as the official name of the new state owned "Peoples' Bank". Chief executive Sam Knowles says the first branches will open in February and there should be 300 branches operating by June.
BNZ's parent bank, The National Australia Bank, announces new international restructuring which the finance industry union Finsec says will cost 5,000 jobs in Australia, the UK and NZ.
Australian job ads were down for the second month in a row.
Australian chemical and explosives manufacturer Orica cuts over 800 staff.
6 November 2001
Any Hong Kong free trade agreement would threaten NZ's 10,000 remaining footwear and clothing manufacturing jobs. Bill Rosenberg writes in The Independent that Hong Kong is no longer a manufacturing economy but one in which its traders organise the cheapest materials, factories and labour anywhere in the world and then route them through the city, passing the goods off as made in Hong Kong as they "re-export" them. Rosenberg says that a free trade agreement with Hong Kong would allow duty free goods from the lowest paid countries in the world into NZ, putting jobs here at risk.
7 November 2001
Paid parental leave will begin in July next year. See this issue.
For the first time since the late 1980's, there has been an increase in the number of people employed by the public service. State Services Minister Trevor Mallard says the government is rebuilding the public service that was decimated in the 80's. One likely result will be government departments using more employees and fewer consultants.
By the end of December, Deutsche Bank in Germany will have cut 7,100 jobs this year.
8 November 2001
The NZ unemployment rate sits steady at 5.2%.
The US Federal Reserve Bank drops interest rates to 2%, to the lowest level in 40 years. The move is meant to counteract the fact that the US economy shrank 0.4% last quarter and consumer confidence is the lowest in 14 years.
9 November 2001
NZ job ads fall for the third consecutive month according to the ANZ survey.
Unemployment in Australia jumps from 6.7 in September to 7.1% in October.
10 November 2001
The US Federal Reserve Bank cuts the interest rate to 2.0%.
14 November 2001
The Reserve Bank has lowered the Official Cash Rate by 0.5% to 4.75%.
The National Museum of NZ, Te Papa has increased its staff by 87 permanent staff over the last twelve months.
Between 500 and 800 jobs will go as TelstraSaturn announces it has purchased Clear Communications.
Optus, a telecommunications service in Australia is to cut nearly 700 jobs plus an unspecified number of contractors.
At the World Trade Organisation meeting in Qatar an agreement is reached puts the phasing out of farm export subsidies on the agenda of the next round of trade talks. China was formally accepted into the WTO.
15 November 2001
The Green Party's motion to reintroduce the Emergency Unemployment Benefit for all unemployed students over the summer is supported by the Alliance Party. Lack of support from other parties will not see the motion brought out of committee.
16 November 2001
W Stevenson and Sons in Auckland closes its construction division with the loss of about 60 jobs.
Unions call on the Australian government to intervene as Qantas announces plans to cut 2,000 jobs.
19 November 2001
The average pay packet for non-management employees rose 3.19% over last year.
20 November 2001
The Post Primary Teacher Association says that teacher shortage is highlighted by the 50% increase in advertising post primary teaching positions this year over last. Principals report that applications for positions for are only trickling in.
---

LAST Diary

NEXT Diary

---
STATISTICS THAT MATTER
The official unemployment rate is 5.2%, remaining the same as the previous quarter. The number of people in jobs and the number of people registered as unemployed did not change significantly. Some 3,000 people left the workforce but this was not enough to alter the labour force participation rate from 65.9%. While our unemployment statistics are now among the lowest in the world, Minister of Employment Steve Maharey cautions that they do not reflect any impact from the drop in world economic confidence since the September 11 attacks in the United States (see the last issue of The Jobs Letter). Our regular Statistics That Matter summary is included in this issue.

Some highlights:
— Over the last quarter, the number of full time jobs declined by 0.3% while the number of part time jobs increased by 2.4%.
— Since this time last year, 2.2% more people are now employed. Over the last 12 months the number of full time jobs increased by 1.4% and part time jobs by 4.4%.
— NZ European and Pacific Island unemployment rates dropped this month while Maori unemployment rose. There are fewer unemployed people in all three groups now than there were at this time last year.
Source — Statistic NZ press release 8 November 2001 "Unemployment rate remains at 5,2 per cent; Stuff.co.nz NZPA press release 9 November 2001 "Labour market not expected to affect rate cut"; Stuff.co.nz Southland story 9 November 2001 "Jobless hits record low" _ Michele Sutton; Stuff.co.nz 9 November 2001 "Jobless rate steady but aftershock feared" _ Christine Langdon
ARTISTS ON THE DOLE
People are now being allowed to work towards a career in the arts while living on the dole as the Pathways to Arts and Cultural Employment (PACE) programme has been extended nationwide. It is expected that thousands of job seekers who list "artist" as their first career choice will no longer be required to look for other work. To qualify for the programme, artists must show they are committed to a career in the arts and have a project which they can demonstrate will move them towards employability or self sufficiency. An unemployed person who is committed to being a fulltime artist will be able to go to their Winz case manager and sign their job seeker agreement as an artist and not have to accept work that distracts them from that goal.

At the moment, nearly 5,000 people are registered at Winz with arts and culture as their first occupational choice but up until now they have generally been told that it is not a realistic goal. Associate Minister of the Arts Judith Tizard says the PACE programme recognises that art is real work with viable career options and that the scheme is aimed at assisting job seekers to develop sustainable careers. Tizard: "For many artists, income can often be the breaking point issue over whether they continue with art. That's not a decision any emerging artist should have to make. This programme will help them to develop the skills they need to become fulltime artists ..."
Penny Eames of Arts Access Aotearoa has long advocated to government that the dole should be available as income support for artists who are working to develop a fulltime career. Eames: "What we were trying to lobby for was a scheme in which you could be an artist and not be harassed by Winz to be a scrubcutter." She says the PACE programme is a huge step in view of the fact that the arts and culture is one of the fastest growing sectors in the economy.

Eames says that an important next step is to get the government to approve that an artist's income can be averaged out over the year and that the artists can factor in the costs of materials and exhibitions against that income. At the moment, an artist on the dole who reports to Winz that they have made a sale immediately risks losing their dole, regardless of what it cost to make and sell the work or how long it took them to create it.
Cairan Fox is the artist liaison at the Community Artist Scheme in Christchurch where they have been running their own version of the scheme for two years (although not as part of the pilot). Fox: "We initially grew out of the Community Brokerage Organisations scheme which worked alongside work-for-the-dole. We saw a chance to use that programme to set up projects that were arts based. Artists were already volunteering, already doing the work and we built work placements around them and referred them off to Winz."

Fox feels the announcement of the nationwide scheme is a success for everyone involved, but he cautions that it is a small first step and there are other important aspects that need to be put in place to make the scheme work. Fox recommends that each Winz office needs a trained arts advocate case manager. This person needs to be able to work one-to-one with artists on career planning and be able to put them in touch with training and other resources.

The other essential element is market development. Fox: "We've been supporting artists for two years now, getting them to the point where they are having exhibitions and concerts. From an economic point of view, we now need to get it out there and encourage people to buy it." For the Christchurch scheme, this has meant opening Creation, a multi-media community art gallery through which artists can market their work. There are a number of community art dealing centres around the country and Fox would like to see them co-operate to provide exhibition or performance spaces so that artists' work can rotate around the country to be seen, heard and sold.
The Dominion newspaper last week ran a front-page story with the headline: "Dole deal for artists: nearly 5000 sign" ... giving the impression that the arts had suddenly become the career of choice of thousands of beneficiaries. However there has been no such surge in numbers and the next day the paper conceded that only 196 people had signed up as artists since the scheme was announced, while 4,700 had previously declared their preference for a career in arts and culture.
Winz has published a web page on the Pathways to Arts and Cultural Employment (PACE) programme at: www.winz.govt.nz/find_a_job/arts_cultural.html

You can also download a 32-page pack which contains many links and resources for artists wanting to develop sustainable employment.
Sources — Sunday Star Times 11 November 2001 "Artists come of dole-drums" — Sarah Catherall; Weekend Herald 10 _ 11 November 2001 "Artistic job seekers now qualify for benefit" — Bernard Orsman; The Dominion 10 November 2001 "Budding artists to get the dole" — Bess Manson; National Party press release 16 November 2001 "The fine art of being on the dole" — Muriel Newman; 21 November 2001 interview with Penny Eames — Dave Owens; 21 November 2001 interview Cairan Fox — Dave Owens; The Press 12 November 2001 "Aspiring artists to get dole" — NZPA; — The Dominion 15 November 2001 The artful dole seeker" — editorial; The Daily News 19 November 2001 "Suddenly, the dole becomes an art form" — Bob Jones; The Dominion 23 November 2001 "Dole deal for artists: nearly 5000 sign" — Bess Manson; The Dominion 24 November 2001 "5000 job-seekers already eligible for artists' dole — Bess Manson;
VOICES
" If the government wants to support artists, then it should do so through some sort of scholarship or grant. The unemployment benefit is for people who are between jobs or unable to work. This is blurring that, sending the wrong message to the community and is unfair to case workers."
— Bob Simcock, National Party employment spokesperson
" Beneficiaries without the talent and determination to earn a living from their art should look to other forms of work to support their families. Hardworking taxpayers, struggling to make ends meet, will not look kindly on a government that pays people to dabble in art, effectively locking them into a dependency culture requiring on-going tax-payer support."
— Muriel Newman, Act Party
"One thing is certain. Kiwis of spirit, both unemployed and unemployable, will not pass up the chance to state their chosen profession as "art", and so feel justified in spurning options such as fruitpicking, cinema attendant, panelbeater and score of other paying jobs they might otherwise have been pressed to consider. "
— The Dominion, editorial
"There is huge need for this. It's those first projects that are the hardest to find support for. Everyone is looking for a track record when you apply for funding."
— Philip Tremewan, Danz Aotearoa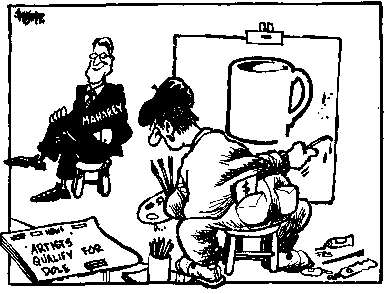 Hubbard — The Dominion
SOUTHLAND APPEALS FOR SKILLED WORKERS
Southland continues to lead NZ with the lowest unemployment rate in the country and it appears that its leaders believe that the province has run out of employable workers. An eight page colour supplement in The Southland Times was published last month with the intent of attracting more skilled people to live in the deep south. The campaign made national news as 700,000 copies of the special edition were distributed with every North Island newspaper as well as in The Press in Christchurch.

The we-need-you campaign generated huge interest with job seekers and within a week of the launch and after fielding 3,000 calls, the organisers closed the telephone hotline down. Matt Hoskin of Venture Southland says there was no sense in accepting more inquiries than they could possibly deal with. Information packs are being sent to respondents and staff were collating and forwarding the details of the people who rang to employers to make contact.
While the unemployment rate in Southland is low, there are still plenty of unemployed people in the region. The problem is a lack of skilled workers ... a situation that Southland employers share with many other regions in the country. The figures: the number of people on a Winz work tested benefit has remained steady at about 2,800 for the past 12 months. Statistics NZ Household Labour Force Survey puts the number of people "without a job and wanting a job" at 3,200.
Source —The Southland Times 31 October 2001 "We need you" special edition; The Press 31 October 2001 "Deep south in big push for people: — Rachel Walsh; The Southland Times 31 October 2001 "South launches job blitz" — Fred Tulett; The Southland Times 31 October 2001 "Leaders laud jobs initiative" — Louise Van Uden; NZ government press release 31 October 2001 "Maharey supports job promotion for Southland; NZ government press release 31 October 2001 "Come one, come all, to booming Southland; New Zealand Herald 1 November 2001 "Southernmost region kicks off bid to attract population rise" — Eleanor Black; NewsRoom.co.nz 7 November 2001 "Thousands look to head South"; The Southland Times 7 November 2001 "Deluge of calls forces job hotline shutdown" — Kirsty MacNicol; The Southland Tiems 9 November 2001 "Jobless hits record low" — Michelle Sutton: Statistics NZ Household Labour Force Survey September 2001 quarter; Winz Quarterly Profile June 2001, March 2001, December 2000
DPB EVALUATION LEADS TO CHANGES
Work testing of domestic purposes beneficiaries is to be scrapped as the government moves to change its employment policies for sole parent on benefits. Minister of Social Services and Employment Steve Maharey says that good case management, assistance with training, transition to work support, and in-work assistance is more effective than work testing in helping sole parents get and hold a job. Details are still being worked out, but increased funding to improve access to childcare will be part of the changes.

An evaluation of the effects of the 1999 revision of the DPB and widows benefit has shown that since work testing was introduced the number of people on the DPB has declined and that most people who got off and stayed off the DPB were financially better off in the long run. National Party welfare spokesperson Bob Simcock points to this report and says it proves that his party's policy was working.

But Steve Maharey argues the policy had been too arbitrary, unresponsive to individual needs and failed to adequately support sole-parents to get and keep a job. Maharey: "[The report] shows punitive approaches to welfare do not work. Childcare was inadequate, support by case managers patchy and Winz was not sufficiently resourced to handle the policy."

You can download the Ministry of Social Development evaluation report on: www.msd.govt.nz/publications/docs/evaluatingdpbreforms.pdf
Source — The Daily News 7 November 2001 "Government scraps work-testing for sole parents" — NZPA; New Zealand Herald 7 November 2001 "Contract for solos"; The Dominion 7 November 2001 "Childcare boon for dpb beneficiaries" — Martin Kay; NZ Government press release 6 November 2001 "DPB and widows benefit changes flawed _ evaluation; National Party press release 7 November 2001 "Maharey plays word gains with DPB policy" — Bob Simcock; Green Party press release 7 November 2001 Greens wish govt would ditch work-testing for DPB" — Sue Bradford; Stuff.co.nz 7 November 2001 "Childcare boon for single parents" — Martin Kay; Maharey Notes 12 November 2001 "Evaluation report released"
PAID PARENTAL LEAVE ARRIVES
NZ will join the rest of OECD nations (except for Australia and the US) and offer paid leave to female employees for 12 weeks around the time they are having a baby. The scheme will pay women between 80% and 100% of their wages (depending on their tax rate) up to a maximum of $256 in the hand per week. To be eligible, a woman must be working at least ten hours per week with the same employer for a year.

The government estimates 20,000 women per year will qualify but an estimated 8,000 women who will have babies who are self-employed or work casually will not qualify. The entitlement is specific to the mother but she may transfer the payments to a partner who is looking after the baby. The scheme will be funded from taxes rather than a levy on employers. Those using it will not have to repay the money if they elect not return to work at the end of their paid parental leave.

Employers are already required to hold a woman's job open for them for up to a year if they take unpaid time off work for the birth and first months of their baby's life. The parental tax credit, instituted by the previous government which provides low and middle income earners up to $150/wk for eight weeks (whether they are working or not), will remain in place as an alternative for some of those who do not qualify for the new scheme.

The announcement of paid parental leave is widely seen as a success for the Alliance Party and its advocate MP Laila Harre. Its Labour Party coalition partner had exhibited no sense of urgency to adopt the scheme that will cost $42 million per year. Harre says that while the scheme isn't everything she wanted, it is a good place to start. She says that a review after twelve months will consider whether it should include a wider range of women and revisit the period of time and the rate at which it is paid.
Source — The Dominion 8 November 2001 "Some mums to miss out on paid parental leave" — Tracy Watkins; New Zealand Herald 8 November 2001 "Parental leave — the facts" — Andrew Laxon; The Press 7 November 2001 "Paid parental leave to start in July" — Grant Fleming; Act Party press release 7 November 2001 "Paid parental leave is bad news for women" — Penny Webster; Federated Farmers 7 November 2001 "Paid parental leave policy forgets self employed" — tom Lambie; Green Party press release 7 November 2001 "Paid parental leave overdue and underweight" — Sue Kedgley The Dominion 9 November 2001 "Employers sound baby leave warning" — Tracy Watkins; National Party 7 November 2001 "paid parental leave for some, not all" — Anne Tolley; Service and Food Workers Union press release 7 November 2001 "Low paid women benefit from PPL" — Darien Fenton; The Dominion 20 November 2001 "Delivering unfairness" — editorial; The Dominion 20 November 2001 "Mother of a problem"— Sarah Prestwood
STUDENT DEBT REVIEW GOES NOWHERE
A report from a parliamentary committee inquiry into student fees, loans and allowances provided no solutions to the financial problems students are having once they leave tertiary training. Graduating students say they are unable to obtain home loans, are putting off having families and are going overseas on account of the debts they are accumulating from course fees. But after 18 months of reviewing hundreds of submissions, the parliamentary committee's sole recommendation is that more research needs to be done on the issue.

Chairperson of the education and science select committee Alliance MP Liz Gordon says one problem that stymied the committee was that government departments had failed to provide analysis of the effects of tertiary education policy on the personal finances of students. Gordon says this lack of information and political divisions within the committee left it unable to reach a concensus.
Student groups are livid at the lack of action. They had encouraged their members to make submissions which they now say was a waste of everyone's time. Chris Hipkins of the Victoria University Students Association says that for the committee to simply say that more research is required ... is simply insulting. Hipkins: "If this is all we can expect, we may as well pack our bags and leave the country now."

Associate Minister of Education Steve Maharey says the government will respond to the report by the end of the year. But it appears that nothing more will be done on student debt issues in the near future as it is being held over until after next year's election. Maharey: "Further action to ease the financial burden of tertiary education will only happen if and when the Labour-Alliance government is re-elected."
Source — New Zealand Herald 31 October 2001 "Fees report omits the answers" — Libby Middlebrook; Otago University Student Association press release 30 October 2001 "Students slam loan review sham" — contact Ayesha Verrall; Victoria University Student Association press release 30 October 2001 "Students respond to report "Is this it""; NZ Government press release 30 October 2001 "Further relief for students hangs on re-election"; Alliance Party press release 30 October 2001 "Tertiary inquiry raises huge issues"; Green Party press release "More research into student debt a waste of time"; Otago Daily Times 7 November 2001 "Students: `"show me the money'"; Otago Daily Times 7 November 2001 "The loans disgrace"