OUR DIARY
of key events over the last few weeks.


GLOBAL INCOME INSECURITY

SKILLS SHORTAGES LIFTING WAGES IN OZ

LABOUR SHORT BUT BUSINESS IS CONFIDENT

WOMEN THE ANSWER TO SKILLS SHORTAGES

CHARITIES BILL IS STILL A MUZZLE

EARLY SCHOOL LEAVERS DROPPING INTO BLACK HOLE?

MANY NZ'ERS ARE ASSET POOR

STATE AID FOR FIRST HOME BUYERS

NZ & INTERNATIONAL COMPETITIVENESS

STUDENT LOAN SCHEME GROWING

MORE INFANT-CARE STAFF NEEDED

BRITAIN TO REVISIT WORKING HOLIDAY SCHEME

---


LAST Letter

NEXT Letter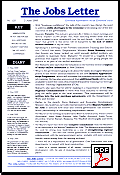 Download this issue
as a PDF file
Index to Back Issues
Index to Features

10 October 2004
Twelve per cent of employers responding to the National Employers Wage and Salary Survey say that workers claiming sick leave entitlements have increased since April 1 when changes were made to the Holidays Act. The changes mandate a maximum of five days paid sick leave per worker per year and that a doctor's certificate is only required after three sick days' absence from work.
12 October 2004
The Green Party proposes amendments to the Employment Relations Bill to include residential caregivers in the "transfer of undertakings". The proposal would see that if a residential caregiving service company is sold, its employees retain their jobs, conditions and entitlements.
A National anti-gambling lobby group sets up the No Pokie Fund Register of voluntary groups and sporting clubs who refuse to accept money from gaming machines and gambling trusts.
13 October 2004
Meat and Wool NZ has set up a group to look at ways to attract more people to farm work.
General Motors plans to cut up to 12,000 jobs in Europe.
14 October 2004
NZ manufacturing sector continued to expand in September, although not quite as strongly as it did in August, according to the ANZ-Business NZ Performance of Manufacturing Index.
15 October 2004
Annual inflation rate to the September quarter was 2.5%, up from 2.4% the previous quarter and 1.5% in the March quarter.
16 October 2004
Cabinet Minister John Tamihere steps aside from his ministerial positions as investigations are made into allegations of unpaid tax on a "golden handshake" paid out when he left as CEO of Waipareira Trust.
17 October 2004
Demand for IT workers in NZ is on the rise, according to recruitment company Hudson.
18 October 2004
The Westpac McDermott Miller Employment Confidence Index finds that workers are increasingly optimistic about their job prospects for the coming year. More workers expect jobs to be more available in a year's time.
Population information held by 19 government agencies is now available through one website here
In the US, the enormous wealth gap between white families and black and Hispanic families increased after the most recent recession. At the end of the last recession in 2002, white households had a median worth of $US88,000, while Hispanic families had a net worth of $7,900, and black families had a net worth of $6,000.
19 October 2004
Job ads were up 15.4% annually, in September. The ANZ survey says that many jobs were re-advertised as employers struggled to find suitable applicants. Until this year, nationwide job ads levels closely mimicked movements in advertising in the three major urban centres. However, in 2004 figures suggest provincial NZ has been driving job ad growth.
About 300 on-site construction workers will be needed for the development of the Kupe natural gas field in Taranaki next year. The construction is also expected to create 550 off-site jobs. When the construction is completed and the field is brought into production, it will employ at least 50 full-time staff.
The government passes legislation to fix unintended consequences to the Holidays Act. Minister of Labour Paul Swain says it was never intended that workers should be paid double time-and-a-half and it was unfair that workers who called in sick should get it.
20 October 2004
The ILO estimates that due to HIV/AIDS there will be a cumulative loss of 28 million people to the global workforce by 2005, increasing to 48 million people by 2010. HIV/AIDS and work: global estimates, impact and response _ 2004, published by the ILO can be downloaded from here
21 October 2004
Inward migration has dropped to 17,760 over the past year, down from more than 40,000 the previous year.
Carter Holt Harvey will sell forests worth $375 - $400 million. The company is also planning to build the country's largest sawmill either at Marsden Point or at Kinleith. Such a mill could employ 250 people, although the company is making no comment at this stage.
22 October 2004
A workshop on Dealing with Workplace Bullying will be held in Wellington on November 5. Details here
23 October 2004
American Airlines, the world's largest, is to lay off as many as 1,100 pilots, mechanics and ground staff over the next few months.
25 October 2004
Labour Day, a celebration of the adoption of the 40 hr working week in NZ.
TV1 screens In a Land of Plenty, Alistair Barry's 2002 documentary that traces the origins, politics and the effects of New Zealand's policy of structural unemployment from the mid-1980s through the 1990s.
---

LAST Diary

NEXT Diary

---