About the Letter
About PDF files
—
Booklists
amazon.com partner
—
Index to Back Issues
Index to Features
—
Peace Media Award
About The Jobs Letter

---
Essential Information and Media Watch on Jobs, Employment, the Future of Work and related Education and Economic issues.
From September 1994 to June 2006 the Jobs Letter was published in New Zealand every 2 - 3 weeks.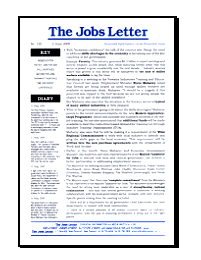 " Having this information at my fingertips is invaluable. The style and format of The Jobs Letter is great — easy to read, wide coverage, thought-provoking, thoroughly researched ..."
— letter from subscriber.

" It's one of the few publications I read on the day it arrives ..."
— letter from subscriber.
The Jobs Letter is already required reading for a large range of people involved in the employment issue — community welfare workers, training providers, careers advisers, educators, employers and the business community, employment activists, government departments, and local and national politicians.
If you are concerned about the future of work, or involved in creating jobs, training for employment, or creating employment policies ... then this key resource is for you.
The Jobs Letter is now freely available on this website at the time of publication, or we can post you the paper edition, by subscription.
Short, and to-the-point information you can use in your work

A summary Diary of events effecting employment, training and poverty issues in NZ

Four to six pages in each mailing
— easily read at once

Media Watch on current ideas and trends

Current Statistics That Matter on employment and unemployment

Regular features on current government policy

International perspectives on the future of work

No advertising

No public relations

No doublespeak

... just the essence of what's really going on.