OUR DIARY of key events over the last few weeks.


INTERVIEW WITH NATIONAL COMMISSIONER RAY SMITH

WINZ BACKING FOR MAYORAL INITIATIVES

HOW MANY JOBS FROM THE "JOBS MACHINE"?

NATIONAL PARTY ECONOMIC POLICY UNVEILED

STAFF CONVICTED OF $1M BENEFIT FRAUD

STUDENT LOAN PENALTIES

MORE ON THE AGE AND RATES OF SUPERANNUATION

"PROSPERITY PARADOX" IN AUSTRALIA

A "JOBLESS" US RECOVERY

---


LAST Letter

NEXT Letter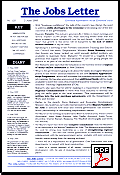 Download this issue
as a PDF file
Index to Back Issues
Index to Features

4 April 2002
Business investment in new fixed assets rose 8.5% in the December 2001 quarter. BNZ economist Craig Ebert says this figure is a more reliable indicator of business intentions than asking businesses whether they think business conditions will improve in the near future.
5 April 2002
Retirement Commissioner Colin Blair says he agrees with a recent Treasury report that predicts increasing the age of retirement will eventually become a necessity. Both the Labour and National parties say they have no intention of raising the retirement age.
7 April 2002
Job losses at Bank of New Zealand will be under 100, as its owner the National Australia Bank announces it will cut staff by over 2,000, primarily in Australia.
8 April 2002
Australian newspaper job advertisements for March were 9% below February and are at their lowest level since 1994.
9 April 2002
About 140 new jobs will be created in the Wellington area as South Pacific Tyres plans to expand its Hutt Valley production to 24 hrs 7 days a week.
Act Party spokesperson Rodney Hide criticises Jim Anderton's "Jobs Machine" saying that spraying public cash around business does not compensate for high taxes and high compliance costs.
Retail sales in NZ were 9.8% higher in February than they were a year ago.
Fonterra, the fourth largest dairy company in the world, has signed a commitment to abide by international labour standards for all of its employees guaranteeing union rights and safe and healthy conditions for all its workers. Half of the 20,000 strong workforce is employed in NZ while the other half is dispersed between 40 countries.
10 April 2002
Unemployment in NZ is being forecast to rise by 7,000 people to 112,000 or 5.7% in September according to the Labour Market Policy Group.
Job losses are likely among Air NZ flight attendants as the airline considers curtailing services on short-haul flights.
11 April 2002
The ANZ job advertisement survey for NZ indicates there were 2.6% fewer ads in March than there were in February.
28 Winz staff were convicted of stealing a total of nearly $1 million from the department over the past two years.
The Auckland District Health Board is to cut 70 management jobs.
The Australian unemployment rate in March was 6.3%, down from 6.6% in February. The labour force participation rate was 63.8%.
15 April 2002
National Party leader Bill English unveils National's election year economic policies. The business community has overwhelmingly embraced the policy plan while the Council of Trade Unions characterises it as tired old National Party strategy.
The proposed Health and Safety in Employment Amendment Bill would make labour-hire companies responsible for providing safety equipment and safety training for their workers, rather than the company the workers are contracted to. Andrew McComish, a member of the Recruitment and Consulting Services Association claims the law change would cripple the industry. About 100,000 people are on the books of labour-hire companies.
16 April 2002
The Council of Trade Unions tells the government that because adherence to the Kyoto Protocol may result in job losses, unions should be involved in the analysis of the protocol.
17 April 2002
About 12,000 jobs have been lost at American-based telecommunications manufacturer Lucent Technologies since the beginning of this year.
---

LAST Diary

NEXT Diary

---

WINZ BACKING FOR MAYORAL INITIATIVES
The Department of Work and Income is starting to put its resources behind the Mayors Taskforce for Jobs and its primary objective of ending youth unemployment in New Zealand.

Work and Income National Commissioner Ray Smith says that his Department already has 115 active initiatives with Mayors and their Councils, and he would like to see these expand.

Smith is looking to establish a partnership between every Mayor in the country and their Regional Commissioner. He is encouraging the formation of "Community Coalitions" which will bring together the Department, the Mayor and other key players in the community ... to discuss what might be possible.

Smith, in an interview in this issue of The Jobs Letter, says that he wants to impress on Mayors that they don't need to feel that there are huge constraints and that their ideas for initiatives will meet some sort of bureaucratic response.

Smith: "I'd like to see the Mayors take a more active role in helping us direct where some of the resourcing goes ... because I think they've got some good ideas about what their communities will benefit from."
The list of partnership initiatives between the Department of Work & Income and Mayors and Councils can be found on their website at http://www.workandincome.govt.nz/documents/regional-plans/
HOW MANY JOBS FROM THE "JOBS MACHINE"?
Deputy PM Jim Anderton's Jobs Machine has come under the spotlight as New Zealand Herald writer Simon Collins has done a survey of the "enterprise award" grant scheme. Collins surveyed 20 recipients of an Industry New Zealand enterprise award approved in February 2001 to find out how many jobs they had created so far.

Overall, Collins found that the scheme had spent $3.7 million on 435 grants to the end of January this year. The average grant during February 2001 was just $4,608. Nine of the 20 firms had not increased job numbers but 11 of them said they had created an estimated 53 jobs. Scaling up the figures from there, Collins estimates enterprise awards may have helped companies create about 2,000 jobs. But he also says that would be nonsense because most, if not all, of the 53 new jobs in his survey would have been created regardless of the incentive of an enterprise award. Collins: "Can such miniscule grants, sprinkled so widely among new businesses (and voters), have had an impact on jobs? No one knows. No one in government or academia has done the research to find out."

• Neil Mackay, chief executive of the Ministry of Economic Development, says that patience is needed to give Industry NZ enough time to bear fruit. It is only 18 months old and was established after nearly 20 years of government taking a hands-off approach to business. Prior to that there was no national economic development agency and Mackay thinks NZ suffered because of this. He says economic development agencies are very much a part of successful economies overseas, and are part of addressing the failure rate of companies and giving assistance to high growth companies.

Last month, Mackay told a parliamentary committee that within three to five years, just three projects Industry NZ is involved with will realise 4,000 new jobs and $1.5 billion in additional business revenue. Now that Industry NZ is established as an organisation, Mackay says it is focusing on sectors, specifically biotechnology, information and communication technology, and creative industries.
Source — Press release Act NZ, 9 April 2002 "Hide speech: Jim's job machine spins wheels"; New Zealand Herald 1 April 2002 "Mini-grants bring mixed job success" by Simon Collins; New Zealand Herald 1 April 2002 "'Jobs machine' now in gear and set to deliver: chief" by Kevin Taylor
NATIONAL PARTY ECONOMIC POLICY UNVEILED
National Party leader and finance spokesperson Bill English has unveiled National's election-year economic policy platform. It revolves around reducing the interference of bureaucracy on business and lowering the cost of doing business — primarily through lowering corporate, and high-end personal, income tax rates.

The document, A Clear Path To The Future, does not discuss job creation directly but refers to the Party's skills and education objectives. The National Party: "The ability of New Zealanders to meet the challenges of the 21st century will depend on the quality of our workforce. An educated workforce is a more productive one. Our policies also reflect demographic changes with fewer younger workers entering the workforce and more older workers leaving. We need to match skills to the jobs we need so that everyone can contribute to raising New Zealand's productivity..."

"A Clear Path to the Future" by Bill English (PDF format 348kb, 4pg) download from www.national.org.nz/wcontent.asp?PageID=100001543(No longer available.)
Sources - "A clear path to the future" a policy paper by Bill English; New Zealand Herald 16 April 2002 "National hits the business button" by Keith Taylor; The Daily News 16 April 2002 "Big business quick to welcome tax plan" by Rachel Boddy; The Dominion 16 April 2002 "National pins election hopes on tax plan" by Tracy Watkins
WINZ STAFF FRAUD
28 Winz staff have been convicted of stealing nearly $1 million over the past two years, generally by paying benefits to themselves through bogus clients or unlawfully paying benefits to family members or friends.

Green MP Sue Bradford says the offences were serious sustained thefts from a significant number of employees over a number of years. Bradford: "Incidents like these highlight the rotten culture that developed in the department during the late 90's. I hope recent changes in management will lead to a marked shift in culture."

Ministry of Social Development chief executive Peter Hughes says that fraud in the department was not excessive by international standards. Hughes says that fraud detection and prevention systems have improved and that last year there was a 40% drop in the number of staff found committing fraud.
Source — The Evening Post 11 April 2002 "Work and Income fraud, 28 staff busted stealing benefits" by Sean Scanlon; New Zealand Herald 12 April 2002 "Winz staff steal $1 of benefits in two years" by NZPA; The Dominion 12 April 2002 "Winz frauds highlights need for shift _ MP" Hannah Lawrence and NZPA; The Daily News 12 April 2002 "Culture shift needed after Winz benefit thefts, says Bradford by NZPA; The Dominion 13 April 2002 "Winz vows to recover $1 stolen by ex-staff"
STUDENT LOAN INTEREST
The NZ student loan scheme debt is rising by $406,000 per month in penalties alone on NZ'ers who are overseas, according to calculations done on figures obtained by the University Students Association. Liam Butler, a New Zealander living in London, says overseas residents with student debts are generally either unaware of or unable to meet their debt obligations that generally swell significantly when they have gone to live overseas. Most people with student debts living in NZ are required to repay their loan by a minimum of 10% of their earnings over $15,496. However, if they are resident overseas they are required to repay at least $1,000 on the principle plus 7% interest on their loan balance per year. This amount increases if the debt is over $15,000. If they do not comply, they are charged a penalty of 2% per month on the delinquent amount.

Butler asks for political parties to show students how they are going to stop student loan debt from escalating further. Butler: "Perhaps they could allow graduates to repay their loan through working on community service projects. This way, the 90% of NZ'ers who now leave tertiary education with a loan will not be forced to be indebted to the government just because they have worked hard to become qualified in professions that NZ needs."
Source — Letter to the Editor of The Jobs Letter 25 February 2002 by Liam Butler
THE SUPERANNUATION FIGURES
Anne Else, co-author of the book A Super Future? The price of growing older in New Zealand (with Susan St John, pub. Tandem 1998) is extremely concerned about the latest push by Treasury to promote the idea of raising the age for superannuation to 67 or 68. (see The Jobs Letter No.164)

Else: "As you rightly point out, we cannot assume that the ability to work longer means that the work will be available. Even more importantly, many of the most vital jobs in our society — particularly those done mainly by women, such as nursing and teaching — are extremely difficult to sustain even beyond age 60, let alone 65.

"Are we going to reinvent the spectacle of genteel aged poverty, as ageing nurses and teachers struggle to bridge an extended gap between the end of their working lives and the start of the pension?"

Else and St John pointed out in their book that a key issue was limiting state pension payments to the very wealthiest. They predicted that if this is not done, there will be heavy pressure to raise the age or lower the level. This would adversely affect everyone except the wealthy. Else: "Sadly, our prediction is clearly coming true already."
Anne Else also pointed out that The Jobs Letter, in its last issue, was perpetuating a common misstatement in the media when we wrote that the superannuation rate is "65% of the average wage".

The rate is 65% of the average wage for a married couple. But the payments are made to individuals, not to the couple, so the rate would be more accurately described as 32.5% of the average wage for a married person.

Else also says it is misleading to say that the rate for a single person is about 40% of the average wage as this is the rate for a person living alone. If they take on a flatmate or move in with family, they lose most of the extra allowance.

Else: "If this were always clearly stated, it would give people a much more accurate idea of their future prospects, and encourage those who can — and many simply cannot — to save for old age, as politicians keep urging us to do."
Source — Anne Else to The Jobs Letter 19 April 2002
"PROSPERITY PARADOX" IN AUSTRALIA
There was a slump in the Australian labour market in 2001 that was more severe than most commentators recognised. Mark Cully, Senior Research Fellow at the National Institute of Labour Studies in Adelaide, says that a preoccupation with monthly changes obscured some big picture trends.

These trends included: the net loss of 60,000 full-time jobs; a one-hour cut in the duration of the average working week (falling below 34 hours for the first time); and a dramatic rise in the number of under-employed people (under-employed Australians now out-number those who are unemployed).

Cully says that the economic slump of 2001 in Australia was noteworthy because the adjustment came in the form of people working shorter hours rather than lengthening dole queues. Had the average working week remained at its 20 year average, Cullys says there would have been 250,000 fewer people in jobs lifting the unemployment rate to 9%. At the same time, GDP and the standard of living rose as a result of greater labour productivity. Cully calls this the "prosperity paradox". Cully: "The debate should be about ways of promoting continued growth in labour productivity and ensuring that cuts in hours and improvement in living standards are evenly distributed."
Sources _ Press release," The prosperity paradox, rising GDP, too little work", contact Mark Cully, Australian Bulletin of Labour, Vol 28, No1, March, 2002
A "JOBLESS" US RECOVERY
The number of US workers collecting unemployment benefits in March rose to the highest level in 19 years and the official US unemployment rate rose to 5.7%. Forbes magazine reporter Kate Randall says these figures indicate the recovery of the US economy has not improved the position of workers. They also suggest the US may see a "jobless recovery", with corporations increasing profits while employment levels stagnate or continue to fall.

Laid-off workers are also finding it harder to find new jobs, taking 15 weeks to get new work now, while it took ten weeks in the first quarter of 2001.

John Challenger of Challenger, Grey & Christmas says that increased productivity is part of the problem. US worker productivity rose 5.1% in the fourth quarter of 2001 and at the same time the average worker's hours fell 3.6%. Challenger: "Employers who cut jobs and hours as we entered the recession are likely to just add hours as we come out of recession, which is supported by the fact that manufacturers reported an increase in overtime hours in March." Workers who remain on the job are producing more and working longer hours, while the growing ranks of the unemployed are remaining jobless longer and finding it increasingly difficult to find work.
Source — Forbes 13 April 2002 "US jobless claims hit highest level in 19 years" by Kate Randall