OUR DIARY
of key events over the last few weeks.



WORLD YOUTH UNEMPLOYMENT SKYROCKETS


SKILL SHORTAGES INTENSIFY


TASKFORCE PUSHING FOR SKILLS PLAN


NORTHLAND REGION BEGINS CADETSHIPS


YOUTH TRANSITIONS STRATEGY


JOHN BANKS CHALLENGED ON TASKFORCE MEMBERSHIP


PACIFIC PEOPLE QUOTA RULES RELAXED


STAFF LOOK FOR FLEXIBLE JOBS


NEWMAN ON WELFARE REFORM


"PEOPLE DON'T WANT TO BE ON A BENEFIT"


A FUTURE THAT WORKS


LOST JOBS AND THE US PRESIDENCY


HIDDEN COSTS OF WAL-MART

---


LAST Letter

NEXT Letter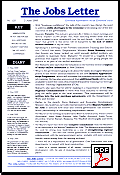 Download this issue
as a PDF file
Index to Back Issues
Index to Features

21 August 2004
Some of the government's most controversial Maori initiatives are being excluded from the current review of ethnically based programmes. The Community Employment Group is not coming under the review of "targeted policies and programmes" because it is currently undergoing an internal review that has already seen its general manager replaced and some programmes scrapped.
23 August 2004
Tens of thousands of Germans demonstrate against welfare cuts. Chancellor Gerhard Schroeder says reforms are needed to reduce unemployment and keep the welfare system affordable for an ageing population.
Volkswagen Corporation challenges its German workers with a tough wage plan ahead of talks seen as a gauge of workers' readiness to favour job security over pay rises. The company is asking workers to forego pay hikes for two years but will guarantee their jobs.
27 August 2004
The skills shortage is causing hundreds of thousands of workers to work overtime according to recruiting firm Hays. A survey of Hays clients reveals that over half had increased their overtime in the past 12 months by up to five hours. Nearly a quarter have increased their workers' weeks by 5-10 hours and 7% have increased by 10 or more hours.
29 August 2004
Associate Minister of Employment Rick Barker says the key push for Winz next year is to work with employers and make training a priority.
French media and communications group Viendi Universal commits to the government to create 2,100 jobs in France in order to a unlock 3.3 billion euros in tax credits.
31 August 2004
Italian airlines Alitalia is considering cutting 6,000 of its 22,000 member workforce by outsourcing the jobs.
1 September 2004
Chinese ambassador Chen Mingming says there could be losers as well as winners from a free trade agreement between China and NZ. At the Gateway to China trade summit in Auckland, Chen says issues had to be resolved for farmers in China and the garment industry in NZ.
CTU president Ross Wilson tells the Gateway to China meeting it is important not to "talk up" potential gains while "talking down" the loss to manufacturing. Wilson points out that manufacturing in NZ employs 292,600, compared with 143,700 employed in agriculture and forestry. Wilson: "Free Trade Agreement enthusiasts may argue that if the benefits exceed the cost, then those who suffer as a consequence should be given transitional assistance, or time to adjust."
2 September 2004
Methanex's Motunui methanol plant will be mothballed at the end of the year with the loss of 40 jobs. The Taranaki plant originally built to process natural gas into gasoline plant as part of the early 1980's Think Big economic infrastructure projects.
Two timber milling companies in Wairoa are investigating setting up an additional timber processing plant after signing an agreement with a US timber window manufacturing firm. Sources say the new plant could mean 100 new jobs for the Wairoa District.
The longer that skilled migrants stay in NZ, the more likely they are to get jobs in line with their qualifications, according to Statistics NZ. And regardless of qualifications, immigrants who have been here for 10 years or longer have a lower unemployment rate than NZ-born workers. Immigrants who are unemployed and those who are working unskilled jobs are most likely to have arrived recently from non-English speaking Asian countries. Work Matches Qualifications for New Zealand Immigrants, 2 September 2004, can be downloaded here.
Two-thirds of the over 1,400 immigrants who have recent been granted visas to stay long-term in NZ have no job to go to. Last year's changes to immigration rules have not worked to encourage new, suitable immigrants. Since a new points system was introduced in December, the government has reduced the number of points a prospective immigrant needs to gain entry to from 195 to 100. But this has still not achieved the number of immigrants it is targeting.
National MP Tony Ryall describes the government's immigration policy as being in "free fall" as it continues to lower the bar for prospective immigrants.
3 September 2004
Young men in NZ are under-achieving when compared to young women, according to the Young Males study. Among the problems are that boys are more likely to leave school with no qualifications and they consistently have a higher unemployment rate than young women. Minister of Youth Affairs John Tamihere says the review is part of a work stream that will put young Kiwi males at the top of the policy agenda. Young Males: Strengths-Based and Male-Focused Approaches, 2004, published by the Ministry of Youth Affairs, can be downloaded here.
4 September 2004
NZ fishing company Amaltal has recruited 40 Filipinos to work on its NZ vessels. This is the first time foreign crews have been recruited to work on a NZ-owned boat. Nelson MP Nick Smith says it is "madness" when we have 230,000 working-age people receiving a state benefit that we're having to resort to overseas workers for our fishing vessels.
5 September 2004
Secretary of Labour James Bulwalda acknowledges that the process followed by the Community Employment Group in issuing the grant funding a hip-hop world tour "simply wasn't good enough". But there was no evidence of wrongdoing by the grant recipients.
Minister of Trade Jim Sutton and his Australian counterpart attend an Association of South East Asian trade ministers. It is expected that NZ will begin "free trade" ASEAN negotiations next year.
6 September 2004
Treasury predicts economic growth to top Budget forecasts and top 4% for 2004. Growth for the March quarter alone was 2.1%.
---

LAST Diary

NEXT Diary

---