COMMUNITY EMPLOYMENT GROUP
The new General Manager, Charlie Moore, talks with The Jobs Letter editor Vivian Hutchinson

---
MAYORS MEET GOVERNMENT MINISTERS
The Mayors Taskforce for Jobs met with seven government Ministers at a special forum at the Wellington City Council on 19 October. The meeting was the latest in a series of consultation forums that the Taskforce has been undertaking before it finalises its own strategies for employment action. (The final forum will be held with the CEOs of government departments, in Wellington this week).

Christchurch Mayor and Taskforce convenor Garry Moore says that the Taskforce is keen to work with the Government to help reinvigorate volunteer and community organisations which had been hard hit in recent years. Moore told Employment and Social Services Minister Steve Maharey: " The community is not down on its knees — it is down on its face."
Moore also asked Maharey to consider allocating five or six field officers from the Labour Department's Community Employment Group (CEG) to help the Mayors Taskforce in designing and pursuing its local strategies for employment action. Moore, who helped to set up the Community Employment Group in 1989, was also one of its regional fieldworkers before becoming Mayor of Christchurch.

Steve Maharey told the Mayors he agreed in principle to the request. He said his only reservation was that CEG was only just re-establishing itself after being transferred back from the Department of Work and Income (Winz) to the Labour Department, and was still writing its future operating plans.

Parekura Horomia, Minister of Maori Affairs (and former General Manager of CEG), was also at the forum and he described the Mayors' goals as "critical to Maori". Horomia says he supports the concept of seconding CEG fieldworkers to the Taskforce, saying that both central and local government "need to become lateral thinkers on employment issues".


for full report on the Mayors meeting with Ministers, visit the Taskforce website at http://www.jobsletter.org.nz/mtfjobs.htm


THE CHALLENGE OF YOUNG UNEMPLOYED
At the Taskforce meeting, Youth Affairs Minister Laila Harre responded to the Mayors' primary goal that, by 2005, all young people under 25 years will be in work or training. She acknowledged the challenge that pursuing this goal will mean. The figures: In 1996, 42.7% of the total unemployed were aged 15-25 yet this group makes up only 21.2% of the working age population. Almost 1 in 3 Maori and Pacific Island people aged 15-19 were unemployed in 1996 — twice the rate of their Pakeha counterparts.

Harre says that, since 1987, consecutive governments have focused on skills training rather than job creation as its predominant employment assistance policy. Harre: "This policy shift has meant that the government no longer attempted to transform the labour market to create employment and has instead focused on transforming the unemployed through upskilling. The creation of employment was no longer a product of social policy. Rather it became the consequence of the economic policy of the market. The market response has been the growth of unskilled or semiskilled part time and casual employment with little employment-based training for young people."
Harre reports that the government is developing NZ's first comprehensive youth development strategy, the "Youth Development Strategy Aotearoa". It will act as a blueprint of the government's goals for young people and how it plans to achieve them.

Harre: "Focusing on young people's strengths rather than their failings is the underlying principle of positive youth development. Positive pathways are more likely to be fostered when young people have developed a sense of industry and competence, a feeling of connectedness to others and to society, a belief in their control over their fate in life, and a stable identity."
The Taskforce meeting was chaired by Jill White (Mayor of Palmerston North), and also attended by Graeme Ramsey (Kaipara), Alan Dick (Napier), Garry Moore (Christchurch), Claire Stewart (New Plymouth), John Chaffey (Hurunui), Tim Shadbolt (Invercargill), Frana Cardno (Southland), Pat O'Dea (Buller), Sukhi Turner (Dunedin), Jenny Brash (Porirua), and Yvonne Sharp (Far North).

The full list of Ministers who attended the Mayors Taskforce meeting: Margaret Wilson, Minister of Labour and Minister in Charge of Treaty of Waitangi Negotiations; Tariana Turia, Associate Minister of Maori Affairs (Social Development), Associate Minister of Social Services and Employment (Social Services); Parekura Horomia, Minister of Maori Affairs, Associate Minister of Social Services and Employment (Employment) and Associate Minister of Education; Laila Harre, Minister of Youth Affairs, Minister of Womens Affairs, Associate Minister of Commerce, Associate Minister of Labour; Philida Bunkle, Minister of Customs, Minister of Consumer Affairs, Associate Minister for Economic Development; John Lepper, from the office of Jim Anderton, Deputy Prime Minister and Minister for Economic Development; Ruth Dyson, Associate Minister of Social Services and Employment (Responsible for Disability Issues) and Steve Maharey, Minister of Social Services and Employment, Minister Responsible for the Community and Voluntary Sector, and Minister of Tertiary Education.
Sources — The Jobs Letter editor Vivian Hutchinson, attended the Taskforce meeting; Laila Harre speech to the Mayors Taskforce for Jobs 19 October 2000.
TRANZ RAIL
Tranz Rail has announced it will sell its long-distance passenger services and contract out its engineering, maintenance and ship operations by the end of 2002. Some unprofitable lines will probably be closed. The restructuring will cut staff numbers from 4000 to 600, and the staff face a wait of up to two years before finding out if they will be laid off, or who their new employer will be.

Wayne Butson, Rail and Maritime Transport Union general secretary says that the workers have been in shock ... but their reaction is now turning to anger. Butson: " The next 18 months to two years will be incredibly stressful and destabilising for the families involved. I only hope we don't see a dramatic increase in accident rates as well." Tranz Rail has countered these fears by meeting with government ministers and unions and saying that where services are sold the workforce will be protected with continuing jobs and work conditions.

Finance Minister Michael Cullen believes that what Tranz Rail is planning will have important implications for all New Zealand. Cullen: "It will mean changes to the way that commuter operations are run in Wellington and Auckland, the loss of some services in rural areas and the transferral on to the roads of a considerable amount of non-containerised goods..."
The government is particularly concerned that the possible closure of branch lines (Napier to Gisborne and the South Waikato to Rotorua lines) could pose a risk to roads in the region — especially with the timber harvest expecting to double in size in the next five years and needing to be transported to ports.

Political commentator Chris Trotter argues that the privatisation of New Zealand Railways has made long-term planning in the forestry industry next to impossible. Trotter: "Crucial to the success of any forestry venture is the existence of a reliable transport infrastructure, and by far the most efficient method of transporting those millions of tonnes of East Coast timber to the Port of Napier is by rail. But the shareholders of Tranz Rail couldn't care less about whether New Zealand is able to realise the true value of its natural resources. All they care about is the size of the next dividend cheque. It's nothing personal, its just business."

Trotter contends that an effective transport system is crucial to the economic development of cities, such as Gisborne and Rotorua, and is also crucial to New Zealand's ability to plan for the future.

At Tranz Rail's current share price, the NZ taxpayer could pick up the whole railway network for around $200-300 million. Trotter says that if this sum is too large for the coalition government to raise in one go, it could pass legislation requiring the private owners of the company to transfer a progressively larger share of the business into state hands over a period of years.

Trotter: "Whatever method is used to return the railway network to the people, it should be used without delay. Because no matter how you look at it — in terms of jobs, environmental protection, regional development, or the ongoing provision of cheap and reliable public transport — the continuing private ownership of the nation's railway network makes no sense."
At the recent Mayors taskforce meeting with Ministers, Invercargill Mayor Tim Shadbolt offered the view that local government could help defend jobs and community development by taking over Tranz Rail's passenger services. At the meeting, Shadbolt asked Associate Economic Development Minister Phillida Bunkle whether the Government would back such an ambitious project. Shadbolt: "Usually central Government does the big issues and we do the little issues ... but what if we decided to to something quite bold that created a bit of an international splash?"

Phillida Bunkle described the proposal as "exciting", but warned that Tranz Rail wants to keep its monopoly while encouraging possible buyers such as local bodies to take on under-capitalised ventures which have been run down and would require significant upgrading.
Sources — Sunday Star Times 15 October 2000 "Govt unable to halt Tranz Rail plans" by Terry Hall; The Daily News 12 October 2000 "Don't panic over rail plans — govt" by NZPA; New Zealand Herald 11 October 2000 "Axe hangs over scenic train runs" by Bernard Orsman; New Zealand Herald 12 October 2000 "Tranz Rail think we're suckers: Anderton" by Chris Daniels; The Daily News 13 October 2000 "Get rolling again, on the railway" by Christ Trotter; New Zealand Herald 21 October 2000 "Shadbolt whistles up civic role in railway" by Mathew Dearnaley and Simon Collins;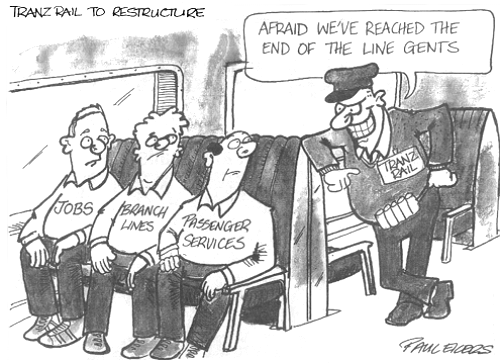 INCOME INEQUALITY STILL GROWING
There continues to be a growing inequality in the labour market in New Zealand — with top income people getting more, while people at the bottom are getting less.

New figures released by the research company AC Nielson shows that households with an income of $120,000 or more increased from about 3% in 1996 to more than 5% in 2000. Households making less than $20,000 a year have also increased from about 18% to about 22%.

There have been small increases in the number of households earning between $60,000 and $120,000 a year. However, the proportion of households earning between $40,000 and $60,000 has dropped from about 23% in 1996 to less than 20% this year.

Households earning between $30,000 and $40,000 have dropped from 18% to 15%. Households earning between $20,000 and $30,000 have remained fairly static at just over 15%.
Economist Brian Easton says the data appears to confirm a trend, discovered in other studies, that the 1990s have been a period of growing disparities. He says that government policies such as tax cuts for the better off, and benefit cuts for the poor, have contributed to these disparities. Easton points to the recent 9.5% pay rise for top civil servants while most benefit levels have remained unchanged.
Source — Sunday Star Times 15 October 2000 "Inequality in household incomes still growing" by Guynon Espiner
DEBATING THE CHAPPLE PAPER
University of Otago senior lecturer in economics Robert Alexander has taken issue with Simon Chapple's report on the "Closing the Gaps" statistics (see last issue of The Jobs Letter). He says that Chapple has made elementary statistical mistakes and has included highly speculative sociological comment in his report. Alexander: "Most people today are too confused by statistics to use their own judgment, so they rely on "experts." When a labour market expert, employed by the government and using apparently sophisticated statistical analysis, tells us there is no gap between Maori and Pakeha, we believe him, especially if it is what we would like to believe..."
Alexander and two colleagues have researched Maori income statistics using Statistics New Zealand's Household Labour Force and Income Surveys for 1997 to 1999. Their research shows that a Maori person with identical age, educational qualifications, type of job and so on earns on average 9—14% less than a non-Maori.

Even more striking is that other non-European ethnic groups fare even worse: Pacific Island people earn between 14—21% less than Europeans, while "others", made up mainly of Asian people, earn between 19—21% less per hour.

Alexander: "If you earned between 9% and 21% less than another individual who was comparable to you in all respects but ethnicity, would that seem fair to you or would you see it as evidence of discrimination?"

—"Maori disadvantage in the Labour Market", by W R J Alexander, Murat Genc and Mohammad Jaforullah
Source — National Business Review 13 October 2000 "Maori income statistics fly in face of reality" by Robert Alexander.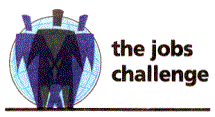 VOICES:ON THE JOBS CHALLENGE
— from the current New Zealand Herald feature series

" The main criticism of the Government from business is that much of what it is doing seems to be ideologically based rather than the result of innovative thinking. The tendency seems to be to think in terms of handouts rather than incentives — a Government "in your face" rather than behind you offering encouragement imposing tax systems that are punitive to enterprise rather than fair and tolerant to new business.

" My case is so basic that it hardly bears repeating. A wealthy country can afford the social systems we all take for granted. Wealth-creation has to be the first priority of any government. But we can create wealth only by trading successfully on the world's markets."
— Gilbert Ullrich, managing director of Ullrich Aluminium

" It seems that in the past couple of months we have realised that the heat has been turned up. It's too easy to blame the problems on the Government when, as various commentators have observed for some time, the temperature has been changing for at least the past five to six years.

" Clearly technology has a role here. It is sobering to note that the 10 largest corporations in the United States have five times the market capitalisation they did 10 years ago but collectively employ fewer people.

" Winning cultures attract winners, and we need a lot more of them. We should be promoting a culture that not only stops our brain drain, but attracts back the tens of thousands of talented New Zealanders who live overseas. We need to change our education structures to create the winners of tomorrow. It is not good enough, for example, to have only 2 per cent of our graduates in computer science, maths or engineering.

" Our larger companies and institutions need to find ways of acting like networks of small ones. They need to find non-traditional ways of promoting innovation and entrepreneurial behaviour, and speeding up everything, from decision-making to new-product development. Successful corporations overseas are already heading in this direction, creating a small corporate soul in a big corporate body. Company structures are changing, the nature of employment is changing and the skills needed to succeed are changing."
— Chris Liddell, Carter Holt Harvey chief executive

" In economic terms, we are insignificant players on the global stage. Taking GDP as a measure of size, we find our economy is now about a seventh the size of Australia's, roughly the size of Western Australia's. Microsoft has 20 times the market capitalisation of our stock exchange. By this measure, New Zealand is no more than an internet start-up, little more valuable than e-Bay but half the value of Yahoo!

" Our economic health and stability holds no interest for the rest of the world. We are not an Israel or a Yugoslavia. No foreign countries will really care if we go slowly and surely down the economic plughole.

"The ultimate measure of a nation's prosperity is GDP a head. We should set ourselves a bold target over the next 10 years. We should aim to outperform Britain and Australia by 2 per cent a year. This means we should make our economy grow 2 per cent more quickly than the economies of both these countries. If we do this we will be richer than Britain in five years and Australia in 10 years. That's our goal. If we want to make it happen, we need to succeed in four key areas - we need to invest in knowledge, win the war for talent, create a truly entrepreneurial culture and nurture vibrant communities."
— Andrew Grant, of the Auckland management consultancy McKinsey and Co.

" The answer is nothing so complicated. If we want life to be better, the first thing we need to do is take some responsibility. By this I mean not blaming anyone, including ourselves, but just accepting that we have the power to change things and getting on with it.

" The economic situation is only the product of the seeds we have sown over the years. And a number of different governments representing the people of New Zealand, with various policies, have contributed to this. Other countries have had considerably different results. This is because, as countries, they planned for it, from the top person in government down through the business fraternity to the individual taxpayers and citizens.

" I am the mother of three small children and I am successfully running and building a small business with 10 employees. We have seen tough times and hardships in the marketplace over the past seven years since opening for business, and I'm sure we will see some more.

" But we don't sit around complaining and looking for someone else to fix things for us. We accept the personal responsibility to solve these problems for ourselves."
— Adaleen Griffith, managing director of Jagas Concrete, a Pacific Island family business in Otara which won this year's Best Small Business of the Year award in the WestpacTrust Manukau Business Excellence Awards.

" The internet provides unprecedented opportunities for New Zealanders to make choices about how we want to live and work and huge opportunities to innovate.

" It's worth noting that New Zealanders are very wired. A study just out from Victoria University found New Zealand is a world leader in the take-up of electronic commerce and internet use. We have extremely high use of eftpos and ATMs. We're in the top few in internet connections and our connectedness is growing faster than any other OECD country.

" In the past, New Zealand has always battled the tyranny of distance. It has been our competitive disadvantage. The worldwide web enables us to turn distance into our competitive advantage."
— Theresa Gattung, chief executive of Telecom

" Partnerships between central, local government and other relevant stakeholders are also important. Unions need to be included. That is why the CTU is encouraging local unionists to get involved with their communities to discuss initiatives that can result in new job opportunities.

" The CTU also believes that Industry New Zealand needs to facilitate industry strategies and not be confined to regional development initiatives. Such strategies cannot replace commercial considerations or market signals, but ensure that the investment in infrastructure and skills can mean that we maximise the jobs that emerge."
— Peter Conway, Council of Trade Unions economist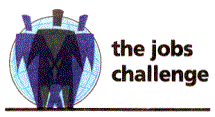 Visit our "Jobs Challenge" page at http://www.jobsletter.org.nz/nzh2000.htm to the New Zealand Herald Online articles in this series.
---


Top of Page
This Letter's Main Page
<! ---> Stats | Subscribe | Index | <! ---> <! --->
The Jobs Letter Home Page | The Website Home Page
---
jrt@jobsletter.org.nz
The Jobs Research Trust -- a not-for-profit Charitable Trust
constituted in 1994
We publish The Jobs Letter