OUR DIARY
of key events over the last few weeks.


MAYORS SUPPORT FOR YOUTH TRANSITION

HIGH COST OF IGNORING YOUTH

PATHWAYS TO WORK

GROWTH STYMIED BY RELUCTANCE TO HIRE

STANDING ON WELFARE REFORM

BETTER SUPPORT FOR SICKNESS, INVALID BENEFICIARIES

DOCTORS: BENEFIT HOPPERS AVOIDING WORK

CHINA/NZ TRADE NEGOTIATIONS

MADE IN THE USA

---


LAST Letter

NEXT Letter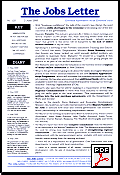 Download this issue
as a PDF file
Index to Back Issues
Index to Features

13 April 2004
Minster of Finance Michael Cullen urges businesses to switch to "value creation" rather than trying to cut labour and other costs to improve their profitability. He warns that the economy will stagnate if business focus remains on cost cutting.
A total of 23% of businesses surveyed by NZIER say the shortage of labour is the biggest block to increasing their productivity. Businesses also say they are running flat tack: "capacity utilisation" is at its highest level since 1973.
The Tararua District Council opens up its mayoral flood relief fund. Mayor Maureen Reynolds urges people who have suffered big losses to use it.
As the frigate HMNZS Canterbury is decommissioned next year, the navy will lose a significant training capability. To cope, the navy may decide to put staff with other navies in order to gain specialist skills. The navy is also considering reducing the training it provides because it believes it over-trains staff in some areas.
Workers fall sick with stress and anxiety not only when their company is downsizing but also when it is expanding, according to a study in British medical journal The Lancet.
US microchip maker Intel says it will continue to outsource jobs to Southeast Asia despite the negative focus on the practice in the media. Chief Craig Barrett says companies have been outsourcing for decades and it is just the election cycle that is making it news at the moment.
14 April 2004
About 60 jobs are lost at Port Nelson as the owner of a multi-million dollar luxury boat, which caught fire while being refitted, decides not to continue with the work.
ACT MP Muriel Newman accuses Minister of Maori Affairs Parekura Horomia and his Maori caucus colleagues of arguing over the seabed and foreshore and neglecting the bigger picture of Maori Welfare dependency. Newman says that Maori make up 15% of the population but 33% of those on unemployment benefits.
Parekura Horomia says there are more Maori in paid employment than at any time over the last 16 years and there are over 800 young Maori taking part in Modern Apprenticeships.
15 April 2004
Carter Holt Harvey puts its Rotorua timber mill on the market and says it could close the mill if a buyer is not found. The mill employs 69 staff.
The Porirua Apprenticeships Trust is launched with the aims of easing the chronic shortage of builders in the city, as well as provides young people career pathways. The trust aims to place 15 apprentices this year.
16 April 2004
The Employment Court rules that Air NZ may drug-test some workers.
Random drug-testing has proved positive in 9% of those workers tested, according to Environmental Science and Research, a firm that has done testing for 400 companies. Drug tests found 27% of tests were positive when carried out on workers after industrial accidents.
18 April 2004
The "creative industries" are growing 8.7% per year worldwide, according to Creative Industries NZ, and currently employ about 50,000 NZ'ers. Creative Industries NZ is holding a 10-day symposium in Christchurch in May.
NZ dairy giant Fonterra will progressively outsource more and more staff to IT specialist EDS. Fonterra transferred 96 staff to EDS in December and is set to continue this trend.
ACC, the agency responsible for preventing workplace injuries, is being investigated by Occupation Health and Safety following complaints by staff of bullying, overwork and stress. ACC says the complaints are unsubstantiated and that it has confidence it has systems in place to manage workplace stress.
19 April 2004
Travel retailer the Flight Centre plans to employ 250 staff in 20 new stores around NZ.
Minister of Women's Affairs Ruth Dyson declares "Mana Wahine" week: a celebration of the contribution made by Maori women in business.
20 April 2004
Michael Cullen hints that there will be a boost in funding for apprenticeships in the next Budget.
Both the IMF and the OECD warn that the US Bush Administration's record budget deficit is putting the world economy at risk.
21 April 2004
NZ had a net outflow of 320 migrants in March, the first monthly net loss of long-term migrants since 2001. Arrivals from China fell 66% and Chinese departures jumped nearly 90% when the latest figures are compared to March 2003.
The Masterton Trust Lands Trust announces grants of $62,000 to assist trade-training courses in the town. The money is committed in $600 lots for course fees for students taking UCOL Wairarapa pre-trade courses, and to support courses provided through Wairarapa Workforce Development Trust.
There were 11.2% more advertised job vacancies during March this year than they were in March 2003. ANZ chief economist David Drage says this is good news for job seekers but continues to cause difficulties for many businesses that are experiencing skilled labour shortages.
22 April 2004
The Association of South East Asian Nation's economic ministers recommend inviting the NZ and Australian prime ministers to their next meeting, thus putting "free-trade" negotiations on the agenda.
Up to 50 jobs will go as Palmerston North plastics company Click Clack relocates production work to its other plants in Levin and Christchurch.
25 April 2004
The Amaltal Fishing Company says that the four Filipino staff in the country are training to qualify to work on the company's international fleet and are not just new staff. The NZ Fishing Industry Guild had raised its concerns that foreign fishermen may begin to edge out local crew working in NZ waters.
26 April 2004
The Maritime Union of NZ launches a campaign focused on shifting the industry towards a regulated, highly skilled and permanent workforce. The union says "flag of convenience" shipping and casualisation of waterfront labour is undermining good NZ jobs.
Just 560 of Child Youth and Family's 990 social workers have social work qualifications. The agency says 50 of the 270 staff who are currently studying will have completed their qualification by the end of 2004. Government figures show it costs about $14,000 per person for most staff to gain the desired qualification.
27 April 2004
ACT Party leader Richard Prebble is stepping down from the post and will not run as a parliamentary candidate at the next election.
28 April 2004
Student loan scheme debt reaches $7 billion. In an editorial, The Dominion Post: "It is not difficult to imagine that a change of demographics — home buying and child bearing — will occur as young people struggle to clear the debts before settling down."
Also regarding the student loan news, a New Zealand Herald editorial says there is no need for concern at the size of student loans. It says that students have a repayment regime that would be the envy of any other investor.
A UN report on world youth finds that although today's youth are better off than earlier generations, many are still hindered by lack of education, poverty, health problems and unemployment. World Youth Report 2003, published April 2004 by the United Nations can be downloaded from here
29 April 2004
The Tertiary Education Commission has turned over nearly one-third of its staff since it was launched 15 months ago.
30 April 2004
Norway's new gender equality rules will require company boards to include at least 40% of each gender by mid-2005 or face significant fines. Currently, women make up just 8.9% of boards members of Norwegian shareholding companies.
1 May 2004
The Marsden Point oil refinery begins a three-week maintenance shut down that will involve as many as 450 additional staff.
2 May 2004
Sealord Group, the large Nelson-based fishing company, is in talks with the Immigration Service about employing Chinese workers to cope with the July to September busy processing season. However, spokeswoman Merrill Coke says there are no current plans to hire Chinese workers. Coke: "Our priority is to recruit local labour for the processing plants this hoki season, and we are working hard on that."
More than 2,300 invalid and sickness benefits were cancelled over the past three years because the recipients had been convicted of offences and were sent to prison. ACT MP Muriel Newman says that if beneficiaries are well enough to commit crime, they should not be collecting a sickness or invalid benefit.
The MSD has purchased a knee operation for a sickness beneficiary from the Counties-Manukau District Health Board. This is the first of what will be about 400 operations on sickness and invalid beneficiaries that will allow them to return to their job sooner.
The Melbourne-based Tenix Defence, the "preferred bidder" to build seven Australian navy patrol boats, says that $200 million of the work will be spread around more than 100 NZ companies over the next three years. The Melbourne-based Tenix Defence, the "preferred bidder" to build seven Australian navy patrol boats, says that $200 million of the work will be spread around more than 100 NZ companies over the next three years.
3 May 2004
Fonterra, NZ's largest company, will cut 700 jobs over the next two years, most of them in NZ. Fonterra employs 20,000 staff worldwide, about half of which work in NZ.
Ninety-five Origin Pacific staff are expected to lose their jobs as the Nelson-based airline reveals it cannot meet it debt obligations. The company expects its creditors to allow it to keep trading rather than to send it into liquidation.
4 May 2004
NZ's 18 registered banks added 840 staff to their operations last year, a significant increase and change of direction from the cutbacks made during the 1990s.
The strength of the housing market depends more on the job sector than on interest rates, according to real estate agency Harcourt. Chief executive Bruce Thomson says that the market can stand interest rate rises if employment is strong and people are confident about their income.
Chilean president Richardo Lagos is in NZ on a state visit signing three trade agreements relating to agriculture and science.
None of the Group of Eight (G8) richest nations have kept their promise to spend 0.7% of their GDP on development, according to the World Bank. President James Wolfensohn: "It is the rich countries which every year go through a sort of shadow play at the G8 meetings when senior bureaucrats come around to try and see what it is that can be highlighted that won't cost a lot of money but which will get a headline."
5 May 2004
Police and immigration officials arrest 10 illegal foreign kiwifruit pickers at western Bay of Plenty road checks. 12 others were arrested last month and dozens of others are reportedly departed the region. Packhouse owners and orchardists are angry at the Immigration swoop, fearing the loss of the foreign workers' labour will result in their fruit going unpicked and rotting on the vine. They call for short-term work visas to be issues for their region.
The Green Party has serious reservations that the Charities Bill will undermine the independence and political advocacy activities of the community sector. Submissions on the Charities Bill are being accepted until 3 June. The Greens say emailed submissions will be forwarded-on if they are sent to russel.norman@parliament.govt.nz
---

LAST Diary

NEXT Diary

---