OUR DIARY
of key events over the last few weeks.


CONSTRUCTION SKILLS SHORTAGE CRISIS

YOUTH UNEMPLOYMENT STATISTICS

TRENDS

MAYOR TASKFORCE AGM

NZ'ERS ASSET POOR

SICKNESS BENEFITS

MORE DEPRESSED SICKNESS BENEFICIARIES

NATIONAL PROMISES WORK-FOR-DOLE

RESPONSE TO FLOODS

10,000 HIGH-TECH JOBS

ELECTROLUX MOVES TO OZ

$7,000 INDUCEMENT TO WORK FOR CYF

WANTED: BALANCED LIVES

WTO `FREE TRADE' TALKS BACK ON TRACK

WORK TILL YOU'RE 70 PROPOSED IN UK

"COALITION OF THE BILLING"

---


LAST Letter

NEXT Letter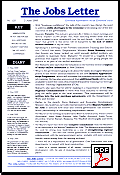 Download this issue
as a PDF file
Index to Back Issues
Index to Features

10 July 2004
NZ is well into the top half of the OECD _ in the number of hours people work per year. NZ workers rank 7th of 30 member nations.
About 50, mainly maintenance staff are to be laid off at the Carter Holt Harvey Tasman mill in Kawerau.
The reconstruction of Iraq has resulted in just 15,000 jobs for Iraqis, despite the US promise that 250,000 jobs would be created by now. The Washington Post says the lack of jobs is mainly because of the lack of security. Fewer than 140 of the 2,300 reconstructions projects are under way.
An estimated 20% of all agricultural workers in southern Africa will have died of AIDS by 2010. The Guardian Weekly says that besides the humanitarian tragedy, the country will suffer economically from the depleted workforce.
12 July 2004
India's fledgling biotechnology sector hopes to generate one million new jobs and attract investment of $US10 billion by 2010. Industry executives predict the growth will come because of India's low-cost, highly skilled knowledge workers who are able to tap into the emerging drug discovery, contract research and bioinfomatics industries.
13 July 2004
BNZ economist Stephen Topliss says that the lack of labour is "the single biggest problem confronting NZ".
Job ads fell slightly but are still at high levels, according to the ANZ job ads survey. ANZ economist John Bolsover says the level of job advertising, coupled with surveyed business sentiment, points to further employment gains over the next two years.
Wages rises for the Australian public service were 4.8% this year.
14 July 2004
The Richmond meat works at Waitotara has asked workers to accept pay cuts of up to 15.5% and to work an extra 50-60 minutes per day. The company says this is because the facility is not competitive and could affect the plant's future.
16 July 2004
Filmmaker Peter Jackson has invested some $115 million in a state-of-the-art film studio complex that intends to compete with other international film centres. The permanent facilities may begin to provide year-round work for some of the 12,000 or so NZ'ers involved in the film industry, which is currently prone to big peaks and troughs.
The property boom in Australia has benefited Australians who could afford to buy property but has also contributed to the widening gap between the rich and poor, according to a study by Canberra University's National Centre for Social and Economic Modelling. The study says that the gap is widening along age lines. Professor Julian Disney says the resulting "intergenerational inequity" is cause for alarm. Trends in Housing Stress — June 2004 published by NATSEM can be downloaded (PDF, 22pg, 196kb) from here
18 July 2004
The Careers Services launches KiwiCareers pathfinder, an online service to help people who would otherwise have difficulty accessing career information services. It can be found at: www.kiwicareers.govt.nz
In answer to a Parliamentary question, Minister of Services State Trevor Mallard says that the number of analysts working in the public sector has increased by 30% over the last three years. Mallard says the increase is consistent with the government's intention of rebuilding the public sector's capability, rather than relying on consultants.
Winz is considering installing voice verification technology to identify beneficiaries who telephone the department.
19 July 2004
Up to 500 farms are understood be affected by flooding in the Bay of Plenty. 40 farmers are forced to dump milk as floodwaters have washed out roads. Even farmers whose properties have not been flooded out of their homes are facing soggy soil and will struggle to feed their stock.
20 July 2004
The Reserve Bank will require the country's largest banks to seek its approval before arranging for their computer systems to be outsourced offshore. Westpac and ANZ are reviewing their technology needs and Reserve Bank governor Alan Bollard wants to ensure a local bank's computers can operate as a stand-alone system in the event of a financial crisis.
A nursing staff shortage has postponed some elective surgery at Masterton Hospital.
About 40,000 state sector workers have joined the government's subsidised retirement scheme. The fund, which started on 1 July, is being promoted as a model for private sector workplace superannuation schemes.
21 July 2004
The net inflow of migrants dropped again for the 13th straight month. NZ gained just 760 long-term migrants in May. The net inflow for the year was 22,000 _ a little more than half of what it was the previous year.
A manufacturing business, relocating from Sydney to Patea, expects to initially employ at least 15 people. Owner Francis Weston says the low-cost of real estate in his Taranaki hometown makes the move a good commercial decision.
22 July 2004
Global consulting firm Montgomery Watson Harza is expected to employ 20 at its "captive outsourcing arm" in Christchurch by the end of the year. The move will see the company, which employs 6,100 worldwide, relocating senior IT staff from the US and EU to NZ.
The ILO estimates there are 25,000 people working as slave labourers in Brazil, clearing rainforest for ranchers or producers of pig iron.
23 July 2004
South Island vegetable growers fear they will be unable to meet their labour needs this summer and would like to see foreign workers allowed to come and work during the peak season. Vegfed president Brian Gargiulo says that as the unemployment rate declines it is getting harder and harder to find labour.
Winz insists that vegetable growers need to employ its referrals before foreign labour would be considered for permits to work on farms. Backpackers can be hired for seasonal horticultural work.
The CTU appeals to a parliamentary committee to include part-time workers in the government's paid-parental leave scheme. Secretary Carol Beaumont says the exclusion of women working fewer than 10 hours excluded 11% of female workers.
Nominations are open for more than 1,200 council, health board and licensing trust elected jobs. Local body elections will be held on 9 October.
The British government plans to cut thousands of personnel from its armed forces as it reduces the number of tanks and ships it requires for a modern army. Roughly 10% of the armed services personnel will be cut.
24 July 2004
The New Zealand Herald job advertisements are now available online. They can be accessed at: www.nzherald.co.nz/jobs
25 July 2004
New Plymouth boat-building firm Fitzroy Engineering has taken on six apprentices in the last three weeks and is looking for another 15 fabricators and joiners. Managing director Peter White-Robinson says the burgeoning industry is not generating the amount of interest it needs to from young people starting out in a career. White-Robinson: "Generally these kids still think they need to go and get a degree, but there are plenty of people out there who are great with their hands. This could be a great career for them."
26 July 2004
The New Zealand Institute "think tank" is launched. Chief executive David Skilling: "The institute is committed to creative, provocative and independent thinking, focusing on issues that will have a major impact on NZ's economic and social future, engaging with NZ'ers in order to develop solutions to address these issues." The institute's first area of research is on how to create an ownership society.
27 July 2004
NZ's largest biotech company Genesis Research cuts 29 jobs, more than half its staff.
Australian unions, doctors and welfare groups urge their Senate not to ratify the proposed "free trade" agreement with the US.
28 July 2004
The number of people registered as evacuees in the flooded Eastern Bay of Plenty has risen to 2,552. Many rural people are still to register as evacuees.
29 July 2004
The future of Balance Agri-Nutrients' urea plant in Taranaki and its 105 staff is dependent on whether the company can buy natural gas at a "realistic price." The plant, one of former PM Rob Muldoon's "Think Big" projects, has 10 months to go on its existing gas supply contract.
The Ministry of Education acknowledges that up to 400 early childhood centres are at risk of being shut down because they cannot meet new regulations that require a teaching diploma qualified staff to be at a centre at all times.
31 July 2004
NZ should be making more use of migrant labour to fill labour shortages, according to Trade & Enterprise NZ. Chairman Phil Lough says that as we succeed in lifting the skill level of the NZ workforce, we will inevitably create an employment gap in lower-killed, seasonal work that could be filled by migrants.
1 August 2004
International IT outsourcing company EDS says it on track to meet its job creation targets. EDS NZ received a $1.5 government grant in 2003 to create 360 jobs by March 2006. To date the company has created 207 jobs.
The Australian job market remains strong for blue-collar workers. Job ads are at a three-year high with the outstanding demand being for plumbers, security, printing and building tradespeople.
The government hails a breakthrough in WTO negotiations as a "great outcome" for NZ and developing countries. WTO member states have agreed to commit to end agricultural export subsidies.
2 August 2004
Health administrators are trying to recruit more than 100 registered nurses, plus support staff, to give children their three meningococcal vaccinations. The campaign to vaccinate the country's under-five-year-olds against disease begins in South and East Auckland.
3 August 2004
Twenty-eight staff take early retirement from Massey University's College of Education. The staff are no longer needed as demand has dropped for people taking primary school teaching courses.
CEG's northern region manager Amokura Panoho resigns after pressure from the Department of Labour for issues surrounding a Maori Party hui.
4 August 2004
The NZ birthrate of 2.01 births per woman is still below the 2.1 births required for the population to replace itself without immigration. The median age of women giving birth has risen from 28.4 years in 1994 to 30.2 years.
The Salvation Army is considering using its former Corban winery site for an Employment Plus programme, which helps unemployed people find work.
5 August 2004
Almost one-quarter of nurses working in NZ are foreign trained, far more than similar developed countries.
The government tops up funding for rebuilding flood-damaged BoP to $30 million.
---

LAST Diary

NEXT Diary

---