Community Employment Organisations create jobs by providing goods or services that are of benefit to the community. The government provides a start-up grant to the participating organisations and also wage subsidies for eligible unemployed workers. CEOs are not allowed to compete with private sector local businesses and, over time, they are expected to become stand-alone, self-sustaining community businesses. The Community Employment Group administers the programme while Winz handles the worker referrals and wage subsidies.
VOICES: ON COMMUNITY ORGANISATION EMPLOYMENT SCHEME
"The huge flop of Maharey-led projects such as the Community Employment Organisation scheme, which has created a paltry 54 jobs at a cost of $1.5 million, when Maharey was expecting 1,000 jobs, show that this academic ideologue of a Minister hasn't a clue how to provide practical assistance for those who need it."
— Muriel Newman, Act Party Social Welfare spokesperson
"The Labour Alliance government remains committed to the development of Community Employment Organisations. Already we are seeing tremendous results from a number of the CEOs that have been established. Those results are measured not only in the creation of subsidised and unsubsidised jobs, but in the development of social enterprises and community assets that will build our stock of social capital."
— Steve Maharey, Minister of Social Services and Employment
"If government would buy the service every year, then we could plan ahead. I put CEO in the "investment" column. With us, the scheme has paid for itself in the first year. In the second year it is returning a profit. Where in the private sector can you expect a return that quickly?"
— Cliff Colquhoun, Community Business and Environment Centre
"Long-term funding is the biggest concern for all CEOs. We have had to show CEG how we will become less dependent on them by picking up other contracts. But we can`t afford to stand alone, nor should we. We provide a valuable service to our community. We are creating real jobs, not just paper jobs to make the unemployment figures look good. We benefit the rugby union, the workers and our clients. We are a substantial employer."
— Jakki Tree, TeamWorks South Canterbury, Timaru
MAYORS TASKFORCE FOR JOBS — ELECTION RESULTS

Mayors Taskforce for Jobs chairman Garry Moore has been re-elected as the mayor of Christchurch with an increased majority. Many of the Task Force mayors were returned unopposed and many who stood-down or were not re-elected had already signed their councils up to continue to be part of the Mayors Taskforce for Jobs. Core Group members not returned to office were Derek Fox (Wairoa) and Jill White (Palmerston North).
MAORI EMPLOYMENT

The growth rate of Maori employment has been over double that of the general population in the past ten years. Geoff Bascand of the Department of Labour Market Policy Group reports that, since 1991, the number of Maori in paid jobs grew by 53% while the total number of NZ'ers in paid work grew by just 22%. Maori employment growth has averaged 4.3%/yr for the last ten years. Bascand: "It is a pattern that is quite encouraging … I think that is a picture that we sometimes lose sight of."
Bascand's remarks were made to the Maori Affairs select committee where committee members voiced concerns about the quality of the jobs Maori are getting. Many Maori work part-time and at 11.9%, unemployment for Maori is still more than double that of the general population. Christine Langdon of The Dominion reports that Maori employment growth has been mostly in agriculture, service and sales, legislation, administration and management.
Source — The Dominion 5 October 2001 "Maori employment on the rise" by Christine Langdon
LONG-TERM UNEMPLOYED RE-REGISTERING

During the 2000-01 year to June, Winz recorded 15,218 people who had been registered as long-term unemployed (more than 26 weeks) as being placed in stable employment. But by the end of August, nearly one-third of these people had re-enrolled as unemployed.
Act Party employment spokesperson Muriel Newman argues the re-enrolment figures prove that NZ is developing an underclass of people unable to adapt to the workforce. Newman says that with so many people who gain employment quickly slipping back onto the register and therefore being regarded as newly unemployed, means there may be many thousands more who have been effectively unemployed for years, barring a few months of work mixed in here and there.
Associate Minister of Employment Ruth Dyson warns the figures can be misleading. Dyson says they also include people who return to the register for a very short time.
Source — The Dominion 10 October 2001 "Jobless find work then go back on the dole" NZPA; Act Part press release 9 October 2001 "Long-term unemployed unable to hold on to jobs" Muriel Newman
TOPOCLIMATE PROJECT COMPLETED

As the Topoclimate South Trust wound up this month, it acknowledged the community teamwork that has seen the Trust help to build an $8 million regional export industry. The Trust has completed its soil and climate-mapping programme that has provided information that many Southland farmers have used to make decisions to grow alternative crops. At an event in Invercargill last week, Trust chairperson Murray Ballantyne and Southland Mayor Frana Cardno paid tribute to the project, the foresight and leadership shown by the Trust, the local councils and the government.
Frana Cardno says that the results speaks for themselves: "In 1991, there were $300,000 worth of exports in Southland from these alternative crops. Now we have $8 to $9 million worth, and we're growing at $2 million a year. When we started, there were 36 people employed in these projects. Now there are 300 employed." Murray Ballantyne says that the climate-mapping information already gathered has indicated a potential 20% increase in productivity over existing land uses. This represents potential revenue of $200 million in alternative crops to Southland.
Source — The Southland Times 11 October 2001 "Topoclimate proves $8m success" by Kirsty MacNicol
FULL -TIME JOBS DECLINE IN OZ

Over the last ten years of substantial economic growth, the Australian labour market has moved away from providing people with full-time permanent jobs. While there were 1.13 million new jobs created over the decade, there has been a net loss of 51,000 full-time permanent jobs. The job gains have been in full-time casual (+5.5%) and part-time (+61%).
A new book edited by Australian academics Jeff Borland, Bob Gregory and Peter Sheehan, Work Rich, Work Poor: Inequality and Economic Change in Australia analyses these paradoxical trends in Australian economic and social life. Average incomes have risen, property and share markets are buoyant and many groups are living well. Yet for many Australians, good jobs have disappeared and family incomes have fallen creating hardship and greater reliance on the social security system.
Work Rich, Work Poor explains that while overall employee earnings have increased by 25% over the decade, the increase has not been shared evenly. Managers have averaged 41% in pay increases while labourers, low-level clerical, sales and services workers have all had less than 8% increases and some industries have had pay increases as low as 4% over the whole decade. On average, all the new jobs created in Australia over the last ten years paid less than $700/wk and 87% of the new jobs pay less than $500/wk.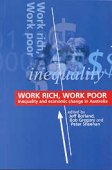 Work Rich, Work Poor:
— Inequality and Economic Change in Australia
by Jeff Borland, Bob Gregory and Peter Sheehan
(252pgs, published by Centre for Strategic Economic Studies 2001)
ISBN 1-86272-583-7
available from SCES at http://www.cfses.com



Source — The Melbourne Age 19 September 2001 "A decade of low-paid jobs" by Tim Colebatch; The Melbourne Age 27 September 2001 "A new book exposes our ills" by Kenneth Davidson
KIWI HARDSHIP IN AUSTRALIA

Now that NZ'ers no longer enjoy special status with Australian immigration and welfare authorities, NZ Consular officials and local welfare agencies are warning NZ'ers not to move to Australia unless they have adequate funds, a return ticket and a well-planned campaign to find work.
As of last year, NZ'ers in Australia began to face a two-year residency stand-down before becoming eligible for welfare assistance or healthcare and the NZ government does not provide welfare benefits for its citizens in Australia. With seven people chasing every advertised job in Australia, the NZ Consulate-General says that appeals for help have soared and that some families are living hand-to-mouth on food parcels. Officials say some are trapped in Australia, unable to raise the money to fly home and there is concern that this situation may lead some NZ'ers into crime and prostitution.
Source — Weekend Herald 29-30 September 2001 "Welfare switch catches Kiwis in a harsh land" by Greg Ansley
PEOPLE'S BANK

More than 40,000 people have registered their interest in the new "People's Bank" according to NZ Post chairman Ross Armstrong. The bank, part of the Alliance Party's 1999 election platform is to be launched early next year. Armstrong says the bank will need to have at least 100,000 customers within three years to make it viable.