OUR DIARY
of key events over the last few weeks.


OUR BRAIN DRAIN -- A QUARTER HAVE LEFT THE COUNTRY

GOVERNMENT PLEAS FOR KIWIS TO COME HOME

ONE IN SIX NZ CHILDREN IN POVERTY -- UNICEF

HOMEOWNERSHIP KEY TO STABILITY -- SALVATION ARMY

A THIRD OF PRISON STAFF WANT OUT

USA: WE WANT MORE BLUE-COLLAR WORKERS

VOICES FROM THE HUI TAUMATA 2005

---


LAST Letter

NEXT Letter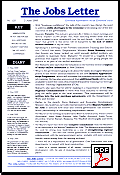 Download this issue
as a PDF file
Index to Back Issues
Index to Features

27 February 2005
The Australian government reports a 19% increase in the number of people commencing in trades and related New Apprenticeships in the year to September 2004, although the overall number of New Apprentices is virtually the same as the previous year. Technical Education Minister Gary Hardgrave: "It is vital that we ensure that a career pathways that begins with an apprenticeship is recognised as being at least equal to, and in many cased an even better choice than going to university."
28 February 2005
In NZ, over 500 of the 7,088 Modern Apprentices are women.
1 March 2005
Air NZ chief executive Ralph Norris says the company may have to cut labour costs to remain competitive. Qantas Airlines has recently said it would cut 10% of its staff.
Despite the economic growth in the last five years, wages have gone up by 11%, while the cost of living went up 13.5%. TVNZ news says the effects is that the average worker has $20 a week less purchasing power than they had five years ago.
2 March 2005
The latest leg Te Araroa, NZ's Cape Reinga to Bluff walking trail, is being built with the help of volunteers from Waikato high schools over the summit of Mt Pirongia. Te Araroa Trust chief Greg Chapple it has built about 1,000 km of walkways in each of the North and South Islands. The trust aims to complete the construction stage of the long walkway in three years.
4 March 2005
A third of all prison staff in New Zealand want out of their jobs, according to a new report commissioned by the PSA.
6 March 2005
Work and Income is spending $1 million over three years on Jobz4u software that matches candidates to job vacancies. Nearly 50,000 of the agency's 60,000 job-seekers now have a Jobz4u profile.
The US had better than expected jobs increases in February. The economy grew by 262,000 jobs.
7 March 2005
About 160 Hauraki Plains and Coromandel Peninsula jobs go as Tanner Group closes sawmills in Kerepehi, Tairua and Kaitaia. The company milled timber products for the Australian and US markets.
NZ's fifth largest freight company, Phoenix Freight, goes into voluntary liquidation leaving 143 staff redundant, and 1000 creditors..
8 March 2005
Skope Industries, which makes commercial refrigeration products and heaters, says that job losses are imminent because of the high NZ dollar and government policy settings.
9 March 2005
A government report says there is no evidence that student loan debts of almost $6 billion are driving graduates overseas — even though 26% of medical graduates leave the country after studying.
Finance Minister Michael Cullen says that New Zealand and Australia are now competing against each other to attract skilled migrants. Cullen: "We're looking for extraordinarily similar people — it's the trades and technical areas which are in particular short supply. And we have a disadvantage because Australian wage rates are higher than in New Zealand."
11 March 2005
Beneficiaries are in line for a 2.7% pay increase due on 1st April. Benefits are adjusted annually in line with inflation.
12 March 2005
An OECD report shows that more tertiary-qualified kiwis have chosen to emigrate than in any other OECD country.
13 March 2005
The National Bank is now offering a 100% mortgage option on new homes. The Sunday Star-Times warns that it could pose a disaster to new home-owners who are also coping with student loans and rising house prices. The average home in New Zealand is now worth about six times the average salary.
14 March 2005
Don Brash calls for more tax relief in order to reverse the brain drain.
Despite an extremely tight local IT job market, computer professionals have only won an average of 2.7% wage rises in the past year, just keeping above inflation.
The Pathway to Arts and Cultural Employment (Pace) scheme has 1200 people on it who are allowed to receive the unemployment benefit while they perfect their crafts. While on the scheme, they don't have to accept a job outside their chosen field. A breakdown of the scheme issued by MSD Minister Rick Barker reveals a broad brush is being used to determine whether a person is called an artist. On the scheme are 91 film and television production staff, 59 graphic designers, 29 photographers, 9 fashion models and camera operators, 5 hopeful radio and television announcers, a cinema projectionist, tattooist-body piercer, martial arts teacher, florist and stuffed-toy maker. Barker says the scheme has been hugely successful.
15 March 2005
A strong job market may be causing university student numbers to fall, according to Massey University.
16 March 2005
The average New Zealand household is worth about $235,000, up almost 9% on last year. But NZ'ers are also borrowing heavily and spending more than they earn.
---

LAST Diary

NEXT Diary

---