No.214
23 September 2004

BACK



ON THE HUMAN RIGHTS REPORT
"The fundamental right to be who we are and to be respected for who we are is still not a reality for all New Zealanders. It is important that individual New Zealanders not only affirm their own human rights, but accept their responsibility to defend the human rights of others. New Zealanders do value fairness, which is often expressed in terms of giving people a `fair go'. What the report shows is that human rights are for everyone and are the essential foundation of a decent society."
— Rosslyn Noonan, Chief Human Rights Commissioner
" If we can get it right for this country's children, we will have succeeded in getting it right for all New Zealanders,"
—Dr Cindy Kiro, New Zealand Children's Commissioner
" Kiwis value fairness and want this country to be a great place to bring up kids. But the reality is that many children and young people don't get a fair go. The lives of many are damaged by poverty, violence and discrimination - and that is wrong. Although the government made progress towards better support for many poor children in the last Budget, much more needs to be done to make a real difference to the lives of the poorest children. A human rights approach means paying special attention to those who are most vulnerable..."
— Dr Alison Blaiklock, chairperson of Action for Children and Youth Aotearoa (ACYA)
" The reality for thousands of New Zealand children is at odds with their basic entitlements. As a developed nation, we cannot sit back and accept that one in three of our children lives in poverty, nor that we have the fifth-worst child death rate as a result of maltreatment. Under the United Nations Convention on the Rights of the Child (CRC), every child has a right to survival, development, protection and participation — and New Zealand has an obligation to uphold those rights, wherever possible."
— John Bowis, Executive Director of Save the Children New Zealand
" In defining poverty as a human right, the Commission is setting the scene for Labour to introduce a new range of taxpayer-funded measures designed to relieve sole parent poverty. It is an undeniable fact that the only way out of poverty is through work, and that the only answer to welfare-induced child poverty is to support sole parents into employment. The fact that New Zealand, in having no work requirements for sole parents, is now seriously out of step with most other western countries is one of the major reasons for our excessively high rates of child poverty. Other countries — particularly the US — have significantly reduced child poverty by requiring parents to work."
— Dr Muriel Newman, Act Party spokesman on Welfare
" This report highlights the fact that NZ's law still doesn't acknowledge the universal right to adequate housing, as does, for example, the UK. The Green Party believes the right to good housing must be made manifest in legislation. Central and Local Government should both accept a role in providing housing for those most in need. And Government should be a lot more open to looking at new options for providing social housing through genuine "third sector" housing and finance initiatives that could help break the cycle of dependence on the private and state sectors."
— Sue Bradford, Green Party spokesperson on Housing and Children's Issues
Human Rights in NZ
THE RIGHT TO WORK -Te Tika ki te Whai Mahi

---
" Everyone has the right to work, to free choice of employment, to just and favourable conditions of work and protection against unemployment..."
— Article 23 of the Universal Declaration of Human Rights
In this special feature, The Jobs Letter gives an essential summary of `The Right to Work' section of the Human Rights Commission Report.
Where New Zealand does well
— Ngâ mahi pai e oti nei i Aotearoa
— There is widespread acknowledgement by the Government, local authorities, employers, trade unions and the public of the benefits of a job-rich economy, and that decent and meaningful employment underpins the economic growth and social cohesion of New Zealand and the individual well-being of New Zealanders.
— There is both a strong international context of employment rights and a strong domestic framework of legislation that recognises the rights of employers and employees in relation to pay, safe working conditions, employment protection and protection from discrimination.
— The status of EEO groups in employment is improving through:

— increasing participation of women in the labour force
— upskilling of Maori, with over half the recent increase in Maori employment being in professional and associated occupations
— increasing participation and declining unemployment of Pacific peoples
— legislative change so that disabled people in sheltered workshops may receive minimum pay and holidays
— local government initiatives for migrant workers and the Mayors' Taskforce for Jobs youth employment initiatives
— Government's youth transition policies linking school leavers to jobs or education and training.
— Initiatives by Government to develop work-life balance and a variety of family-friendly and flexible working arrangements by business and industry are positive responses to the new and additional pressures imposed by the changing nature of work and the time and productivity demands of the `knowledge economy'.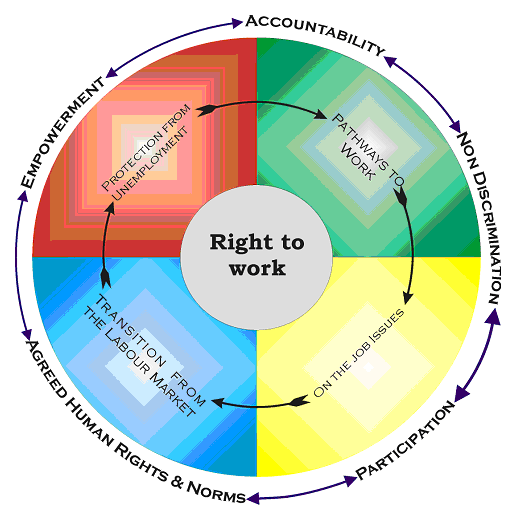 Where we need to do better
— Kia piki ake te pai i roto i enei wahanga
— New Zealand has not ratified the two fundamental International Labour Organisation Conventions, 87 on Freedom of Association and Protection of the Right to Organise and 138 on Minimum Age for Employment. Given the importance of core labour standards, this ratification is urgently needed.
— New Zealand does not comply substantially with the pay equity requirements of Article 11, `the right to equal remuneration, including benefits, and to equal treatment in respect of work of equal value, as well as equality of treatment in the evaluation of the quality of work'.
— The status of unpaid work is not widely recognised in the human rights framework. Unpaid workers, particularly caregivers, are undervalued, not recognised and often inequitably treated, despite their economic and social contributions.
— Structural disadvantage still exists in the New Zealand labour market in terms of both participation and outcomes and includes:

— higher unemployment rates for Maori and Pacific peoples, even when unemployment is low;
— difficulties faced by migrants in accessing appropriate employment;
— prejudice influencing the appointment, retention and promotion of older workers;
— difficulties faced by women returning to the workforce after time away from work for family responsibilities;
— the enduring stigma and discrimination against disabled people in the labour market;
— difficulties faced by young people entering the labour market.
The right to work is a fundamental human right strongly established in international law. It recognises that work is not solely a source of income that provides for the basic necessities in life. Because of work's potential to satisfy social, intellectual and personal needs, it is an integral prerequisite for a life of human dignity.

The right to work is of fundamental importance and underpins the realisation of other human rights such as the right to housing, the right to education, and the right to culture. Article 24 of the Universal Declaration of Human Rights ensures everyone has the right to rest and leisure, including reasonable limitation of working hours and periodic holidays with pay.
Elements of the right to work in New Zealand are expressed in a broad range of domestic statutes. The principal piece of legislation governing industrial relations is the Employment Relations Act 2000 (ERA), which aims to build productive employment relationships founded on the principle of `good faith', address the inequality of bargaining power, support collective bargaining, ensure individual choice in employment and promote mediation while reducing the need for judicial intervention.

The ERA also contains protections against unjustifiable dismissal or disadvantage, which includes the grounds for discrimination under the Human Rights Act 1993 (HRA) and special provisions dealing with sexual and racial harassment.

The New Zealand Bill of Rights Act 1990 (BoRA) provides a wide range of civil and political rights and freedoms by ensuring that all actions, decisions, and legislation of the Government and the broad public sector are consistent with the fundamental principles set out in the Act. Section 19 protects individuals from discrimination across the same grounds as the HRA and section 17 ensures the right to freedom of association.
In 50 years, half of New Zealand's population will be aged over 45 years and a quarter over 65 years. Ageing populations will change the nature of work, particularly given the predicted decline in fertility rates. Retaining mature employees and overcoming employer stereotypes about `difference' and diversity will be significant challenges if New Zealand wishes to improve productivity and enhance growth.

At an individual level, workers will need to think about career development spanning longer periods if they remain in paid employment past traditional retirement age.

Older workers will need to have better access to on-the-job training to avoid skills obsolescence. Increasing demands for workers places a premium on attracting more women, new migrants and disabled people, and on maximising the participation and potential of young as well as older people in paid employment.
New types of employment relationships relating to contracting and franchising are blurring distinctions between self-employed and paid employees. Workplaces are increasingly using types of flexibility such as outsourcing and casualisation.

The size and significance of non-standard work in New Zealand is undergoing change. Reliance on direct employment relations is decreasing and both workers and certain labour requirements are frequently outsourced.
The most dramatic change in the organisation of labour in New Zealand is arguably the individualisation of the employment relationship, which is more pronounced among younger workers.

Trade union membership in New Zealand has substantially declined in the early 1990s, partly as a consequence of labour market de-regulation that saw individual employment contracts promoted and multi-employer contracts decline.

There is growing evidence of a collapse of collective bargaining in the private sector _it is five times more common in the public sector. There is general agreement among commentators that significant union renewal did not occur when the Employment Relations Act replaced the Employment Contracts Act.
Young people are disproportionately affected by unemployment and are particularly vulnerable in times of slow employment growth. While there is little significant gender difference, Maori and Pacific young people are over-represented in unemployment figures. Nationally, Government is developing youth transition policies linking school leavers to jobs or education and training. At local government level, the Mayors Task Force is actively engaged in youth employment.
Some children are working long hours in unpaid work and thereby losing out on opportunities for leisure, childhood activities and education. The children's work survey indicates that 20 percent of children undertake home chores. Around 45 percent of the survey sample reported receiving a rate of pay below the minimum youth rate.
A surprising finding of this consultation, given its timing _ with the country enjoying record labour market participation _ was the emphasis that a broad spectrum of New Zealanders interested in employment issues placed on job creation. Job creation was referred to by employment specialists, local body officers, politicians, industry spokespeople and unionists.

There is an implicit assumption, perhaps, in the notion of the `right to work' that employment should be currently available and universal. However, the right to work comprises several aspects and, while it may fall short of a guarantee of full employment, it includes the idea that New Zealand should strive for full employment, the availability of work for everyone able and willing to work `by all reasonable means'
Major Government strategy documents about employment, such as the Employment Strategy, and policy analysis such as Work Trends acknowledge in a variety of ways that a revolution is occurring in the world of work in relation to the way we work, work-based technologies, and the types of work we do.

The challenge is to ensure that, in the rapidly changing labour market, currently disadvantaged groups are not further marginalised in terms of access, participation and pay, in the information society. While there has been progressive improvement in data collection relating to employment, data disaggregated by the various prohibited grounds of discrimination must be available for the measurement and comparison of vulnerable groups.
Free choice of employment is a core element of the right to work, but for certain groups in New Zealand society this choice is greatly hindered because of who they are. For many disadvantaged groups, the decision to participate in work is not enough to gain access to the labour market. New migrants, Maori and Pacific peoples, unskilled youth and mature workers trying to re-enter the workplace and women returning from family responsibilities are groups that systematically struggle to gain employment in comparison with other groups. Disabled people are even more at risk of exclusion. These groups face systemic employment disadvantage, even in a buoyant labour market.
Employers spoken to emphasised their need, given the fast-paced and competitive nature of industry, for job-ready applicants. This requires both relevant entry skills and education, and an increasing need for on-the-job training throughout working life. Data collected about the importance of job readiness also highlighted motivation, flexibility and an ability to take personal responsibility for work.
Intensive case management emerged from our research, in relation to migrant workers, youth at risk, mature workers and local government initiatives, as an essential element in matching at-risk potential workers with employment at a time when it is increasingly a focus of Government intervention. It involved a number of features such as making connections between job seekers and available opportunities, reducing the risk of failure, providing confidence and support for both employer and employee.
The right to rest and leisure and reasonable limitation of working hours was a dominant theme in this study. The tension between an individual's work responsibilities and those outside of work, known as work-life balance, was for many participants both an individual and organisational concern and, for employers, the subject of their EEO initiatives.
The right to work relies in part on the willingness and ability of not only Governments, but society as a whole to respect and help fulfil these rights. In New Zealand, many medium and large companies tend to be involved in social and community outcomes in addition to traditional financial outcomes. Strong ties to their local people through sponsorships, community-based employment programmes, and the support of local activities weave the organisation into a symbiotic relationship with its region that relies on the strength of both parties.

When one strand becomes strained because of the impact of global business, economic hardship, population decline, or social instability, the other is also affected. A better understanding of the interconnections between business and communities may go a long way towards ensuring the well-being of both. The growth of corporate social responsiveness in New Zealand is to be welcomed.
In New Zealand the right to work is expressed in a broad range of international instruments and domestic statutes. In addition, a number of government department strategies impinging on employment are guiding policy, and individual initiatives around decent work and pay equity are influencing practice.

At the level of the workplace, though, the significant drop in unionisation, with its accompanying loss of organised employee advancement and protection presents new problems from a right-to-work perspective: how can full understanding of employment rights by employers and employees who are outside of organised coverage be achieved beyond minimal legislative compliance? The promotion of the right to collectively bargain and the right to freedom of association is essential for a strong trade union movement.
New Zealand is obliged to respect, promote, protect and fulfil the right to work. While definition of the right to work and its evaluation may be incomplete, elements such as the free choice of employment, protection against unemployment, anti-discrimination, equal pay, and just and favourable work conditions are widely understood and accepted. New Zealand has some flexibility in how it fulfils these within its social and economic environment. In taking the pulse of New Zealanders about employment issues at a time when the economy was buoyant, the two consultation projects showed that, overall, most people felt New Zealand was positively and progressively realising the right to work. They were equally emphatic, however, about the challenges posed by systemic and structural disadvantages in the labour market, and demonstrated willingness to improve them.

— Human Rights in New Zealand Today - Ngâ Tika Tangata O Te Motu:
full report can be downloaded from here
—(Chapter 16) The Right to Work - Te tika ki te whai mahi
the Human Rights Commission (September 2004) can be downloaded (PDF 17pg, 427kb) from The Jobs Letter website here
A HUMAN RIGHTS APPROACH
Human rights recognise and aim to protect the dignity of all people whatever their status or condition in life. They are about how we live together and our responsibilities to each other. In particular, they set a basis for the relationship between the individuals, groups and the State.
The Universal Declaration of Human Rights was adopted by the United Nations on 10 December 1948. The rights in the Declaration fall roughly into two categories; civil and political rights; and economic, cultural and social rights.
Since 1948, the rights in the Declaration have been set out in United Nations' Covenants and Conventions. Through ratification of these treaties and obligations under the United Nations' Charter and the ILO Constitution, New Zealand has formally committed to respecting these rights.
The six elements of a human rights approach to assess policy and programmes are:

— An emphasis on the participation of individuals and groups in decision-making.

— Accountability for actions and decisions, which allows individuals and groups to complain about decisions that affect them adversely.

— Non-discrimination among individuals and groups through the equal enjoyment of rights and obligations by all.

— Empowerment of individuals and groups by allowing them to use rights as leverage for action and to legitimise their voice in decision-making.

— The linking of decision-making at every level to the agreed human rights norms.

— Identification of all the relevant human rights of all involved and, in the case of conflict, the balancing of the various rights to maximise respect for all rights and right-holders.