Letter Six

---
Good Aid/Bad Aid
---
DILI, January 2001.
COMMUNITY BASED SUPPORT BY Australians and New Zealanders is the only support many East Timorese organisations get. There is nothing from UNTAET, the United Nations Transitional Administration East Timor, aka the government. Given estimates of 80% unemployment, I would have thought there would be some government support for community vocational training here by now. However UNTAET has made no moves in this direction and the need for material support to community organisations is as vital now as it was a year ago.
One recent acquisition at Futo is a heavy duty bench saw donated by Pharmacy 97 in New Plymouth and shipped, back in August, 2000, by Peter Marra. I finally tracked it, through the NZ Army HQ in Dili, to a shipping container at the Pakistani army base in Dili. It was upside down and the motor broken away from the mounts, but it was there. We sorted it out this week and it is now intergrated into the carpentry workshop.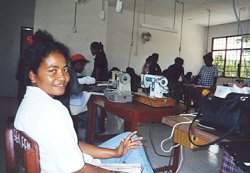 Mrs Adriana with donated sewing machines in the Futo sewing workshop
Futo also just unpacked around 40 Apple computers sent via the Margaret MacKillop Trust which were from the University of Western Sydney. These reasonably modern machines hold the prospect of a revival of computer training, here. However only a few appear to be working and they will certainly require a systems analyst to make sense of them and at the moment I am not aware of any Apple technicians in East Timor. There are no manuals and some of them have rather discouraging things written across them, like DAMAGED MONITOR or have have holes in their CPU box where a drive has been removed. There may be potential in these, but at the moment, it remains just that.
An immediate unforseeable problem arose from the arrival of these computers. They are now occupying what was an English classroom. When the volunteer English teacher, Pablo, found his room full of computers, and was offered a room the size of a large bedroon to teach in, he climbed back in his car and drove off. On the brighter side, on the day they unpacked the computers, nearly every Futoian took home an empty cardboard box!
With some on-the-ground experience, now, I'd like to suggest some criteria to help guide you if you are packing things up to send in support of the people of East Timor. I'm doing this because I've seen useful things arrive, and I've seen things that are real disappointments. I guess one thing that bothers me is that some people have obviously gone to great effort (but not expense) to send things that are, in effect, worthless. I also suspect they feel self-righteous about their effort.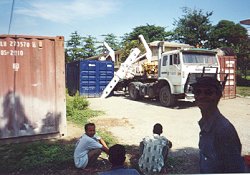 Delivery of a 20' shipping container of donated humanitarian aid from Australia

The people of East Timor need things that: are complete, work fully, do not require consumables, do not require technical support, are of a high quality that will stand up to constant use, or were specifically requested. This is what I mean:

Complete: No teddy bears with one eye, no sewing machine lacking a bobbin case, no power drill without a chuck key.

Working: No power saw that won't cut a true right angle, no computer with a bung A: drive, no bicycle with no brakes.

Consumables: Many things that you can easily buy back home are unobtainable here or, if they are, are too expensive. Electric typewriters, for instance, should be accompanied by heaps of spare ribbon cartridges and deletion spools, because these machines have a life span that is only as long as the length of the tape that came with them. A jig saw without spare blades will sit idle after the original blade breaks. A sander needs sandpaper. More things are becoming available here, every week, but don't assume that someone can go down to the shop and buy consumables or spare parts: they probably can't.

Technical support: If a piece of equipment needs a specialist to keep it working, it is unlikely it will keep working. A photocopier and a photocopier technician are like a car and a tyre: useless without each other. Technical services will probably continue to become more available, but the cost of technical support is often out of the range of an East Timorese NGO. Money buys technical support and few Timorese have money.

Quality: Cheap power tools are not worth getting out of the box. Anything that is going to be used on a daily basis should be of at least tradesperson, if not commercial quality. Otherwise it will soon to join the electric typewriters.

Things that are no longer useful to you will probably be of little, if any, use to the Timorese. If you have a computer with a tiny hard drive and 4 megs of RAM, either dispose of it properly or keep it as a relic. If you have antique tools, they are going to be antiques here, too. People are trying to make a living, here, not a museum. Remember, there is no rubbish collection, here.

Thought for the day: charity is not a synonym for hand-me-down.
---
This Taranaki newspaper has been publishing Dave's letters fortnightly
during his time in Timor


---