No.160
31 January 2002

BACK

" While governments play the major role in providing and funding services to the young unemployed in most countries, the economic and social importance of youth employment dictates that this is too important an issue to be left to governments alone."
— Meeting the Youth Employment Challenge


"Recent mass protests in Washington, London, Paris and Prague against global capitalism — which were overwhelmingly organized by people in the 15-24 age group — highlight the growing appeal of alternative values systems, however inchoate they may be. A generation of young people without decent and productive jobs will inevitably be more receptive to the message that big business is not interested in them."
— Meeting the Youth Employment Challenge

The Youth Employment Challenge
— extracts from the ILO Guide for Employers

---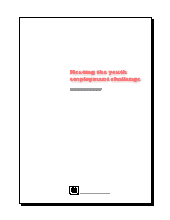 "Meeting the Youth Employment Challenge
— a Guide for Employers"
published by the International Labour Organisation (ILO)
The full guide (PDF format 1.13MB, 75pg) can be downloaded from the ILO website at www.ilo.org/public/english/employment/
skills/youth/download/empchal.pdf
New technologies and the globalisation of markets are making human labour more and more productive. But as productivity rises, so does the opportunity cost of leaving millions of young people unemployed. This waste of resources is especially acute because the generation of people now approaching adulthood is probably the most literate, numerate, multilingual and ambitious set of young women and men the world has so far produced. But there are at least 70 million young people across the world who have no job. Millions more young between the ages of 15 and 24 are underemployed, especially in the developing world.
Young people have a great deal to offer their societies, and providing them with productive and decent jobs will be one of the most important contributions current generations can make for the future.

Employers and their organizations have a clear economic interest in increasing youth employment, and a very important role to play. There is considerable scope for employers to harness the energy of young people, and to diminish the scope and prevalence of problems caused by unemployment, through improved employment opportunities.
According to United Nations' estimates there are over 510 million young women and 540 million young men in the world today. That means that some 20 per cent of the world's population is aged between 15 and 24 years old. In many developing countries, especially in Africa, the number of young women and men entering the schooling age group is rising as a result of high fertility levels and improved child survival. It has been predicted that around 500 million new jobs will be necessary by 2010, both for new labour force entrants, most of them youth in less developed regions, and to reduce the global unemployment rate.
The most powerful influence on youth employment is the national employment situation as a whole. For example, researchers have typically found that a 1 per cent increase in the adult unemployment rate tends to be accompanied by an increase closer to 2 per cent in the youth rate. Entering the labour market may be more difficult for young women and men due to lengthier employment searches. There may be institutional opposition to the idea of youth wage rates undercutting those of adults. Alternatively, the greater ease and lower cost to employers of laying off younger employees under employment protection laws may play a role.

Minimum wages and labour market regulations have also been identified as causes of high youth unemployment. These are complex and contentious issues upon which there are differing research and policy perspectives. There is a growing research on this issue, which employers may wish to consider in their national context.
The issue is not simply that there are too few decent and productive jobs to go around. The presence of a large core of youth joblessness in countries that are at the peak of the economic cycle (as is the case currently in the United Kingdom and the United States) appears to indicate that there may be multi-faceted structural problems that are not removed by a general economic expansion.

In fact, perhaps the most striking aspect of youth unemployment is that in almost all countries it is much higher than overall unemployment. The same is true for underemployment. In the OECD 1999 data, the jobless rate for the 15-24 age group is 11.8 per cent, more than double the adult figure of 5.4 per cent. In transition economies, youth unemployment has also followed a similar pattern, exceeding adult unemployment significantly. And in some developed and transition economies more than one in three young people are unemployed.
While governments play the major role in providing and funding services to the young unemployed in most countries, the economic and social importance of youth employment dictates that this is too important an issue to be left to governments alone. Consider the following question: If youth unemployment fell to the level of adult unemployment in your country, how great would be the benefit for your economy, society, markets and enterprises?

One possible explanation for the higher rates of joblessness among young people is that the education system is failing to deliver employable individuals. The effects of educational attainment on youth unemployment are mixed. In most developed countries, young people who leave school early experience higher unemployment at the start of their working life. However, massive increases in school enrolment in several countries in recent years have reduced the employment-related advantages of obtaining more education, most notably in Italy and Spain.

In some developing countries, such as Indonesia, Jordan and Thailand, unemployment rates are higher for the more rather than the less educated. In Indonesia, primary-level school leavers who may accept insecure low-quality jobs actually have much lower unemployment than more demanding secondary and tertiary-level school leavers whose skills may not meet labour market demand.
The youth employment challenge is about more than helping youngsters to make the transition from school to work, from college to career, from adolescence to adulthood. It's also about winning them over to the values than underpin wealth creation.

Recent mass protests in Washington, London, Paris and Prague against global capitalism – which were overwhelmingly organized by people in the 15-24 age group – highlight the growing appeal of alternative values systems, however inchoate they may be. A generation of young people without decent and productive jobs will inevitably be more receptive to the message that big business is not interested in them.

Against this background, being seen to help the young into jobs is a powerful signal to tomorrow's consumers and voters that employers' organizations are on their side. But paid employment is not the only option for helping the young unemployed. Employers also have an interest in fostering entrepreneurial values among young people themselves.
Young women often face even higher unemployment rates than young men or have lower participation rates, although the situation varies considerably between countries. In many developing countries, as well as in some developed ones, such as France and Spain, more young women are unemployed than young men, but in other countries such as Hungary, India, Indonesia, some Latin American countries and the majority of developed countries, the gender difference is small or negligible. However, discrimination in access to education and job opportunities is far more widespread.

In many countries, girls are outperforming boys at school, but this does not necessarily translate into greater labour market success. This is so, in part, because many girls remain concentrated in traditional fields of study, often not related to rapidly evolving labour market needs. In some countries – France, Jamaica and Japan for example – where girls have equal access to education, some may still be the intended or unintended targets of gender discrimination. In other countries, such as Ghana, India and Kenya, girls' access to education and training is limited, forcing young women disproportionately into the informal sector and subsistence-oriented activities. Yet in others, economic inactivity is imposed on young women.
Employers throughout the world have long recognized that they have a mutual relationship with their societies, and that there are reciprocal obligations that go beyond short-term profitability and cost minimization. Although far from the sole rationale for employers contributing to youth employment, social responsibilities do play a role in this area.

Unemployment in early life may permanently impair young people's future employability, as patterns of behaviour and attitudes established at an early stage tend to persist later in life. Their exclusion from gaining work experience and lack of access to continuing training also increases their later difficulties to find jobs. In addition to depriving them of incomes and the personal fulfilment of decent work, the exclusion of young people from productive roles in the adult world of work can demoralize them and undermine social cohesion. Communities with high levels of youth unemployment are at greater risk of crime, drug abuse and vandalism.
Many countries show above average unemployment rates for ethnic minorities. In several advanced economies, youth joblessness is increasingly concentrated in households in which no member is employed, raising serious concerns for policy-makers about the perpetuation of generational unemployment among households. Financial insecurity among the young unemployed also means their hopes for starting families of their own must be put on hold. In some countries this can seriously distort demographic trends.
The stakes are high for everyone. The world economy is at a crossroads. The conditions for a sustained and generalized period of prosperity are within our grasp. If employers succeed in engaging the hearts and minds of this generation of young people in productive and mutually fulfilling jobs, the potential rewards are enormous. Those societies that perform best in integrating young people into the workforce appear to gain a genuine advantage for the future. But if the jobless tally among the young fails to budge or, even worse, begins to climb, then the consequences will be serious for everyone – individuals, their families, governments and employers.
Source — "Meeting the Youth Employment Challenge — a Guide for Employers" (PDF document 1.13MB, 75pg) published March 2001 by the International Labour Organisation, Geneva, and available from the ILO website at www.ilo.org/public/english/employment/skills/youth/download/empchal.pdf