---
PRIORITY ONE INSTEP
Tauranga Western Bay of Plenty
---
WHO and WHERE

Priority One is the Tauranga/Western Bay of Plenty region's economic development organisation. Smart Economy is the economic development strategy and action plan for the region. This is an agreed collaborative plan to drive the region's economic growth.

It is supported and contributed to by The Tauranga City Council, Western Bay of Plenty District Council, Environment Bay of Plenty Regional Council, business organisations, key industry groups, and the education sector and iwi interests.

The INSTEP (Industry and Schools Training Enterprise Partnership) programme has been developed to meet the needs of young people and these regional organisations.

AIM

The INSTEP programme aims to increase student and teacher understanding of business and how it relates to economic growth, the value of education, and future employment opportunities within the region.
It sets out to establish clear pathways for structured interaction between students and entrepreneurial business people and to reinforce key competencies and attitudes necessary in both the school and the business environment and to provide students with opportunities to develop career pathways.

PROGRAMME

In 2004 a pilot programme with funding assistance from NZ Trade and Enterprise delivered a dynamic programme which was widely embraced by schools, students and businesses. This was completed in October 2004.

The INSTEP programme was delivered through three different learning levels:

Level One - Business based (February 2003 - October 2004) 321 students learn one to one within a business environment. Young people were able to develop their key competencies and enterprising skills, sense of personal responsibility and their understanding of the world of work. Students spend planned, supervised time in a business.

Level Two - Curriculum based (February 2004 - October 2004) A total of 70 classes and 14 assemblies were involved at this level. Business people worked with teachers and students in a curriculum area relevant to their business, to key New Zealand Trade and Enterprise sectors and sectors identified with skill shortages. Level two allows students to connect classroom learning with possible future careers. Through listening to business speakers and visiting their businesses, the students were exposed to innovative and entrepreneurial thinking. The speakers came from a wide range of sectors including Creative, Food & Beverages, Niche Marketing, Wood Building and Interiors, Biotechnology, Education, and Services.

Level Three - Project based (February 2004 - October 2004) 127 selected students worked in focused project groups. This level enables schools to work with INSTEP on specific projects that required desired outcomes e.g. increased motivation, responsibility for learning, project management and working as part of a team.

WHAT WE GAVE MONEY FOR

This programme has been supported by funding of $50,000 from Employment Catalyst through the Mayors Taskforce for Jobs, to enable the programme to continue while on-going funding is secured.

PROGRESS

"Getting the knowledge and experience to make great career choices"
- student.
Students gained relevant, business based skills that link with their school based programmes and career options. They learned about employers expectations in the 'real world' and gained confidence and improved communication skills through learning in an adult environment. They made contacts that could lead to a future job or training prospects.
Employers are impressed with the programme which gives them access to a pool of highly motivated young people for future full time work or paid casual and part-time work.
Teachers and business people were asked to comment on the benefits of the INSTEP programme to them. Among the many positives were the opportunity to contribute to the future skills base of industry and the community, skill development of employees who supervise students in the workplace programme, and the opportunity to make education more relevant to industry needs.
PARTNERS and SUPPORTERS
Priority One (Tauranga/Bay of Plenty Economic Development Organisation)
NZ Trade and Enterprise
9 Local Schools
Local Businesses and Business Organisations
Mayors Taskforce for Jobs

CONTACT;
Lyn Parlane
INSTEP Manager
Priority One Western Bay of Plenty
29 Grey Street
CPO Box 13057
Tauranga
07 928 4242
021 432 309
em: lyn-instep@priorityone.co.nz






Priority One




Tauranga City Council




Western Bay of Plenty
District Council




Environment
Bay of Plenty
Regional Council



New Zealand Trade
and Enterprise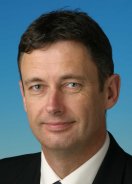 — Stuart Crosby, Mayor of Tauranga





Project Contacts


Ross Stanway
Chief Executive Officer
Priority One Western Bay of Plenty
P.O. Box 13057, Tauranga
Ph 07) 571 1401
Fax 07) 571 1402
em: ross.stanway@priorityone.co.nz