---
Te Araroa — pew projects
Cape Reinga to Bluff Trail
---
WHO and WHERE
Te Araroa – new projects

Te Araroa Trust's new projects are all part of the long term goal which began in the Far North with the development of the Ocean to Ocean Trail.
The work on these new trails has the support of the local mayors and their councils.

AIM

Te Araroa Trust aims to create a walking trail 2920kms long, from Cape Reinga in the far north of New Zealand to Bluff in the south.

This project involves the regions' councils, supported by the Mayors Taskforce for Jobs, establishing employment initiatives which will provide young people in their area with paid work, training, and the chance to be part of an important and interesting national project.

WHAT WE GAVE MONEY FOR

In 2004 the Employment Catalyst Fund, supported by the Mayors Taskforce for Jobs, approved $50,000 to assist Te Araroa Trust's work on new trails throughout New Zealand.

PROGRAMME

By opening up previously inaccessible terrain and small communities to the public, each project creates ongoing employment opportunities that will help keep young people in the district.
In the long term, employment will be available in a developing tourist industry - guiding, provisioning, accommodation, craft and souvenir sales, track repair and maintenance etc.

PROGRESS

Tekapo-Twizel Track: This 58km track employed a pre-apprentice group of six young people through a co-operative agreement with contracting company City Care Christchurch.
The young people developed new work skills that will lead on to permanent employment with City Care.
City to Mountain Track: (Hamilton to base of Pirongia): This track is almost completed.
The project included the opening of 8kms of legal countryside access with stiles, and 4 kms of new track alongside the Waipa River including a small bridge. of track.
Mangaokewa River Project: A 14 km track up-river has been completed, but there is still further work to be done including the construction of a suspension bridge and signs.
The project employed several Taskforce Green workers.

[for details - including full coverage of the Tekapo-Twizel contruction, check the Trusts website: http://www.teararoa.org.nz]

PARTNERS and SUPPORTERS

Department of Conservation
NZ Lottery Grants Board
North Shore City Council
Auckland City Council
Manukau City Council
Rodney District Council
Porirua City Council
Waitakere City Council
Whangarei City Council
Far North City Council
Hamilton City Council
Waikato Distict Council
Waitomo District Council
Palmerston North City Council
Manawatu District Council
Kapiti Coast District Council
Wellington City Council



Environment Waikato
Trust Waikato
@URL Internet Consultants
Bell Gully
Gallagher Group
Giltrap Group Holdings
Hilllary Commmission
Inprolink Ltd
Mapworld
Pack 'n Pedal
Pricewaterhouse Cooper
Sky City Hamilton
The Perry Foundation
The Tindall Foundation
United Way Trust
Vodaphone
Employment Catalyst Fund

CONTACT:
Geoff Chapple
Ph: 09) 445 0524
email: chapple@teararoa.org.nz
---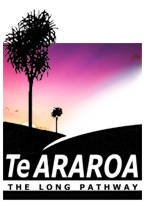 Te Araroa Trust


The Far North
District Council


Department of Conservation
Te Papa Atawhai


Conservation Corps


North Shore City Council


Auckland City Council


Manukau City Council


Rodney District Council


Porirua City Council


Waitakere City Council


Whangarei City Council


Hamilton City Council


Waikato Distict Council


Waitomo District Council


Palmerston North City Council


Manawatu District Council


Kapiti Coast District Council


Wellington City Council


— Yvonne Sharp,
Mayor of the Far North District

— Dick Hubbard,
Mayor of Auckland City

— Barry Curtis,
Mayor of Manukau City

— John Law,
Mayor of Rodney District

— Jenny Brash,
Mayor of Porirua City

— Bob Harvey,
Mayor of Waitakere City

— Pamela Peters,
Mayor of Whangarei City

— Michael Redman,
Mayor of Hamilton City

— Peter Harris,
Mayor of Waikato Distict

— Mark Ammon,
Mayor of Waitomo District

— Heather Tanguay,
Mayor of Palmerston North City

— Ian McKelvie,
Mayor of Manawatu District

— Alan Milne,
Mayor of Kapiti Coast District

— Kerry Prendergast,
Mayor of Wellington City