---
PATEA COMMUNITY DEVELOPMENT TRUST
South Taranaki
---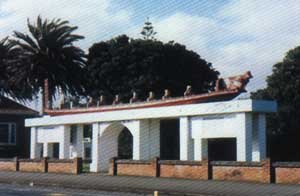 Patea icon welcomes visitors to the area
WHO and WHERE

The Patea River Pa is a community owned tourism business concept developed by the Patea Community Development Trust.

AIM

To create a successful visitor attraction in Patea - an authentic depiction of Maori life in pre-European times, set in a fortified village on the northern bank of the Patea River. This project aims to provide employment, training opportunities and profits for the people of Patea.

Patea is a town of very high unemployment with several generations of benefit dependency. Approximately half the adult population is in receipt of a benefit. It is a town in dire need of a sustainable economic and community development solution. The community believes that the Patea River Pa will provide that solution. They aim to provide sustainable employment and skills training in hospitality and customer service within the tourism industry and to encourage self-employment and entrepreneurial opportunities as well as marketing and business development skills and training.

PROGRAMME

Stage one of the project requires raising the finance needed to implement and complete the project and to physically construct the Patea River Pa.

Once constructed, the Pa will require excellent marketing/promotion to create a profitable business. Profits will be returned to the community. The Trust's goal is to open the complex in September 2004 with trained local people - creating sustainable employment opportunities for Patea.

Stage Two to build on the achievements of Stage One with further development plans for the future. These plans include a café/gallery space and deck catering for up to 80 patrons, a new separate toilet facility, and the introduction of audio visual installations and video/DVD production.

WHAT WE GAVE MONEY FOR

The Employment Catalyst in partnership with the Mayors Taskforce for Jobs gave $50,000 towards this project.

PROGRESS

Thousands of voluntary hours have been spent planning this facility. The Patea Community Trust has purchased an excellent site and detailed site and construction plans have been completed. Poles and manuka for palisades have been collected in conjunction with running a forestry course where trainees learnt chainsaw and bush skills.

Strategic plans, business plans, costing and budgets and a feasibility study have been prepared.

Strong links have been made with the tourism industry and with the national museum fraternity.

Independent training providers have run courses in tourism and customer services and an introductory Painting course.

The Department of Corrections work teams have cleared river banks, The Taranaki Regional Council have provided a Riparian Management Plan, and a Boardwalk around the salt-marsh estuary is being constructed. Local people are aware of the uniqueness of the area and are introducing rare plants with the help of the Department of Conservation.

Recently another carver has been employed.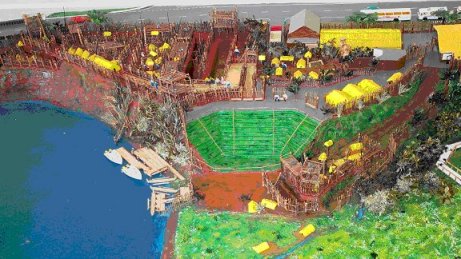 A preview of the Patea River Pa.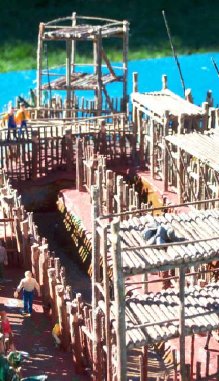 And a close up.
PARTNERS and SUPPORTERS
South Taranaki District Council
Mayor of South Taranaki Mary Bourke
Work and Income NZ
Swift Energy
Community Employment Group
COGS
Dept of Conservation
Taranaki Regional Council