Winz work broker Robyn Broughton has been seconded to act as the facilitator of 4 TRADES and, by November 2002, ten apprentices had been placed with host companies. Most of the young people are being recruited straight from secondary schools and there is a waiting list for further placements.

4 TRADES was officially launched by Dunedin Mayor Sukhi Turner in April 2002. The Malcam Trust has since started-up a 4 TRADES project in Balclutha which was launched by Clutha Mayor Juno Hayes in October 2002. In Balclutha, the Malcam Trust is working with the Clutha Economic Development Unit and Business Grow, and Winz has also provided a work broker to the facilitate 4 TRADES programme. The Malcam Trust is also looking at extending this project to Timaru and North Otago.

The Malcam Trust has high praise for the support given by Dunedin Mayor Sukhi Turner. Robyn Broughton: "Sukhi has just been awesome. She promotes us every chance she gets. She is hosting a gala lunch for Tradespeople in Dunedin next February, and her support has opened doors and gained support for this new concept in apprenticeships."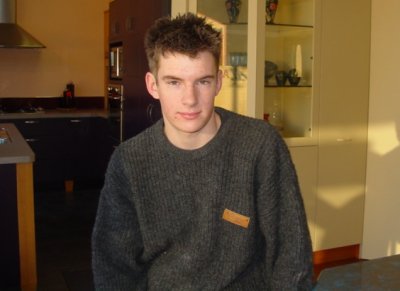 Craig McDonald, Joinery Apprentice at "Joinery Specialists"
— host employer Graeme Emmerson
PARTNERS and SUPPORTERS
The Malcam Trust
Department of Work and Income
The Clutha Economic Development Unit
Business Grow
Dunedin Mayor Sukhi Turner
Clutha Mayor Juno Hayes
---
SCHEME HELPS YOUNG PEOPLE UNDERTAKE TRADE TRAINING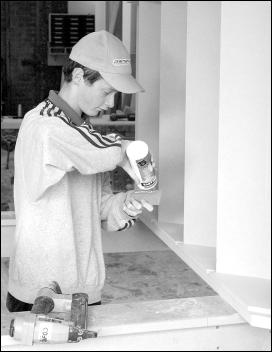 by Jane Smith, Otago Daily Times
Dunedin lacks tradespeople and young people need jobs - who can see the solution here?
The Mayors' Taskforce for Jobs could, and with the help of the Malcam Trust, Work and Income, and PS Training, the trades training project "4 Trades" was born.
Over the next year, "4 Trades" will place 40 new apprentices in a range of trades, giving young people training and employment, supporting the expansion of local businesses and addressing the lack of professional tradespeople in Otago.
Officially launched by Mayor Sukhi Turner last night before about 50 people, the project has already placed three apprentices.
Facilitator of 4 Trades Robyn Broughton said tradespeople were not taking on apprentices, because they did not want more paperwork and because they often could not guarantee work for three years.
The programme made apprenticeships possible by taking over all the paperwork, overall supervision and contractual obligations.
If a business ran out of work, 4 Trades found another placing for the apprentice.
The programme also paid the apprentice and bought work boots, overalls and a basic tool kit for them.
"It's a win-win-win situation. Businesses win because they get a qualified tradesperson; young people win because they gain qualifications without a student loan and the wider community wins because there are more tradespeople around," Ms Broughton said.
Clinton Davidson (16) was one of the first apprentices, and very happy to start his new work as an apprentice joiner for A Step Up Joinery on Friday.
Owner Neil Rutherford contacted 4 Trades after fruitlessly advertising for a qualified joiner for four months.
He had "never really" considered taking an apprentice because of the extra paperwork and effort involved, and because "I didn't know where to start". Having been laid off during his own apprenticeship, he was also wary about making the four-year commitment.
"The letter came at just the right time. I thought it was the option that would give us a skilled person at the end of the day, and solve the problem of training staff and then having them leave at the end of three months," Mr Rutherford said.
"They organise all the block courses and take all the extra organisation away from us, keep track of his learning and skills and also take the risk factor if work dries up tomorrow. . . It's good," he said.
— Otago Daily Times, Tuesday, 23-April 2002
---
JOB KEEPS APPRENTICE ON TRACK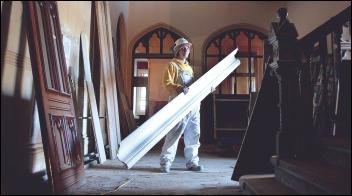 by Simon Hartley, Otago Daily Times
Employment Minister Steve Maharey heard first-hand how an apprenticeship opportunity has turned around the life of an "off the rails" young man, while he was in Dunedin yesterday.
Kevin Bates (20) met Mr Maharey at Dunedin's courthouse, currently undergoing an $11 million upgrade. Mr Bates is four months into a four-year fibrous plastering apprenticeship.
"I was going off the rails, unemployed with too much time on my hands . . I wouldn't like to think where I would be now," Mr Bates said.
As associate minister for tertiary education, Mr Maharey has just launched Labour's "Skilling New Zealand" strategy.
The aims are to expand training opportunities for under 20s, work experience for those in tertiary education and has plans for retraining over-50s who find themselves out of work.
Labour was committing itself to having 250,000 people in industry training by 2007, including having all 15 to 19-year-olds in education, training or work.
The Government's modern apprenticeship scheme reached its target of 3000 last month.
When asked, Mr Maharey maintained economic growth could support his latest target of getting a further 4500 on to modern apprenticeships, but conceded the 2007 target could take longer.
Mr Bates' apprenticeship evolved from the Mayors' Taskforce for Jobs which has initiated a 4Trades job creation project, funded by the Malcam Trust, Winz and Employment Catalyst Fund. It employs apprentices and places them with a host company.
Mr Maharey denied he was attempting to take credit for the 4Trades project as a Government initiative, but said 4Trades was similar to the modern apprenticeship scheme.
"These are the type of programmes we want to meshed together in the future," he said.
John Seddon, of Seddon's Fibrous Plasterers, said 4Trades' involvement removed most of the collation of paperwork surrounding qualifications, and allowed Mr Bates to be "lent" to another employer for specialist training.
"Over the years, we have lost a range of skills, watered down by retirement and apprenticeships being seen as unfashionable," he said.
Mr Maharey visited Dunedin and Oamaru yesterday with Labour MPs Pete Hodgson and David Benson-Pope.
— Otago Daily Times, Saturday, 6-July 2002
---
FINAL REPORT — (Three years Funding)

4Trades — Dunedin Summary:

Year One:
—A facilitator was seconded from Work & Income to establish 4 Trades. Accounting processes and ACC and OSH requirements established.

—With legal input comprehensive employment and secondment contracts were developed.

—Dunedin and Balclutha 4Trades launched.

—2 apprentices hired under the 4Trades initiative.

—136 apprentices seeking employment on files.
Year Two:
—48 apprentices placed in employment as a result of 4Trades advocacy.

—A total of 19 apprentices employed directly by 4Trades.

—Closure of Balclutha office. (A review of operations indicated that this area was best handled directly from Dunedin.)

—Selection/appointment of a new 4Trades Facilitator for Oamaru/Timaru region and the official launch of 4Trades in both Oamaru and Timaru.

—4 apprentices employed in the Oamaru/Timaru district.
—Dunedin City Council contracts 4Trades to employ 3 Horticultural apprentices.

—4Trades assists with the first 'Apprenticeship Awards' organised by the Mayors Taskforce for Jobs Co-ordinator and Dunedin's Mayor.
Year Three:
—62 apprentices placed in employment. 40 apprentices employed directly by 4Trades.

—Apprentices are working in diverse trades including horticulture, building, plumbing, upholstery, painting and decorating.

—Apprentices are located in Dunedin and in the wider region: Balclutha, Oamaru, Alexandra, Cromwell and Timaru.
—An outcome of the success of the Dunedin 4Trades project has been the launch of 4Trades Christchurch in October 2004.

—A Market Research survey of existing clients has been undertaken and has produced results that endorse the importance and viability of 4Trades e.g. 100% of clients would recommend 4Trades to other trades people.

—There has been continued growth from existing clients - Dunedin Botanic Gardens have increased from 3 apprentices to 6; Otago University from 1 apprentice to 3 and Aburns Glass has grown from 2 apprentices to 4.

—4Trades assisted in the development and implementation of the "Hitchhikers Guide to Apprenticeships" internet site; http://www.hgta.co.nz.
ADVOCACY

As an employer of Apprentices across a wide range of Industry Training Organisations, 4Trades has played an active role in advocacy issues.

CONCLUSION:

The achievements of the 4Trades initiative were largely made possible by having the certainty of a three year funding term.

"Our key recommendation is that initiatives such as this require at least a three year funding 'window' and that a mere twelve month funding 'window' is insufficient time for worthwhile projects to develop"
- Peter Mitchell

The growth of 4Trades in the 3 years since its inception has been very encouraging, however it may not be realistic to assume that current growth rates will be sustained. In 2005 it is hoped to achieve the direct employment of a further 20 apprentices, to achieve a total of 55 apprentices employed by 4Trades by the end of 2005.

TOTAL FUNDING OVER THREE YEARS: $150,000
CONTACT
Peter Mitchell
4Trades General Manager
Phone: 03) 477 4175
P.O. Box 422 Dunedin
4Trades@malcam.co.nz
Fax: 03) 477 6879l