Since the initial grant in October 2001, coordinators have been recruited and have begun work in Wellington, Nelson, Tauranga, and soon Dunedin and Rotorua.

In May 2002 the Nelson project was launched by Mayor Paul Matheson and the Tindall Foundation's Steven Tindall. Currently 12 students are placed in businesses whose work is in law, horticulture, accounting, tourism, seafood and banking. The Nelson project aims to have 20 students placed with employers by the end of the first year.

Since December 2001, Wellington Launch Pad has achieved 17 placements and has strong support from groups such as the Chamber of Commerce, the Institute of Chartered Accountants and the Regional Economic Development Agency.

In November 2002, the Tauranga project was just getting underway. In the Christchurch region, where the project has been going for two years, 19 new employers were recruited bringing the total number of placements in that area to 34. All young people graduating from the 2001 year have either stayed on in their current role, gone on to intermediate positions with the same or new firms or have gone into full-time study.
PARTNERS and SUPPORTERS
Simon Mortlock Lawyers
NZ Business for Social Responsibility
Canterbury Development Corporation
Canterbury Employers Chamber of Commerce
Canterbury Manufacturers Association
Christchurch Polytech
Community Employment Group
Christchurch Mayor Garry Moore
Nelson Mayor Paul Matheson
Wellington Mayor Kerry Prendergast
---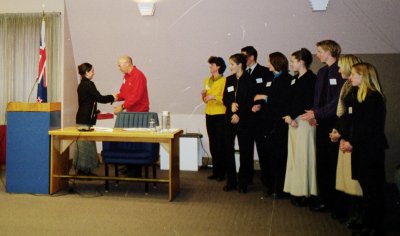 More Photos from the Nelson launch.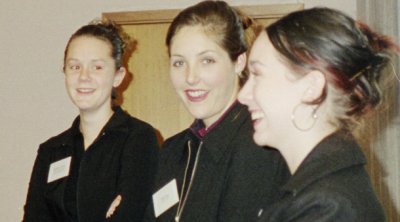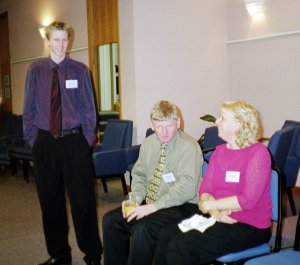 ---
RECOMMENDATIONS FROM
NELSON EMPLOYERS ...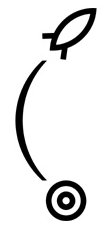 Pitt & Moore lawyers Mick Hollyer (Partner) and Pauline Jones (Administrator): " Pitt and Moore has provided an opportunity for two scholarship recipientssince the launch of the programme in Nelson. For entry level office staff our requirements are to find dedicated and motivated employees with an interest in their job, whose placement can bearranged with a minimum of time involved in the selection process. Our first scholarship recipient was promoted to a fulltime secretarial position after only five months on the programme. Her appointment has enabled the firm to take advantage of the timespent on training by senior staff. A further advantage to the firm has been having a junior employee intraining ready to advance to a higher position should the opportunityarise. The appointment two months ago of our second recipient was arranged very efficiently and at short notice. The Launch Pad programme is professionally run and controlled, and it continues to meet our criteria in the best possible way..."
Bryce Gilchrist General Manager Corporate Services The New Zealand King Salmon Co. Ltd.: " One of our corporate values is to ensure we work with our employees to help them achieve their full potential. We have had a need for an office Junior for some time but previously have been reluctant to put someone into this role. As with many medium size company's (King Salmon employs 380 staff), we unfortunately are not in a position to ensure there is a career path within the company for an office junior. With the Launch Pad, we are now able to fill the Office Junior role, on a 12 month rotating cycle, without the responsibility of having to manage the career path of a junior position. This is good for both parties. A good start and opportunity to gain some experience for a young person. And the company has its needs meet. At the end of the contract (12 months), the employee moves on and we have the option to start the process again thus perpetually filling this starting position role. Therefore for us, we can have within our team, a young motivated person with the opportunity to continuously refresh the position. We feel it is good thing for our company to be involved in ..."
Anton Boeyen Accountant Wai-west Horticulture: " Being part of the platform of Launch Pad has been extremely beneficial for Wai-WestHorticulture. As a primary producer, our business is typically seasonal, however, this was not an issue with the scholarship programme. Our scholarship recipient has been an integral part of relieving seasonal administrative pressure and has become a valuable member of our administrative team..."
Derrick Gould General Manager Nelson Credit Union: " Nelson Credit Union is delighted with the Launch Pad initiative. Our scholarship recipient started with us in May this year, is great with our members and very accurate in her customer service role. We will definitely be a starter for next year and encourage all other business, large and small, to participate..."
---

HELPING CHANGE ATTITUDES TOWARD EMPLOYING YOUNG PEOPLE
A new initiative to provide positive pathways for young people from school to the workforce has received the thumbs up from WestpacTrust. They became involved in the Employment Scholarship Programme at the beginning of 2001 with the mployment of seven young people, who were placed in branches around Christchurch. The programme has worked so well for them that they have taken on another seven scholarship recipients this year and are investigating participation in the programme in other regions.
I've been personally mindful of trends twards employing people with previous experience and the impact this has had on young people trying to break into the workforce," says WestpacTrust's Head of Consumer Banking, John Boraston.
"From a social perspective, I felt we had a responsibility as a major employer to lead the way in changing these attitudes and providing young people with opportunities that have been lacking in recent years."
One young person to benefit from this philosophy is scholarship recipient Lowell Mallon who began work in February in the bank's Eastgate branch. Lowell heard about the programme while attending Christchurch Boys High School last year, and was motivated to apply due to the opportunities it provided to combine work and study.
It's been better than I expected. I've been placed close to home, my polytechnic fees are paid, I can save for fencing competitions and travel and I'm really enjoying working in the bank."
John Boraston says WestpacTrust's experience with the programme has proven that what young people may initially lack in epxerience, they more than make up for with "youthful zest and enthusiasm". "Our staff have been highly supportive of the programme too. Some of them have children around the same age as scholarship recipients, so they know how tough it is to start a career these days. The feedback I'm getting from staff also indicates they enjoy having young people around."
The Employment Scholarship Programme started in the office of Simon Mortlock Lawyers In Christchurch three years ago. The programme arose from Simon's belief that people in the business community have a responsibility to provide mentoring for the development and education of young people. By the end of December 2000 a charitable trust had been formed to enable other Christchurch employers to participate in the programme and late last year, the scheme was expanded into Nelson and Wellington. Planning is now underway to offer the programme in a fourth region by the middle of this year.
Through applying to the programme and undergoing an interview process, school leavers are offered one year supported entry into full time work and, due to endorsement from Christchurch Polytechnic Institute of Technology, an opportunity to attend classes in Business Administration.
— Canterbury Employers' Chamber of Commerce Newsletter 30 April 2002
---

NEW JOB PROGRAMME FOR YOUNG PEOPLE
School leavers have the opportunity to work in law, accounting and banking — and have tertiary study paid for — thanks to an employment initiative in Christchurch.
Simon Mortlock Lawyers developed and piloted the employment scholarship programme, with support from Businesses for Social Responsibility, Community Employment Group and Christchurch Polytechnic Institute of Technology.
Simon Mortlock, Garry Moore and cereal-maker Dick Hubbard, who founded Businesses for Social Responsibility, launched it in December and already 14 school leavers have been placed.
Coordinator Jo Wolfreys says they have targeted school leavers because of the importance of the first year out of school — called "the golden year", like the golden hour of trauma medicine, when timely intervention can make a big difference.
The programme is important because it is industry-led and graduates will learn "skills that dovetail nicely with reality", says Garry Moore (who helped set up the nationwide Mayors' Taskforce for Jobs programme).
Simon Mortlock Lawyers say it is a "win-win opportunity for progressive firms and students". It gives young people supported entry into a new world, they become valued assets to businesses, and it's an opportunity for firms to improve productivity and culture.
— Christchurch City Scene January 2001
---
FINAL REPORT (Three Years Funding)

SUMMARY

As at July 2004, Launchpad has been responsible for "launching" just under 300 young people, mainly young women aged 16-18, into their first jobs. Many of those young people have had their sights raised - to opportunities within business sectors, possible courses of tertiary study, and most importantly to their own potential.

Employers in the six Launchpad regions around New Zealand have recognised their ability to contribute towards giving young people from their own communities opportunities to learn, grow and prove themselves. A measurable shift in attitude has been effected in these businesses. Sometimes the Launchpad experience has proved a challenging one but employers have persevered with the programme and continued to offer a Launchpad role.

The Employment Scholarship Trust's aim has been to build on Launchpad's success in Christchurch by introducing the programme to other regions of New Zealand. This was welcomed with enthusiasm and financial support. Generous funding was made available by the Mayors Taskforce for Jobs and the Ministry of Social Development through Work and Income. Launchpad 's Christchurch success was followed by programmes commencing in Nelson, Wellington and Tauranga and in 2003 by Rotorua and Dunedin.

In the period 2002-2003 there were 100 scholarship recipients. Of those who commenced the programme all but 2 completed it. More than half stayed with their existing employers while 20% went on to university and a further 20% to other full-time study. The balance went on to roles with other employers.

2003-2004:

By July 2004 there were 126 scholarship recipients. There were a greater number of incompletes over this period for a variety of reasons including relocating with their families, redundancy, leaving the programme to take up other positions, dishonesty, and union issues etc.

DIFFICULTIES

Based on the relatively short experience and the momentum of the programme in Christchurch, assumptions were made about the speed with which Launchpad would embed in other communities. Unfortunately the assumptions and therefore the goals, proved to be over-optimistic. It is now clear that it takes two years to establish Launchpad as a tertiary option in a region. In 2004 there were difficulties around staff changes and morale, resulting in a hiatus in momentum. Failure to secure realistic on-going funding resulted in drops in productivity and achievement within the organisation.

THE FUTURE

Short term funding issues have been addressed, allowing longer term solutions to be explored. Launchpad's rationale now receives central government recognition and support.

An ongoing funding partnership between the Employment Scholarship Trust, tertiary providers, the business sector, the philanthropic sector and central government will be essential for a successful future for Launchpad.
CONTACT
Kathy Shaw
National Director, Launchpad
Ph: 0272498313
trust@launchpad.org.nz