Construction on the Ocean to Ocean Trail started in March 2000 with the upgrading of the track on the existing Mangamuka Gorge Walkway. As conditions are too gruelling in winter, work on the track was halted. Over the 2001- 2002 summer, further progress was made cutting track and clearing access roads and logging tracks. Work stopped again at the end of April 2000 with 90% of the trail completed and some signage put in place. Work to complete the project will recommence in Summer 2002-3.

The unemployed young people, who have been doing track construction and clearing, have been working through either the Youth Affairs Conservation Corps and the Department of Work and Income Taskforce Green scheme. These young people gain work skills and experience and also have received training in fire fighting and first aid.
PARTNERS and SUPPORTERS
Te Araroa Trust
Department of Conservation
Department of Youth Affairs Conservation Corps
Department of Work and Income Taskforce Green
Far North District Council
Far North Mayor Yvonne Sharp

---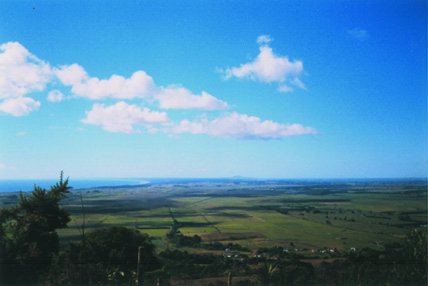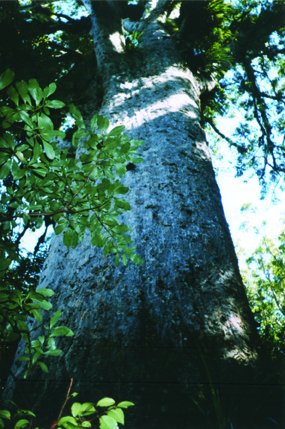 ---
FROM FAR NORTH MAYOR YVONNE SHARP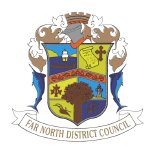 "We often take for granted the extraordinarily beautiful environment in which we are privileged to live, forgetting the most significant role our coastline and sub-tropical hinterland play in the regional economy.
Perhaps it's a case of becoming so used to it we fail to appreciate how wonderful it is. But we ignore it at our peril. Not only do we have a moral responsibility to preserve and enhance our environment for the benefit of generations to come, we also have an obligation to this generation to advance the social and economic well being of the community at large.
By improving public access to the natural wonders of the district we can enhance the opportunity to benefit from the tourist dollar. The added spin-off, particularly for locals, is the improved opportunity to get out and enjoy and better understand the rich ecological and cultural heritage right on our doorsteps.
These are two compelling reasons why projects such as the Heritage Trails of New Zealand programme and walkways such as the Te Araroa Trust's 120 kilometre Ocean to Ocean trail are of immense importance to the Far North district.
The Far North section of the Te Araroa Trail will provide a walkway from Cape Reinga down Ninety Mile Beach to Ahipara, crosses historic gumfields and through the Herekino, Raetea, Omahutu and Puketi Forests before following the Kerikeri River to the Kerikeri township. By 2005 it is expected the trail will extend throughout New Zealand to Bluff. I am pleased that I have been able to attract outside funding for this project through my efforts on the nationwide Mayors Taskforce for Jobs.
In the construction phase, the trail provides employment opportunities through the Taskforce Green programme. There will also be ongoing employment opportunities in track maintenance and tourism support services as the trail evolves and becomes more widely utilised by national and international visitors alike.
On a more localised level, the growing network of Heritage Trails play equally as significant a role ... Heritage Trails not only help lengthen visitor-stays, but also provide an opportunity for history to be made accessible and visible, and brought more sharply into perspective. With the growing network of trails and scenic walkways criss-crossing the district, the visitor industry is becoming better and better served. My hope now is that the residents of the Far North will also begin to make much greater use of these facilities - there could well be some pleasant surprises for those who make the most of these new opportunities."
— Doubtless Bay News 7 February 2002
---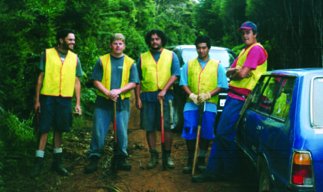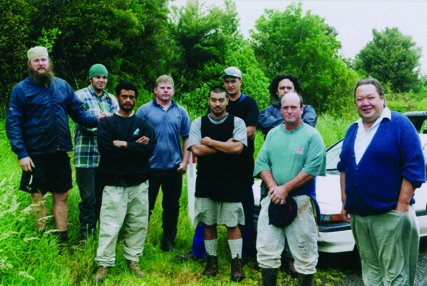 ---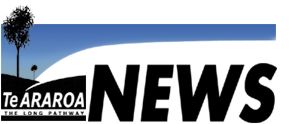 SEAFARER HELMS TRAIL

RUSSELL and CASSIE PIERCE live in the Herekino Gorge in the Far North, on a large bush block on regenerating scrub, gumfield plateau and primeval forest. Russell was a seafarer for many years and since coming ashore full time he and Cassie have kept busy with a variety of good projects, organising wild ginger and possum eradication programmes in their area. Russell is the secretary of the Herekino Hall society, and is coach of the local soccer team.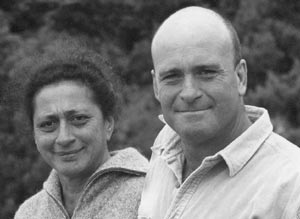 But what makes the Pierces special is the commitment they have shown to Te Araroa's 120km 'Ocean to Ocean' trail from Ahipara to Kerikeri. Approximately 3km of that track, linking the Ahipara gumfields to the Herekino Forest passes through their property, and Russ has put the track in himself. He will say it was mostly on a fenceline, but what about the camping facility you are developing on the Herekino Road, Russ?

'That's for our own benefit too, you know Pete. When the tourists start coming through, they are going to have to stay somewhere, aren't they? We see the track as a way for the world to come to us, as well as a few bob on the side, for service rendered. In our area unemployment is very high and you have to develop every opportunity. The track is an ecologically sound way of developing our property, hopefully with a built-in cash flow, or trickle, or whatever, and we can benefit.'

'We love exploring the bush, piecing together the lay of the land. On one section of the fence line we thought it was too steep for a good track, so we cast around for the best line, and found an old habitation, right on the best contour, so we looked for the logical exit from there, and sure enough, we found the perfect line for the track, a bit longer, but so much easier.

'We are also looking forward to the possibility of getting hold of people who can work for their keep, sort of like tramping WWOOFERs.

'All in all though, we like the idea of meeting people with an appreciation of the environment and the bush, people who love the place for what it is, primal and sacred.'
– story by Peter Griffiths, 18 July 2001
---